Peralta belts grand slam as D-backs clinch series win
Arizona plates nine in eighth-inning rally to seal victory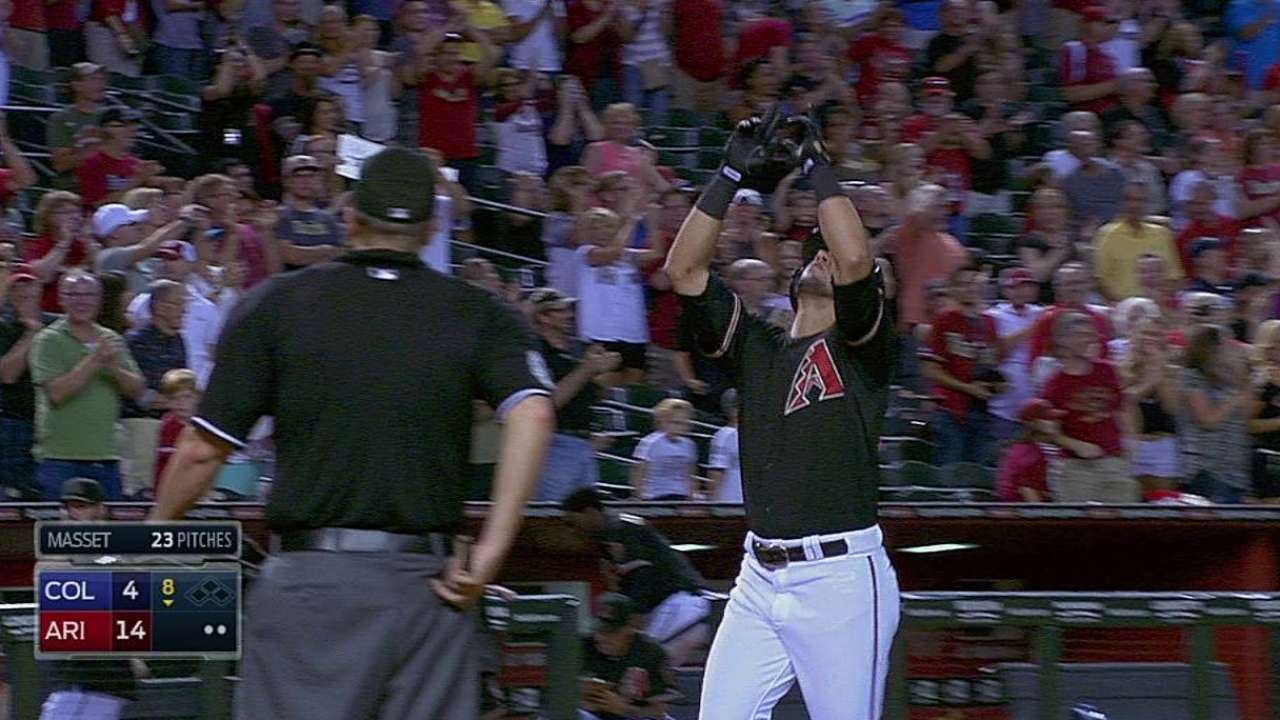 PHOENIX -- The D-backs had a lead going to the bottom of the eighth that was anything but safe.
The Rockies had cut their deficit to one with an eighth-inning run, and Addison Reed, who had given up two runs on Friday, was set to enter the game.
But the D-backs' offense made sure that there was nothing to worry about.
The D-backs exploded for nine runs in the eighth inning en route to a 14-4 rout of the Rockies at Chase Field on Saturday night.
"It was a close game, all the way to the last inning, so it's not like a blowout," manager Kirk Gibson said. "It's good to tack a lot of runs on at the end."
The rally started innocently enough. Cliff Pennington and David Peralta both hit singles, but the Rockies defense collapsed over the course of the next several batters. A passed ball moved them to third and second, respectively.
The next batter, Mark Trumbo, whose three-run homer in the third inning had given the D-backs the lead to begin with, hit a slow roller up the third-base line. The throw from third baseman Nolan Arenado sailed over the catcher's head as Pennington slid into home, allowing Peralta to score as well.
"He's coming all the way to third and he's not going straight into third, he's reading the play, setting himself up," Gibson said. "[He] never really slows down, gets a good turn and we get two runs out of that play."
The D-backs added two more runs in the inning before loading the bases after three straight singles. Pennington, up for the second time in the inning, walked to score a run and turned the loaded bases over to Peralta, who capped the wild inning with a grand slam.
"We couldn't get that third out," Rockies manager Walt Weiss said. "There's not a whole lot to say about it. It just got away from us."
Lost in the late-game rally was the solid outing from starter Trevor Cahill (2-8), who picked up his first win as a starter this season. Cahill pitched seven innings, giving up three runs (two earned) on four hits while striking out seven.
"I was frustrated the first couple innings," Cahill said. "I got ahead of some guys and then couldn't put them away. … But after that I was able to kind of settle down."
Cahill has pitched much better since he was recalled from Triple-A Reno. In his last five starts, he has a 3.73 ERA, compared to the 9.17 mark he had in his first four starts.
"[His changeup has] worked for him," Gibson said. "It's just he went to his changeup late last game as well. It's worked for him."
Another struggling D-back looking to get back to previous form had a big night as well. Before two runs scored on a weak single, three runs scored on Trumbo's first home run since April 21, giving the D-backs their initial 4-3 lead.
Trumbo had not homered since returning from the disabled list after sustaining a fractured left foot.
"Oh, I noticed," Trumbo said. "It's kind of part of my game, so I'm well aware if it's not happening as frequent as I'd probably like."
Alfredo Marte hit a home run of his own in the seventh inning that looked like it would be the key run in an eventual 5-4 win, but the D-backs absolutely piled on the inning after, scoring the most runs in a game since they scored 16 against the Rockies on June 4.
"It's just one of those things. You get a couple hits, guys start feeling good," Pennington said. "Things just start to roll."
Adam Lichtenstein is an associate reporter for MLB.com. This story was not subject to the approval of Major League Baseball or its clubs.