Duda bucks trend, delivers winning hit off lefty in 11
Gee gives up just one run over seven; 'pen blanks Phils rest of way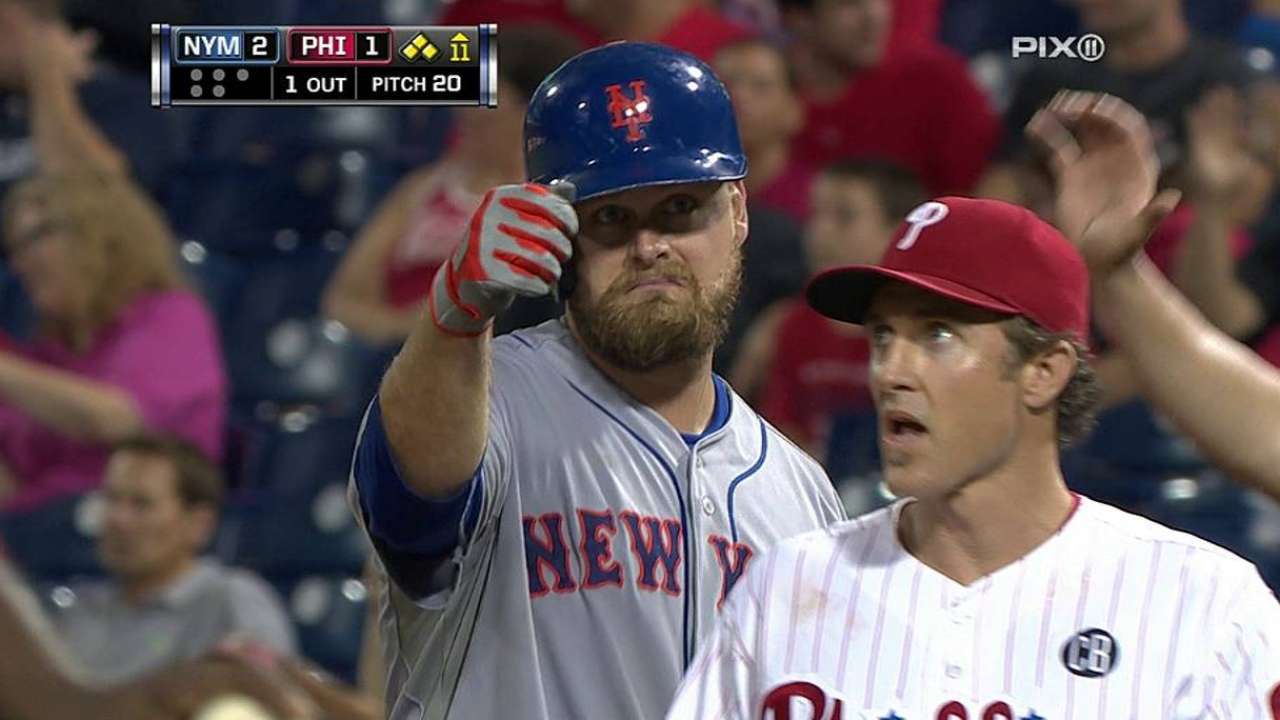 PHILADELPHIA -- Lucas Duda entered Saturday hitting just .149 against left-handed pitching. But with their postseason hopes dwindling and seven weeks left to evaluate their personnel for next season, the Mets have taken a let's-see-what-he-can-do approach with many players on their roster.
In Saturday's 2-1, 11-inning victory over the Phillies at Citizens Bank Park, that included starting Duda against one of the best southpaws in the game, Cole Hamels.
Duda finished 1-for-3 against Philadelphia's ace, but the game's decisive blow came off another lefty in the 11th.
Facing reliever Antonio Bastardo, the Mets loaded the bases with one out. Philly's no-doubles outfield setup allowed a hit by Curtis Granderson to fall in front of Ben Revere, and allowed him to advance to third on a single by David Wright. Eric Campbell then walked to load the bases, and Duda jumped on the first pitch for a single to right that scored the game-winning run -- the exclamation point on starter Dillon Gee's bounce-back night.
Duda was looking for a fastball, and he got one.
"When you look at left-handed hitters against left-handed pitchers, you watch the swings, and if they're swinging at stuff that's not close, they're guessing, they're not seeing the ball. Lucas didn't do that," Mets manager Terry Collins said. "That's why I was very impressed with his approach at the plate.
"It's great for him, great for his confidence and everything else."
Duda's .149 mark against lefties this year is 62 points lower than his career average vs. southpaws.
"I think you kind of just go through ups and downs," Duda said. "Just continue to work hard every day and see what happens."
But he didn't necessarily view the chance to start against Hamels as a test.
"It is what it is. I really don't read too much into it," Duda said. "But I'm happy to go out there and play hard and help the team win."
If there were any lingering doubts about the strained lat that sidetracked Gee's 2014 campaign, they were put to rest..
Gee delivered seven innings of one-run ball, allowing three hits and three walks while striking out four.
"I was really, really impressed," Collins said. "I was extremely happy for him, because we need him. We need to see what he was giving us in the first half -- that first two months, anyway. If he gets back, that's really going to make a difference right now."
He entered with a 9.56 ERA at Citizens Bank Park and a 7.11 ERA in his career vs. the Phils. In his five starts since returning from his injury, Gee's ERA had jumped a full run to 3.73.
But Gee bucked each of those trends, seizing a firmer grip of his command as the game progressed.
"I felt like I got stronger as the game went on," Gee said. "It's nice to go out there and put up a quality start, especially here and against that team. It seems like in the history I've had trouble with that, but just go out there tonight and tried to give us a chance to win."
It was essentially a stress-free night for Gee. The Phillies had just two opportunities with runners in scoring position, and their one run came on Gee's only mistake -- a 2-0 fastball that Carlos Ruiz sent into the left-field stands to tie it at 1 in the seventh.
"Right in his wheelhouse," Gee said.
Before the homer, the righty had retired 13 consecutive batters.
"Finally, I felt good," he said. "It's just nice to feel like you're getting stronger as the game went on. Even in that last inning I made a mistake that Ruiz made me pay for, but I felt like I was still throwing the ball pretty well."
Hamels did well to keep the Mets in check, with Wilmer Flores' RBI forceout in the fifth New York's only run against him.
With Jenrry Mejia unavailable after pitching the previous two nights and dealing with right calf tightness, Jeurys Familia was called upon to get the save. He put two runners on, but induced a groundout to short by Domonic Brown to seal the win.
"I don't feel pressure," Familia said about entering with the game on the line. "I just try to do my job, make the hitter make contact. Get a ground ball. Try to help the team."
Said Collins: "This guy, I've got all the confidence in the world to bring him in the game in any situation, and believe he's going to make pitches to get out of it."
It was the sixth time the Phillies and Mets have played extra innings this season, tying a franchise record set in 1985 against Cardinals for most the in one season against one team, according to Elias Sports Bureau.
Erik Bacharach is an associate reporter for MLB.com. This story was not subject to the approval of Major League Baseball or its clubs.