Hamels once again sharp, with nothing to show for it
Ruiz's tying HR in seventh lone Phils run; Bastardo takes loss in 11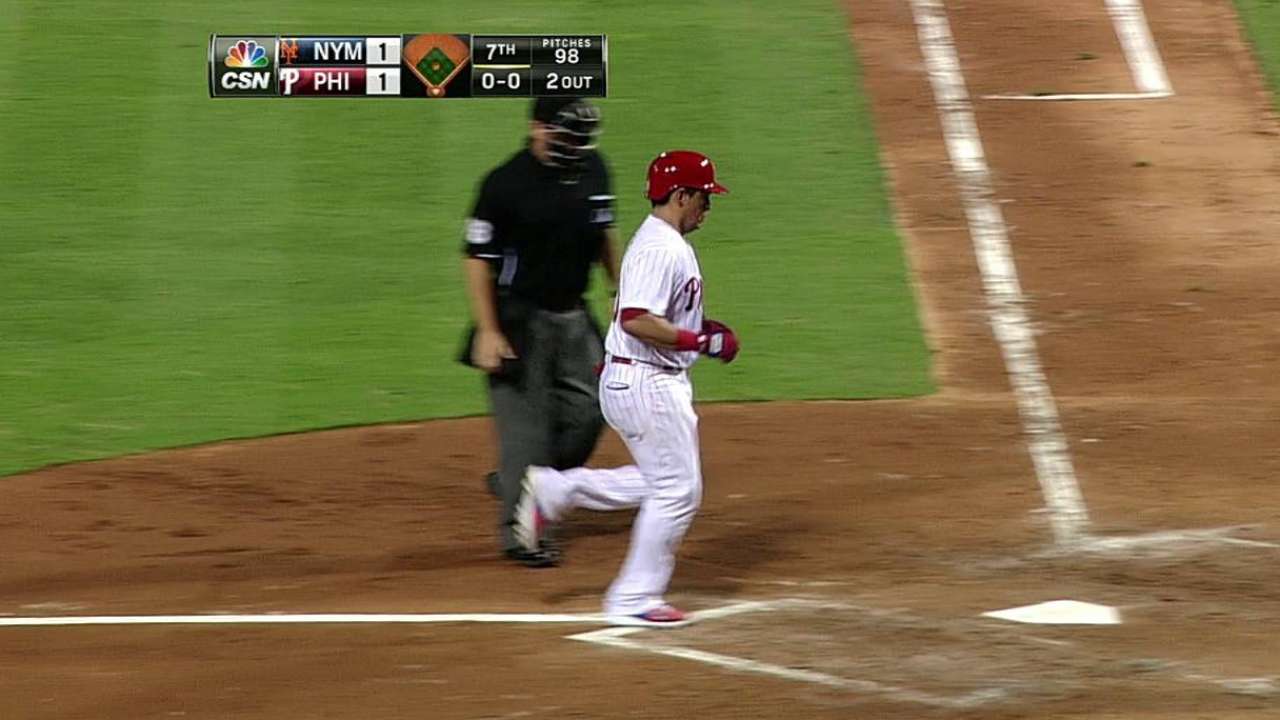 PHILADELPHIA -- The good feelings flowed early Saturday night at Citizens Bank Park.
Nearly 40,000 fans came to see Charlie Manuel inducted onto the franchise's Wall of Fame. Living legends like Mike Schmidt, Steve Carlton and Jim Bunning joined him on the dais during a 30-minute pregame ceremony. It included a video tribute, Jim Thome unveiling Manuel's plaque in center field, Roy Halladay delivering Manuel a replica one and a memorable speech from a manager still adored by his players and the fans who filled the seats while he won one World Series and more games than any manager in franchise history.
Ah, the glory days.
"2008 was a long time ago," Phillies left-hander Cole Hamels said after a 2-1 loss to the Mets in 11 innings. "Charlie said it went by quick, and I don't think you get to really cherish it as much because that's all you want to do and that's all you're focused on.
"I don't think you really understand what we were able to accomplish and how we were able to accomplish it until it's gone and you aren't winning as much as you'd like. And then you start to feel how fortunate you were. And then you try to search for how you can get it back."
It might be a while as the last-place Phillies fell to 52-65. Hamels did his job, but got no run support again. He allowed five hits, one run, three walks and struck out five in seven innings.
It was his fifth consecutive start of seven or more innings with one or fewer runs allowed, the longest streak like that in his career. It is tied with Adam Wainwright for the second-longest streak of that nature this season. Clayton Kershaw had six consecutive starts like that earlier this season.
"He's on a terrific run," Phillies manager Ryne Sandberg said. "He goes out and just pitches his tail off. He's very consistent. He has good stuff again. Tonight, with his fastball, mixed his pitches well. You almost come to expect it. He definitely gives us a chance to win every time he goes out there. We're just coming up short on the run support."
The Mets took a 1-0 lead in the fifth. Lucas Duda hit a fly ball to center field to get things started. Ben Revere made a desperate dive, but could not catch it as Duda picked up a single. Travis d'Arnaud walked and Juan Lagares lofted a ball to shallow left-center field. Domonic Brown pursued and attempted to make a diving catch, but the ball deflected off his glove and fell for a hit to load the bases with no outs.
Wilmer Flores followed and smashed a ball to the left of third baseman Cody Asche, who made a great diving stop. He threw to second from his knee for the forceout as Duda scored the game's first run. Hamels threw up his arms after the play, frustrated that a run had scored.
"You knew it was going to be a tight game," Hamels said. "It would have been nice if it was hit right to him, but I know I can't control that very well. He made an outstanding play, but I knew right then and there a run was going to score."
Carlos Ruiz's home run to left field in the seventh tied the game. It was Ruiz's third home run of the season.
The score remained tied until the 11th, when Antonio Bastardo loaded the bases before allowing a one-out single to right field to Duda to score Curtis Granderson from third to give the Mets the one-run lead. Bastardo declined comment to reporters after the game.
It was the Phillies' 16th extra-inning game, and sixth against the Mets.
"One of the best crowds of the year and a terrific ceremony before the game," Sandberg said.
But it ended with a familiar result.
Todd Zolecki is a reporter for MLB.com. This story was not subject to the approval of Major League Baseball or its clubs.