Penny keeps Marlins in it, wins in return to Majors
Vet allows two runs in five frames in first W since '11; Yelich plates two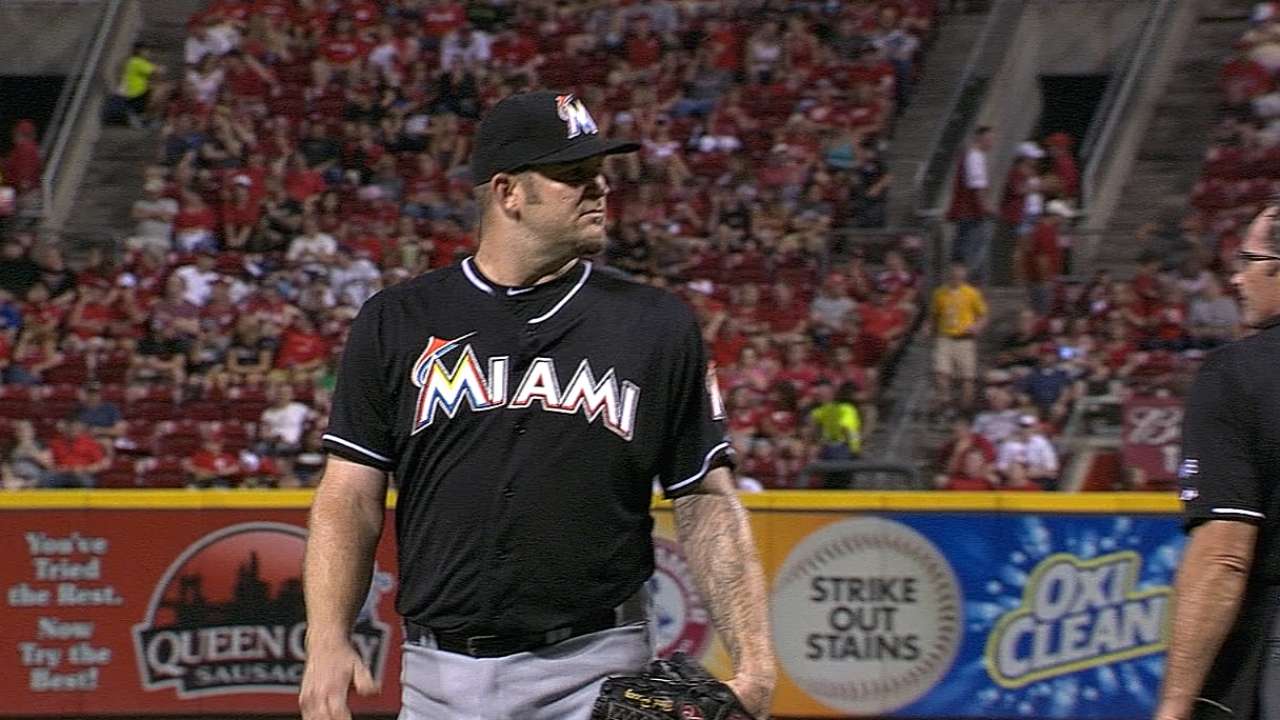 CINCINNATI -- In hopes of advancing their season forward, the Marlins on Saturday night took a step back in time.
Brad Penny, 10 years after being traded from the organization, rejoined Miami and did his part in helping the team get on track.
Penny allowed two runs, one earned, over five innings, and the Marlins claimed a 4-3 win over the Reds at Great American Ball Park.
The victory has some individual significance, because it was Penny's 49th with the Marlins, which ties him with A.J. Burnett for fourth most in franchise history. It also was career win No. 120 for the 36-year-old, who was back in the big leagues for the first time in two years.
"I had a little butterflies," said Penny, who won for the first time since Sept. 25, 2011. "I was a little nervous. For some reason, my command wasn't as good as it normally is. I'm lucky to get out of that with a W."
With back-to-back one-run wins at Cincinnati, the Marlins claimed the series and improved to 3-2 on the road trip that started at Pittsburgh.
There were some nervous moments in the ninth inning when closer Steve Cishek allowed a leadoff single to Chris Heisey. The right-hander had the count full to Billy Hamilton, and from the dugout, Miami manager Mike Redmond signaled to throw over to first.
Anticipating Heisey would be running on the pitch, coupled with the fact the Marlins hadn't thrown over once until that point, Heisey was frozen off first base as Cishek threw to first baseman Garrett Jones. Heisey ran toward second and was tagged out by shortstop Adeiny Hechavarria.
"It was huge," Cishek said. "Lately, it's been tough to get an out. I'm trying to invent new ways to get outs, I guess. I was going to throw over anyways, because it's a 3-2 count. He was going to be going. Thankfully I caught him off guard."
Cishek secured his 29th save in 32 chances when he struck out Jay Bruce.
Christian Yelich had two hits and two RBIs, and Donovan Solano delivered an RBI double that provided enough support for the Marlins to clinch the series, which wraps up Sunday afternoon. The Marlins snapped a 2-2 tie in the sixth inning on Yelich's sacrifice fly off Sam LeCure, and they claimed a two-run lead on Solano's two-out RBI double.
The night belonged to Penny, who was brought in to provide some veteran depth on an improving team that is now 57-59.
Penny made his first big league start since Sept. 25, 2011, while with the Tigers. In '12, he made 22 relief appearances for the Giants. And it was Penny's first appearance as a Marlin since July 28, 2004, days before he was traded to the Dodgers.
Reaching win No. 120 was special.
"I was stuck at 119 forever," Penny said.
The Marlins signed the 36-year-old to a Minor League deal, and he made seven total starts in the system.
Overall, it was an encouraging night for Penny, who overcame a first-inning home run by Bruce. If you were looking for style points -- and strikeouts -- there weren't many. But the veteran showed savvy, and despite being in trouble several times, his experience helped enable him to avoid the big inning.
"I think you see him make pitches, no matter what," Redmond said. "Whether it was first and second, or bases loaded, he was still in control of those innings. He continued to make pitches. He controlled his tempo, which is important for pitchers."
The righty struck out three, walked four and scattered four hits. Penny was lifted for a pinch-hitter in the sixth inning, and his return was over after 95 pitches.
Penny's comeback caught the Reds by surprise.
"We were surprised to hear that when we got in today," Bruce said. "Other than [his fastball] minus-2 mph, he was pretty much the same guy. He didn't throw quite as hard, but he had the same style. You are who you are when it comes to that kind of stuff."
Penny's fastball reached as high as 94 mph, but he was mostly at 91-93.
Penny's counterpart, Alfredo Simon, also was done after five innings, allowing two runs with five walks and five strikeouts.
The Marlins got to the Reds' right-hander quickly.
Yelich led off the game with a double, and he moved to third on Solano's sacrifice bunt. Giancarlo Stanton sent a towering drive to center for a sacrifice fly, giving Penny a run before throwing a pitch.
Penny allowed Bruce's homer in the bottom of the inning and an unearned run in the third. Todd Frazier hit an RBI single, but center fielder Marcell Ozuna prevented a second run from scoring with a great throw to the plate to nail Bruce. Penny shut down the Reds for the rest of his outing.
"Days like this, you've got to battle and keep your team in the game," Penny said. "It's only going to get better from here."
Bruce's drive ended a string of 11 straight games Miami pitchers had gone without allowing a homer.
Joe Frisaro is a reporter for MLB.com. He writes a blog, called The Fish Pond. Follow him on Twitter @JoeFrisaro. This story was not subject to the approval of Major League Baseball or its clubs.