Royals win sixth straight as Shields tosses gem
Righty allows four hits in ninth career shutout; Gordon slugs homer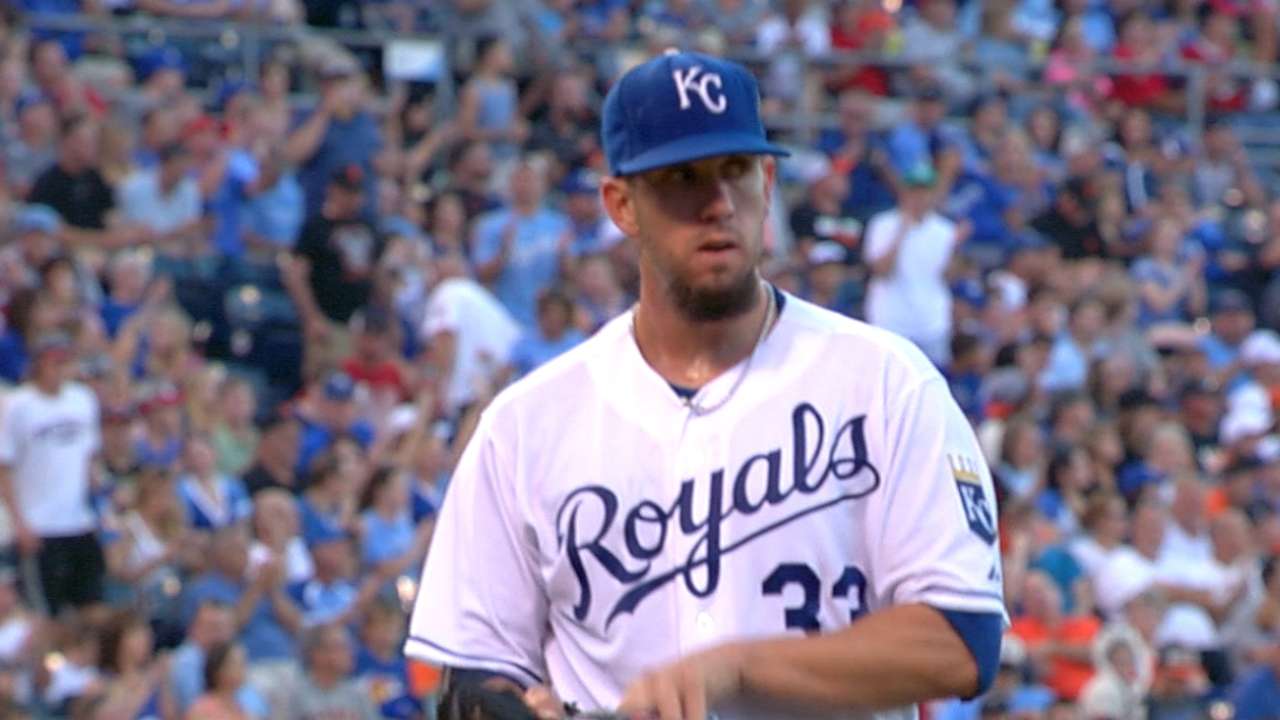 KANSAS CITY -- When James Shields threw a called third strike past Pablo Sandoval to seal his shutout Saturday, the Kansas City starter turned and tendered a salute to the left-field bullpen.
"They've been doing a great job, saving our behinds all year long, and it's nice to give them the day off," Shields said. "It was just a nice little salute to the bullpen, telling them to take a day."
Shields made that easy, throwing a four-hit, 5-0 victory over the San Francisco Giants on Saturday night, sending an appreciative Kauffman Stadium crowd into ecstasy. Alex Gordon's home run got the Royals started, and they made it a wrap with a four-run seventh inning.
"The crowd was awesome. The second I walked out to go warm up in the bullpen, they were cheering us on -- me and Salvy [Perez] out there. KC fans are great," Shields said.
The right-hander rewarded them with his ninth career shutout and first in his two seasons with the Royals. There were plenty of bonus gifts as well.
For one, the Royals edged to within 1 1/2 games of leading Detroit in the American League Central. The Tigers lost Saturday to Toronto. Never mind that Wild Card stuff, the Royals are intent on winning the division.
They're certainly playing like they might. They've won six straight games and 14 of their last 17. They've now won six series in a row and could make it a sweep Sunday.
"We're all feeling pretty confident now," said outfielder Lorenzo Cain. "It's through the roof but we've just got to keep it going."
Tim Hudson, the Giants' 39-year-old right-hander, breezed through four innings while giving up only a bloop single by Perez. There was nothing bloopy about the Royals' next hit, however.
Gordon led off the fifth by sending Hudson's 2-0 pitch over the right-field wall, Gordon's 11th home run this season.
The blast also gave the Royals eight homers in their last eight games, a rapid pace for a team that had just 61 homers in its first 107 games.
"The power definitely helps," manager Ned Yost said. "If you can score a run with one swing instead of having to get two or three hits to produce a run, it's huge. And if you can produce two or three runs with one swing, that's even better."
There were no more homers in this game, but the Royals nudged Hudson out of the game during their big seventh inning.
Billy Butler, extending his hitting streak to six games (12-for-23, .522), opened the inning with a double to deep left. He got home courtesy of singles by Gordon and Cain, the latter punching a hit to right in a eight-pitch at-bat that ended Hudson's night.
"I was up there battling," Cain said. "He was keeping me off balance, most of us off balance to start the game. I was just trying to find a way to get the ball in play or drive it to the opposite field and definitely get Billy in with that second run."
Reliever Jeremy Affeldt induced Raul Ibanez to ground into a double play, but Mike Moustakas kept things going with a rocket double down the right-field line.
"Affeldt's tough on left-handed hitters and Moose steps up there and knocks in a big run for us," Yost said.
Then came RBI singles by Alcides Escobar and Jarrod Dyson and 1-0 had become 5-0.
With that kind of a lead, Shields was headed for a complete game. He pitched past a leadoff double by Joe Panik in the eighth and finished the inning with 98 pitches. So out for the ninth he went.
"Absolutely a no-brainer," Yost said. "Normally I'll ask, in a game like that, 'How ya doing?' We didn't even ask. He had managed his pitch count to the point where we didn't even think twice about it."
Although closer Greg Holland made a few light tosses in the bullpen, just in case, Shields reeled through a 1-2-3 ninth.
After struggling for a while, Shields (11-6) has put together a fine seven-start span in which he's 3-2 with a 1.65 ERA. No special secret to that, according to the pitcher.
"Just staying consistent and just being a grinder really," he said. "These last two months is where we've got to show up."
Shields finished the game with 109 pitches, four hits, one walk and five strikeouts.
"Tonight was a tough draw for us," Hudson said. "Shields was really good. He didn't need too many runs to win tonight."
Shields' complete game was the second for the Royals in three nights. Jeremy Guthrie threw one Thursday night at Arizona.
"We've been playing hard baseball, one through nine. It's good to see," Shields said.
"We're having fun right now and that's when we play at our highest level -- having fun."
Dick Kaegel is a reporter for MLB.com. This story was not subject to the approval of Major League Baseball or its clubs.