Giants shut down by Royals' Shields
SF musters four hits; Hudson allows three runs in six-plus innings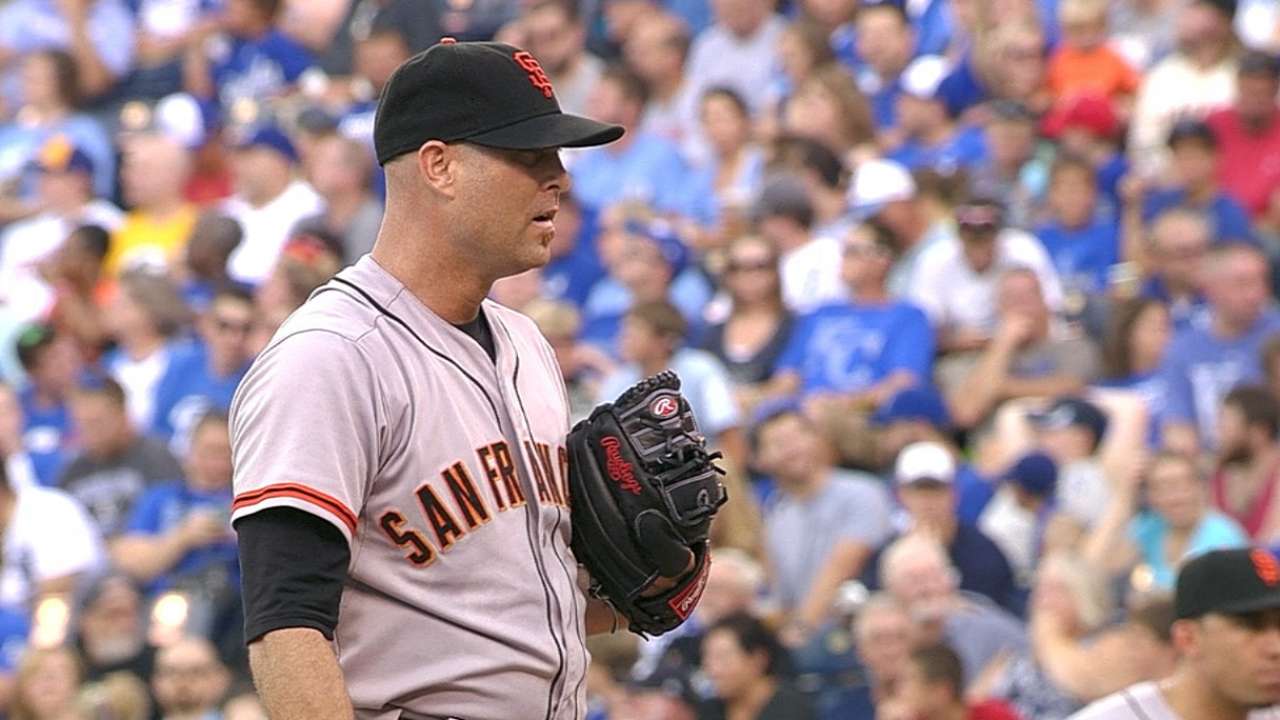 KANSAS CITY -- The inability to capitalize on an abundance of opportunities was to blame in the Giants' loss Friday. Conversely, there were no opportunities to capitalize on Saturday as James Shields twirled a four-hit shutout and San Francisco lost, 5-0, to the Royals at Kauffman Stadium.
"Last night, I thought that was one we let get away. But this one, we just ran into a well-pitched game and there's not much you can say about it," said Giants manager Bruce Bochy, whose team fell for the third time in a row and now has dropped 11 of 16 games.
San Francisco collected 12 hits Friday, but only had two runs to show for it. A night later, Shields limited them to three singles and a double and kept the Giants -- except for Joe Panik -- out of scoring position for the entire game. Gregor Blanco, Pablo Sandoval and Angel Pagan collected the singles, while Panik doubled. No one else reached base for San Francisco, and only Panik touched second base.
"[Shields] had everything going tonight, I mean everything. He had a good fastball, good cutter, good curveball, great changeup, and he was commanding every pitch extremely well. He was nails tonight," Royals manager Ned Yost said.
Kansas City won the game on Alex Gordon's solo home run off Giants starter Tim Hudson in the fifth inning to open the scoring. The Royals, winners of six straight, have already clinched the series. San Francisco can salvage a game Sunday.
"We're playing a good team. They're playing very well," Bochy said. "They're getting the timely hits and great pitching, and you have to play your best ball when you're playing a good team."
The first runs of the Giants' 4-2 loss the night before came when starter Madison Bumgarner left a fastball up to Billy Butler, who deposited it into the left-field stands to give the Royals a 2-0 lead in the first. Hudson made a similar mistake to Gordon that put Kansas City on the board. The left fielder crushed an elevated fastball for a homer, as the Royals drew first blood.
"It was a 2-0 fastball that, obviously, wasn't in a very good spot," Hudson said. "He's a really good fastball hitter and you get into a hitter's count with him, you've got to make a quality pitch right there. And I didn't do it."
Hudson's night ended in the seventh inning. He entered the frame with only three hits allowed -- including Gordon's home run. But Kansas City matched that number with the first three batters, and Lorenzo Cain's RBI single brought on reliever Jeremy Affeldt.
The former Royal immediately induced a double play, but the Royals went to work with two outs. Mike Moustakas brought home Gordon for Kansas City's third run with a double, and Alcides Escobar and Jarrod Dyson pushed the lead to 5-0 with RBI singles.
The seventh-inning carnage ensured Hudson's third straight start of allowing exactly three runs. He's 1-7 with a 4.28 ERA since June 12, when his ERA sat at 1.81.
"I thought our guy threw really well too," Bochy said. "Huddy did a nice job keeping us in the game there, and it just got out of hand there in the seventh."
San Francisco needs to beat Kansas City on Sunday to finish its 10-game road trip at .500.
"We got off to a good start on this road trip and [we] were close to having a good road trip with that start, but now it's up to us to fight all we can, try to win every game," Bochy said.
Jackson Alexander is an associate reporter for MLB.com. This story was not subject to the approval of Major League Baseball or its clubs.