Trout patient, but not afraid to go after first pitch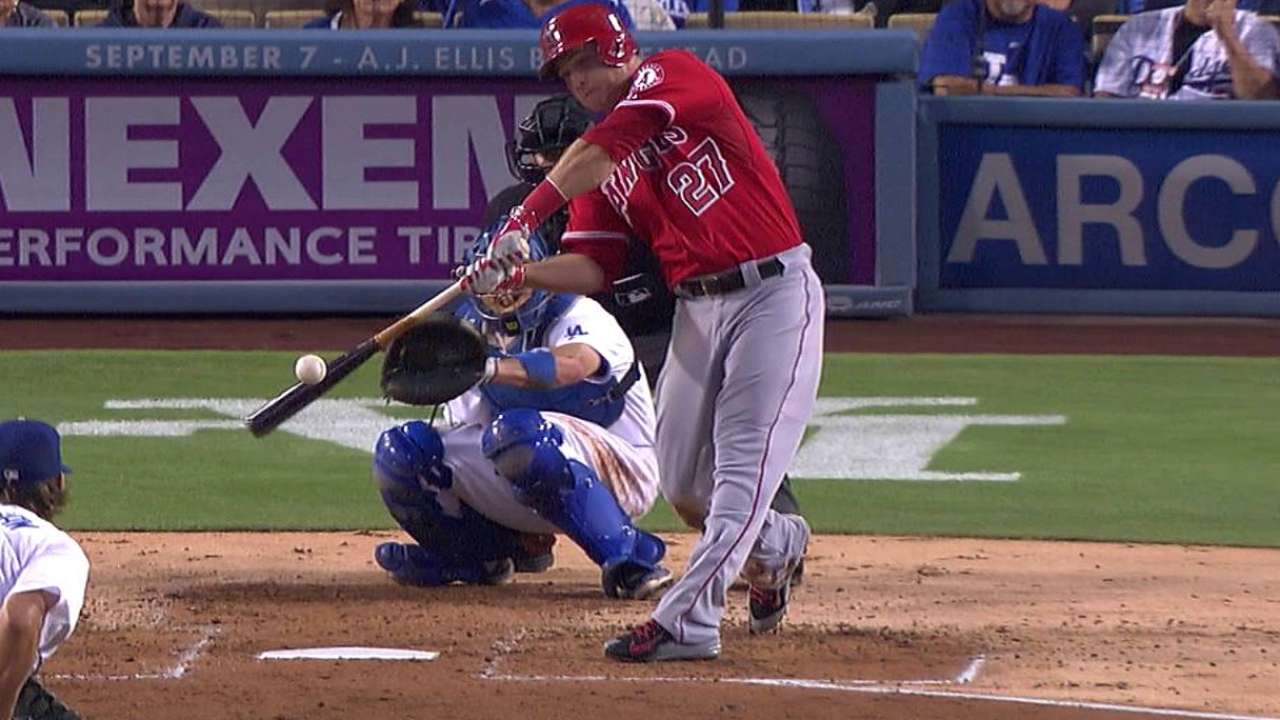 ANAHEIM -- As the Angels wait for their offense to burst from its slumber, Mike Trout waits as well -- but his waiting isn't new.
Trout, who entered play Saturday hitting just .247 in the second half, has remained patient in the batter's box despite his club's struggles, an attribute that helps him contribute in different ways.
The 23-year-old center fielder sees 4.46 pitches per plate appearance (second most in the Majors) and swings at the first pitch just 10.5 percent of the time (sixth in MLB). Trout said seeing a lot of pitches early helps him recognize the pitches in his next at-bat.
"I like to get more information for later at-bats, but sometimes you gotta go up there and hit that first pitch because they're grooving it in there," Trout said. "But I like to see a lot of pitches."
It's odd then, that Trout's last hit came on the first pitch. During Tuesday's game against the Dodgers, Trout lined Clayton Kershaw's first-pitch fastball down the line for a leadoff double in the third inning. Trout entered play Saturday having gone 0-for-14 since that at-bat.
But Trout said he'll stay patient during the hard times to avoid overstriding and "getting too big."
"When I'm aggressive, I get too big sometimes and get out of my swing and out of my mechanics," Trout said. "I'm relaxed up there and not trying to hit the ball so hard."
Trout has had only 20 one-pitch at-bats this season, with his .300 average in that scenario nearly mirroring his season average (.298).
Trout's patience has led to deep counts, yielding 62 walks (third in the American League) but also 123 strikeouts, the second-highest total in the AL.
"Mike's ability to get into deep counts is something that, at times, is a double-edged sword, because you are going to put yourself in a position to strike out a little more, but you're also in a position to see a lot of pitches, to time pitches, to draw walks and be extremely productive," Angels manager Mike Scioscia said.
Matthew DeFranks is an associate reporter for MLB.com. This story was not subject to the approval of Major League Baseball or its clubs.