A's walk all over Twins, drawing 11 base-on-balls
Offensive outburst gives plenty of support to Samardzija's solid effort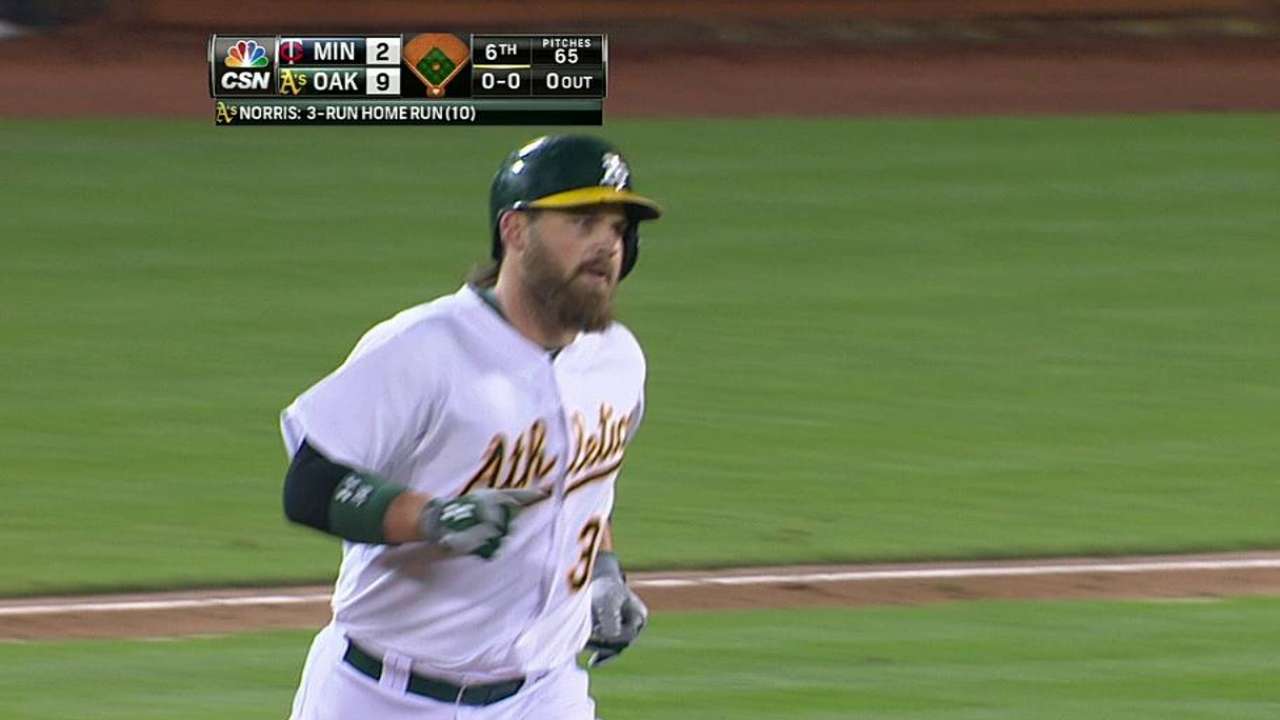 OAKLAND -- Even after watching nine of their first 18 batters draw walks against a frail Twins pitching staff on Saturday evening, the A's refused to back down.
Their offense is alive again, following a sluggish week at the plate, so forgive them for being greedy.
The A's tacked on another two walks by night's end, tying their season high of 11, but also complemented this patience with plenty of power, getting a pair of middle-inning homers from Stephen Vogt and Derek Norris in a 9-4 rout of the Twins.
"We've been getting progressively better here offensively the last few days," said manager Bob Melvin. "The homers help. Been a little shy with those recently. It cures a lot of ills when you score two or three runs on one swing of the bat."
"We've also faced some really good pitchers over this stretch, too," said Norris. "I think the biggest thing is grinding through at-bats and putting together good at-bats, and sooner or later it's going to turn around, especially with a talented ballclub like we have."
The A's indeed look like themselves again, albeit against a 51-64 Twins club that called on right-hander Trevor May to tackle them in his big league debut Saturday.
It was spoiled rather quickly.
The A's didn't play nice, forcing seven free passes from the rookie in just two innings, en route to their 12th straight victory against the Twins -- a streak that could reach 13 in Sunday's four-game series finale. They'll enter it with at least a four-game lead over the Angels in the American League West.
May was ultimately charged with four runs in a wild outing that featured a 28:35 strike-to-ball ratio. The 24-year-old was replaced in the third by righty Samuel Deduno, who proceeded to walk his first batter, Jed Lowrie, and his third, Eric Sogard, who drew four walks on just 20 pitches in his first four plate appearances of the night.
Along the way, Vogt slammed a two-run homer to right field in the fifth, with Norris crushing a three-run shot to left an inning later, giving Jeff Samardzija plenty run support in his third A's victory.
"It was outstanding," said Samardzija. "It allows you to calm down a little bit. I was fighting myself a few times. I felt like I was in the stretch the whole game. Just one of those days I was able to make a couple pitches when I really needed to, made it a little harder on myself at other times, but when you get those runs, it kind of brings you back to center, and you want to attack and make some quick outs and get your offense back in the dugout and let them keep doing what they were doing.
"Eleven walks in a game is pretty impressive. I don't think I've ever seen that. It's a testament to this lineup and how we play."
Samardzija gave the A's 109 pitches in six innings of work, allowing two runs on seven hits and two walks with five strikeouts. Not only did he do it in front of a Coliseum crowd exceeding 32,000 but also his newest fan, a possum that made his TV debut during Samardzija's last start.
"He likes me," said Samardzija. "I need to go find this guy. He's pretty sweet, man. He knows what he's doing. He shows up at the right times, too. Like down times in the game. He must have a little ego on him, which I don't mind.
"I don't know if it's good a possum likes you, but keep winning ballgames, he can show up as much as he wants."
Dan Otero gave up a pair of runs in the eighth, putting a halt to the A's bullpen's scoreless streak at 29 2/3 innings -- the fourth longest streak by A's relievers since at least 1914.
For Norris, it was his career-high 10th homer of the season, seven of which have come with at least two men on base.
"Quite a coincidence, isn't it?" said a grinning Norris. "I like to think that, when runners get on base, that's the time where you make your money. Home runs are great, I'll take them at any point, but especially when they come with runners on. It starts to add up in the RBI column.
"My power may not be able to compete with [Josh] Donaldson, [Brandon] Moss and guys like that, but I like to think that when I do it, it's meaningful."
Jane Lee is a reporter for MLB.com. This story was not subject to the approval of Major League Baseball or its clubs.