Blue Jays outlast Tigers in record-setting walk-off
Bautista's 19th-inning single wins longest game in team history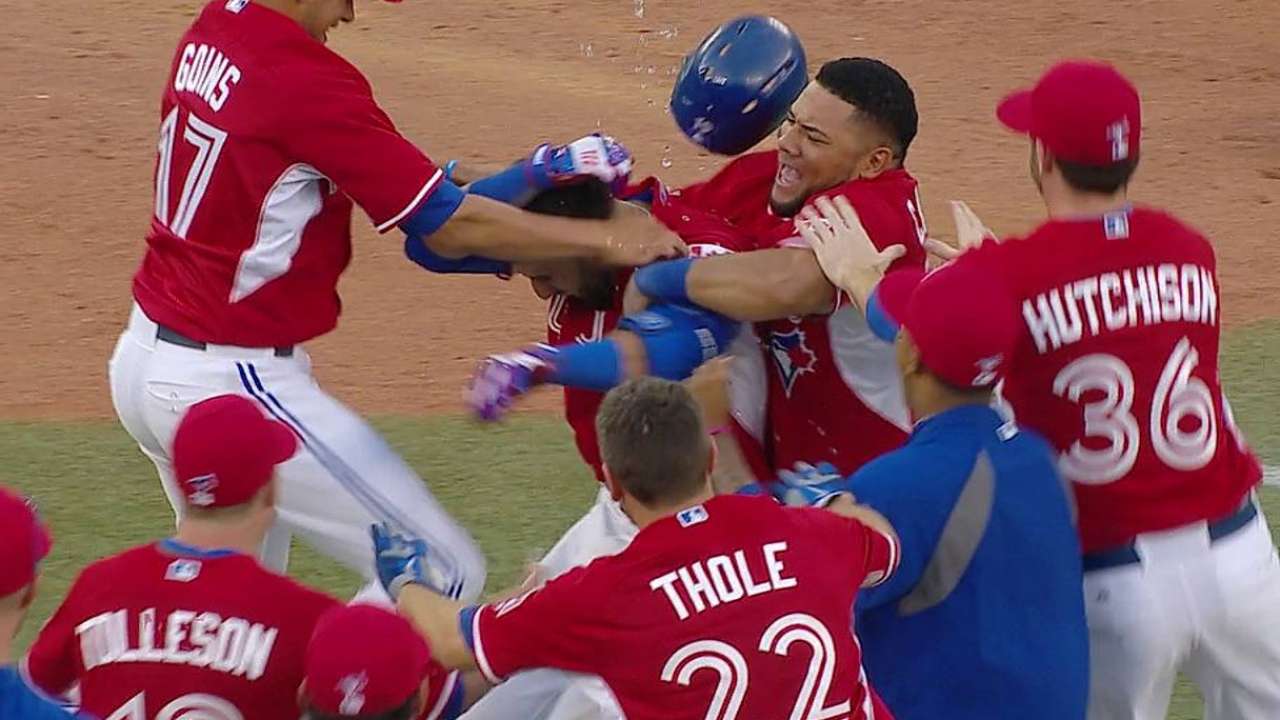 TORONTO -- The Blue Jays gave their fans still in attendance something to cheer about in a long and drawn-out series finale against the Tigers on Sunday.
Playing in the longest game in club history, the Blue Jays completed their second come-from-behind, walk-off win in as many days with a 6-5 extra-innings victory over the Tigers at Rogers Centre. Jose Bautista singled in the 19th inning to drive in the winning run and send the Toronto faithful home happy after a six-hour, thirty-seven minute affair, breaking previous single-game franchise records for both time and innings played.
"It was a long day today, and coming out on top is the only thing that matters," said Bautista, whose game-winner came off of Rick Porcello, normally a Tigers starter who had to come in as a reliever after the Detroit bullpen was entirely used up.
Bautista's walk-off hit was focal point of the victory, but several unheralded defensive plays and outstanding relief work from the Blue Jays' bullpen were equally key in the series-clinching victory. Melky Cabrera also reached base eight times, becoming the first player to accomplish the feat since the Twins' Rod Carew did so on May 12, 1972, against the Brewers.
Chad Jenkins -- the final bullpen arm after six Toronto relievers combined for 9 2/3 innings -- steered the ship as he threw six scoreless innings, holding Tigers hitters to seven hits with one walk.
Jenkins was to be relieved by knuckleballer R.A. Dickey if the game reached the 20th inning. The longest outing the 26-year-old right-hander had thrown this season prior to Sunday was 5 2/3 innings with Triple-A Buffalo. Jenkins said he was out of gas, but the fan support kept him afloat.
"It was a long one," said Jenkins, who earned the win and improved to 1-1. "For all the fans that sat through it, thank you. It's awesome. It's really exciting to look up and see it's 7:30, and still people are here going crazy, cheering, going nuts. It made it so much better."
Jenkins was also the catalyst in a key inning-ending double play with one out and the bases loaded in the 16th. Torii Hunter hit a chopper back to the mound, and Jenkins went home with it for the forceout before catcher Josh Thole fired to first to get Hunter.
"He had a good sinker. With two strikes, all you want to do is put it in play. You don't want to strike out right there." Hunter said. "All I wanted to go was put it in play. It just happened to go to the pitcher. Why couldn't it go to the second baseman?"
In the outfield, Colby Rasmus held the Blue Jays in it with two stellar defensive plays in extra innings. He made a diving catch in center field in the 19th, robbing Bryan Holaday of extra bases, and leaped as he pulled in a deep fly ball from Miguel Cabrera at the wall with one away in the 18th.
"I don't know if you saw my reaction when Cabrera smoked that ball, but I literally dropped my head and said, 'Crap,'" Jenkins said. "I thought it was way gone. It was an unbelievable play, and the sinking liner was even better. Colby saved me twice today."
Rasmus said taking a series from the American League Central-leading Tigers provides the team with a huge confidence boost as they embark on an eight-game, 10-day road trip, which begins in Seattle on Monday.
"[It's big] any time you beat a team like this. First in their division, we're trying to get there," Rasmus said. "You have to dig deep. It's a tough part of the season for us, [but] that's the mark of a good team."
While the late-innings heroics captured the excitement of what was left of the 46,126 sellout crowd at 7:44 p.m. ET, it was hard to imagine that hours earlier, things didn't look so good for the Blue Jays.
Starter Mark Buehrle was chased from the game after only 3 1/3 innings, over which he gave up nine hits and five runs (two earned).
Tigers starter David Price, meanwhile, appeared to be in control through five innings, surrendering only two hits as the Tigers amassed a 5-0 lead. But a pair of runs in the sixth and seventh and one more in the ninth gave the Blue Jays new life as they knotted the game at 5 to force extra innings.
Toronto manager John Gibbons said it was hard to pin down a defining moment in the marathon matchup, but he called it a character win for his team.
"We've had our ups and downs this year," Gibbons said. "One thing that we always talked about is this is a resilient group. Backs against the wall, they respond with a big win."
Jamie Ross is an associate reporter for MLB.com. This story was not subject to the approval of Major League Baseball or its clubs.