Pedroia, Sox battle but fall to Halos in 19 innings
Second baseman central in effort; replay upholds Angels' walk-off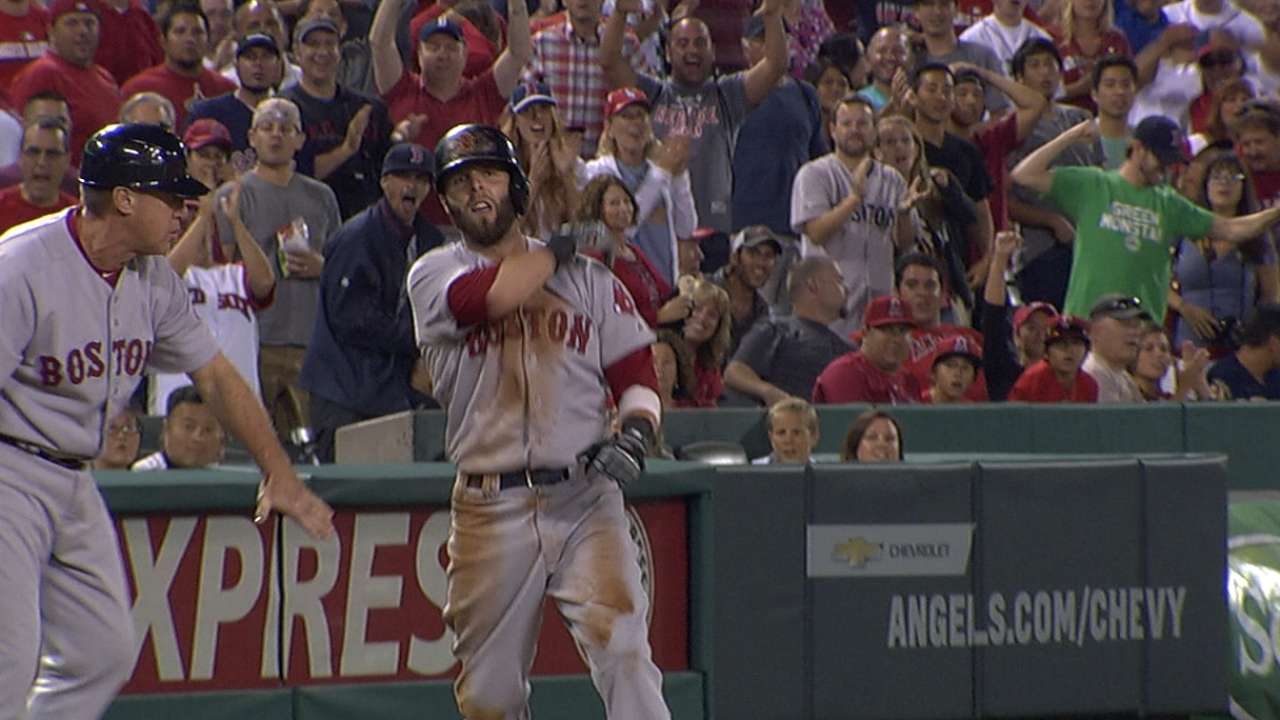 ANAHEIM -- In a marathon game that marked the longest contest in Angel Stadium history, it was the Red Sox who were left hanging their heads when Albert Pujols hit a game-winning solo home run in the 19th inning in a 5-4 loss to the Angels on Saturday night.
Red Sox manager John Farrell questioned whether the ball cleared the fence, but a replay review confirmed the long ball.
After going through their entire eight-man bullpen, Brandon Workman came in to pitch the 19th, even though he was scheduled to start Wednesday's game against the Reds.
"As hard fought as we played this game, as did they, sometimes these extended games when you come out on the short end can feel like two losses," Farrell said. "I couldn't be more happy and proud of the way we continued to battle the entire night."
Saturday's contest marked the longest game in the Majors this season at six hours and 31 minutes, and the 10th time in franchise history the Sox have played 19 or more innings.
"I think the adrenaline of the game keeps you going, but certainly you're going to feel it tomorrow. When you're just standing on your feet so long, even if you're not seeing a lot of action, it's a different workload than you're used to," Angels manager Mike Scioscia said. "If you did that every day, it might not affect you the next day, but we're used to playing nine innings and we played 19. Was it 19?"
The Red Sox looked to have things wrapped up in the 14th inning, when Dustin Pedroia led off with a single and stole second base with David Ortiz at the plate. Pedroia immediately popped up after being called safe, realizing that with the Angels' infield in a shift toward right field because Ortiz was up, no one was covering third base. An Ortiz sac fly to left field then plated Pedroia to give Boston a 4-3 lead.
The play epitomized Pedroia, who has always been known for his heart and hustle during his nine-year Major League career.
"I knew it was a possibility," Pedroia said. "Either the catcher or the pitcher head over [to third]. I popped up and peaked over and no one was there. I took a chance."
"Any time the opposition is in an overshift, that is a possibility. It was a great heads-up play on his part," Farrell said. "Fortunately we were able to go ahead, but we gave it right back the next inning."
Junichi Tazawa came in to close things out in the 14th after Pedroia's gritty play, but had trouble from the first batter. Pinch-hitter Chris Iannetta belted a double before a walk to Efren Navarro and a single by Kole Calhoun loaded the bases.
Things were then left up to the heart of the Angels' order with the bases loaded and none out. Mike Trout grounded into a fielder's choice that scored Iannetta. With two outs, Josh Hamilton struck out swinging and sent the game into the 15th inning.
The Angels' first chance against the Red Sox bullpen came in the 10th inning, when Collin Cowgill led off with a single, and a sacrifice bunt put him in scoring position. However, Craig Breslow got Hamilton to pop out to third base with two outs and end the threat.
In the 13th inning, left-hander Tommy Layne surrendered a triple to Erick Aybar with two outs, but got pinch-hitter C.J. Cron to ground out to first base.
In the 17th inning, with Heath Hembree on the hill for his third inning of work, the right-hander surrendered a double to Hamilton before two intentional walks loaded the bases for Cron. He hit a fly ball to left field, but Hamilton chose not to test Yoenis Cespedes' arm in left field, keeping the bases loaded with two outs for Iannetta, who promptly grounded out.
Hembree, in his first appearance with the Red Sox since being traded from San Francisco, tossed a total of 62 pitches in four innings of work.
Clay Buchholz tossed eight solid innings for the Red Sox, allowing three runs on six hits. He also struck out eight.
"When I fell behind in counts tonight, I was able to use my curveball and changeup and give the hitter something else to think about," Buchholz said. "That's pitching, and it makes you realize how hard it is when you don't have [all your pitches]. "
It looked like it would be more of the same struggles for Buchholz after the Red Sox right-hander surrendered two runs to the Angels before he'd even recorded an out.
His last two outings were anything but stellar, lasting just five innings and allowing seven runs in each. Yet, unlike those two, Buchholz was all business after allowing three straight hits to the first three batters he faced, including a two-run double to Pujols.
Buchholz then retired the next 11 batters he faced until a two-out walk to Howie Kendrick in the fourth inning. The Angels' next hit didn't come until a single by Trout to lead off the sixth.
"I thought tonight was probably his best outing of the year. He was outstanding. He had a good curveball when he was in fastball counts and slowed some hitters down," Farrell said. "He had three distinct pitches tonight and looked like the Clay Buchholz we know."
Trout would once again get the best off Buchholz in the eighth inning. Above the 100-pitch mark, he allowed a solo shot to Trout with one out to even things up at 3.
"That's why he is who he is," Buchholz said. "Only a few guys in the game can hit that pitch. If I would have known the game would have gone as long as it did, I promise you I wouldn't have given up a home run. I would have walked him if I had to."
Buchholz had to pitch at a high level with right-hander Garrett Richards on the hill for the Angels. Richards kept the Red Sox hitless through the first six innings, facing just one batter over the minimum.
However, Pedroia started things off in the seventh with a base hit up the middle, before scoring on an RBI double by Ortiz.
It was just the beginning of what would turn into a wild and whacky seventh after a single by Yoenis Cespedes put runners on the corners with none out. Back-to-back errors by Aybar and Kendrick allowed the tying run to score and the inning to continue, before Xander Bogaerts hit a deep fly ball to center field to give the Red Sox a 3-2 lead with the sac fly.
"We were going against one of the best starters in the league this year," Farrell said. "We finally break through in the seventh, but one guy after the next they brought out got the job done."
Quinn Roberts is a reporter for MLB.com. This story was not subject to the approval of Major League Baseball or its clubs.