Replay confirms Pujols' 19th-inning walk-off homer
Trout twice ties game, setting the stage for dramatic end to epic contest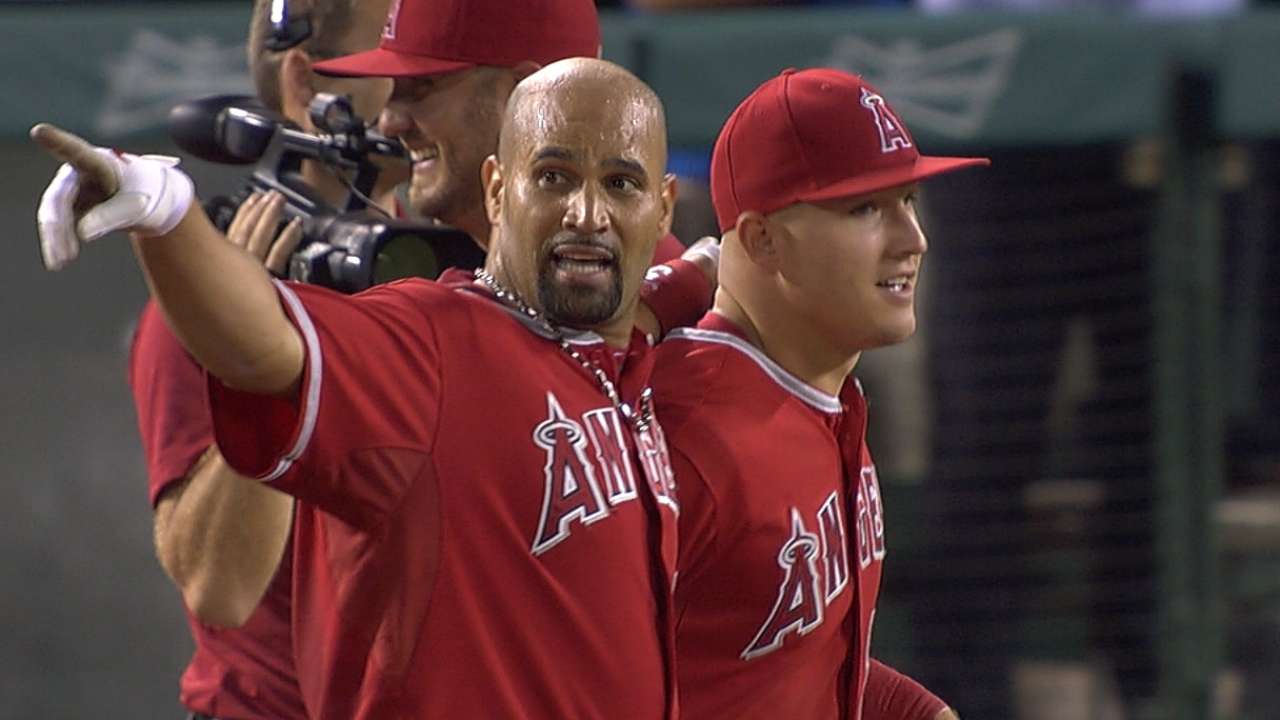 ANAHEIM -- There was no jumping mob at home plate, no jersey tearing, no shaving-cream pie.
At 12:39 a.m. PT at Angel Stadium on Sunday morning, there were simply muted fist pumps, scurrying footsteps to the clubhouse and two seemingly hidden Gatorade baths with third baseman Albert Pujols' name on them.
Pujols' solo home run to lead off the 19th inning ended a 6-hour and 31-minute, 19-inning marathon, lifting the Angels to a 5-4 win and snapping the club's season-high four-game losing streak.
The game was the longest (by innings) in the Majors this season and longest (by time) in the history of Angel Stadium. It was the seventh 12-plus-inning home game this season for the Angels as they improved to 8-6 in extra-inning affairs.
"A game like this can turn things around the way that we want to, so hopefully that's the case," Pujols said. "If that's the case, it's worth it to play 19 innings."
Pujols, who moved from first base to third in the top of the 14th inning, hit his first walk-off home run as an Angel and first overall since June 2011. But it was not without a dose of anticlimactic drama.
The home run, which barely cleared right-field's 18-foot wall, was reviewed and confirmed by a video official in New York, setting off a short celebration and a quick exodus for the Angels.
Pujols said he just wanted to start the inning off with a base hit, but he ended up with much more.
"Obviously, I got a good pitch to hit and it was the best swing of the second half, I would say," Pujols said.
Pujols finished the game 2-for-9 with three RBIs, and his appearance at third base was his fourth as an Angel and first since June 2012. In the last play before his walk-off heroics, he recorded an assist as a third baseman while stationed on the first-base side of second as part of the Angels' shift against David Ortiz.
Scioscia said Pujols still takes some grounders at third base during practice.
"I can't say enough about Albert," Scioscia said. "Not just the home run, but in his willingness to go play third base and go play second base in a triangle. He just loves to play the game, and that made some things possible on the field and helped us try to win the game. That why it's fun to be around."
Matt Shoemaker, who started on Wednesday and threw 102 pitches in six innings, picked up his second relief win of the season, tossing three perfect innings and striking out four.
"His stuff looked really good," Scioscia said. "We needed it, and it's just a great outing from Matt and he got rewarded with a win, so we're happy for him."
Shoemaker said he threw a short bullpen session prior to Saturday's game and his long session was scheduled for Sunday.
The Angels used 22 different players, including their entire bench, two-fifths of their starting rotation and their entire seven-man bullpen. Scioscia said Shoemaker had about 20-30 pitches left in him and that Hector Santiago, Sunday's starter, would have come in after him.
"Could've probably finished this one and stayed warm enough to start tomorrow, too," Scioscia said.
The Angels' bullpen threw 12 2/3 innings of one-run ball, allowing just three hits and two walks. They did not surrender a Red Sox hit it their first 6 1/3 innings.
Pujols' 22nd homer of the season broke a 4-4 tie after each team scored one run in the 14th.
The Red Sox took the lead in the top of the 14th when Pedroia singled, stole two bases on the same pitch and came in on Ortiz's sacrifice fly to left. With one out, Pedroia took off for second against a shifted Angels defense. With no one covering third base, Pedroia scampered to the bag, beating both the ball and Cory Rasmus.
With the bases loaded and no outs for the Angels, Mike Trout grounded a ball to short, where Xander Bogaerts elected to go to second base instead of cutting down the tying run at the plate. Second baseman Pedroia got the out at second and tried to catch Chris Iannetta at home, but his throw was late and Trout reached safely.
Pedroia's run broke a 3-3 tie after Trout tied the game six innings earlier.
With his team down by one run in the eighth inning, Trout lined a 1-2 Clay Buchholz fastball into the right-center-field stands for his 26th home run of the season. Of his 26 homers, 19 have tied the game or given the Angels the lead.
Buchholz had survived a rough two-run first inning to face just 21 Angels in the next six innings. But that's when Trout connected for his third hit of the night off Buchholz and turned a potential win into a no-decision for the 29-year-old right-hander.
Angels starter Garrett Richards, meanwhile, did not allow a hit through the first six innings, but Pedroia broke up the no-hitter in the seventh with a leadoff single up the middle just two pitches into the inning, and the Red Sox scored three runs in the frame to chase Richards in what ended up a no-decision for the righty.
"Even after the three-run inning, it's a great performance," Scioscia said. "There were a couple plays that we didn't make that certainly contributed to those guys getting a lead in that inning."
Scioscia said both teams would feel the effects of the 19-inning game during Sunday's rubber match, which was scheduled to start less than 12 hours after Saturday's ended.
"When you're just standing on your feet so long, even if you're not seeing a lot of action, it's a different workload than you're used to," Scioscia said. "If you did that every day, it might not affect you the next day, but we're used to playing nine innings and we played 19. Was it 19?"
When Shoemaker was describing the game to reporters after the game, he paused.
"I think it was 18 or 19 or 20," Shoemaker said. "I knew it was one of those three."
Matthew DeFranks is an associate reporter for MLB.com. This story was not subject to the approval of Major League Baseball or its clubs.