Braves fall to Nats in 11 after lengthy rain delay
Club drops 4 1/2 games back of first-place Washington in NL East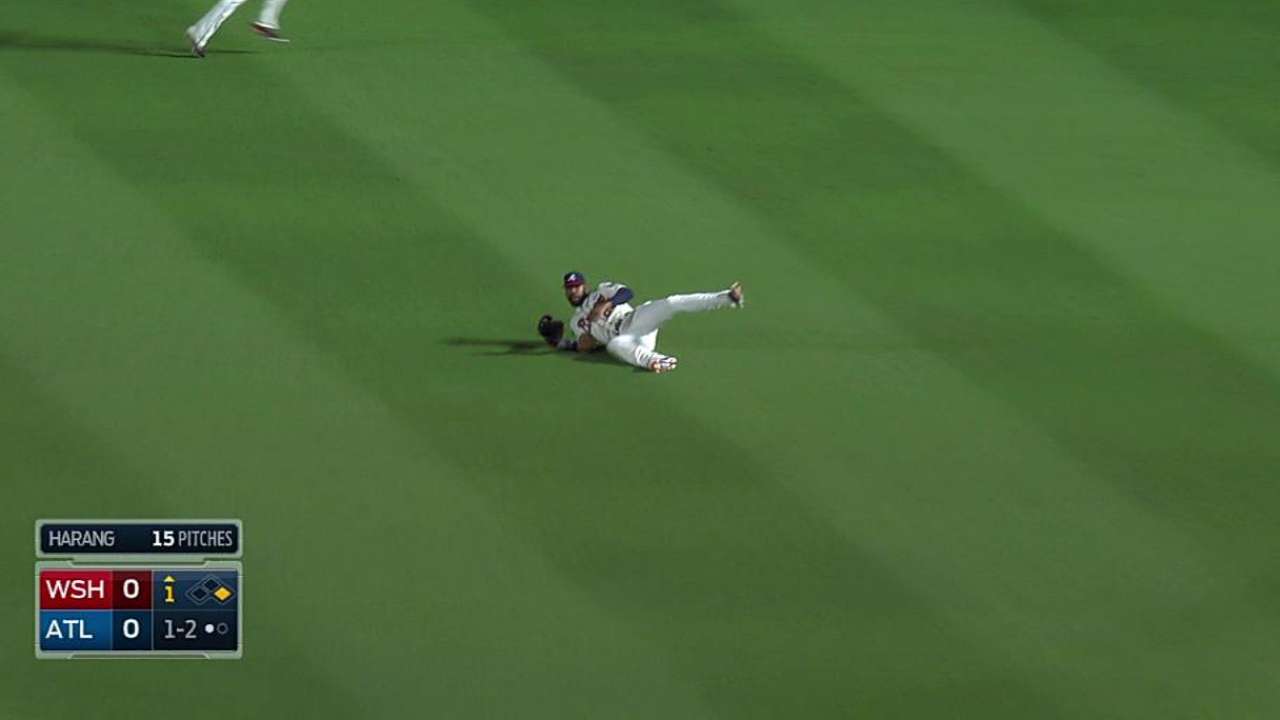 ATLANTA -- After waiting through an extremely long rain delay and then finding themselves playing extra innings in the wee hours of the morning, the Braves were obviously hoping to further distance themselves from the miseries they had encountered during their recent eight-game losing streak.
Instead their frustrations were extended as the Nationals constructed a three-run 11th inning and celebrated a 4-1 win early Sunday morning. En route to losing for the ninth time in their past 10 games, the Braves were reminded of the uncertainty that exists within a bullpen that was their strength last year.
"Our pitching staff is our best thing, and when we lose with them, we can't really get upset because they picked us up and carried us the whole year, so it's going to happen," Freddie Freeman said. "It's bound to happen and it's probably going to happen again, but as an offense, we've got to do a better job of getting more than one run."
David Carpenter proved perfect in the 10th inning and then allowed consecutive singles to Anthony Rendon and Adam LaRoche to begin the 11th. With left-handed slugger Bryce Harper coming to the plate with one out, Braves manager Fredi Gonzalez called for southpaw James Russell, despite the fact that Russell has struggled against lefties (.314 batting average against, .368 OBP against) and handled righties (.113 BAA, .253 OBPA) well this year.
"That's what we got him for," Gonzalez said, indicating Russell should be viewed as as a left-handed specialist. "A situation that if you get just one left-hander out, you get Harper out, who hasn't particularly been swinging the bat really well in this series."
Harper, who had previously notched a pair of singles during the marathon affair, did not have to swing the bat as Russell walked him to load the bases. Gonzalez signaled for Anthony Varvaro to face right-handed catcher Wilson Ramos, who homered off Varvaro on Friday night. Varvaro, who had allowed at least one run in three of his previous five appearances, allowed Ramos to dink a decisive single to shallow center. Kevin Frandsen followed with two-run double that served as the crushing blow during a game that lasted three hours and 38 minutes and ended at 2:29 a.m. ET on Sunday.
When asked about only facing Harper, Russell said, "I'm supposed to get those guys out. Unfortunately, it didn't work out that way. I'm not really used to pitching at 2 in the morning, but it's still something you've got to do no matter what."
Though they lost for just the 10th time in the past 31 meetings between these two teams, the Braves now find themselves 4 1/2 games behind the first-place Nationals in the National League East.
A rain delay of three hours and 41 minutes prevented the first pitch from being thrown until 10:51 p.m. ET on Saturday. According to Stats Inc., this was the latest any Major League Baseball game has started (local time) since the Braves waited until 10:53 p.m. to begin a June 17, 2013, game against the Mets.
"It's definitely tough to get hot and then sit down for four hours and try to get re-hot again, but it's our job and we still went out there and gave it our all," Freeman said.
The Braves could have ended the night earlier had they not botched a two-on, none-out situation in the fifth or at least scored more than one run after loading the bases with none out in the sixth.
Harang essentially killed the fifth-inning threat when his sacrifice bunt turned into a double play. Jason Heyward's game-tying sacrifice fly in the sixth inning proved to be the only damage done to Nats starter Tanner Roark over seven innings.
Heyward's shattered-bat sacrifice fly to center field enabled the Braves to erase the deficit they had incurred when LaRoche opened the sixth inning with his 16th home run of the season. LaRoche's shot over the right-center field wall accounted for the only blemish on the line produced by Harang, who allowed the one run and seven hits over seven innings.
"Harang gave us a [good] opportunity," Gonzalez said. "When it's the 10th inning there at 2 in the morning, you forget how well Harang pitched."
Mark Bowman is a reporter for MLB.com. This story was not subject to the approval of Major League Baseball or its clubs.