Odorizzi handcuffs Cubs with nine strikeouts
Right-hander rebounds from rough outing to go six strong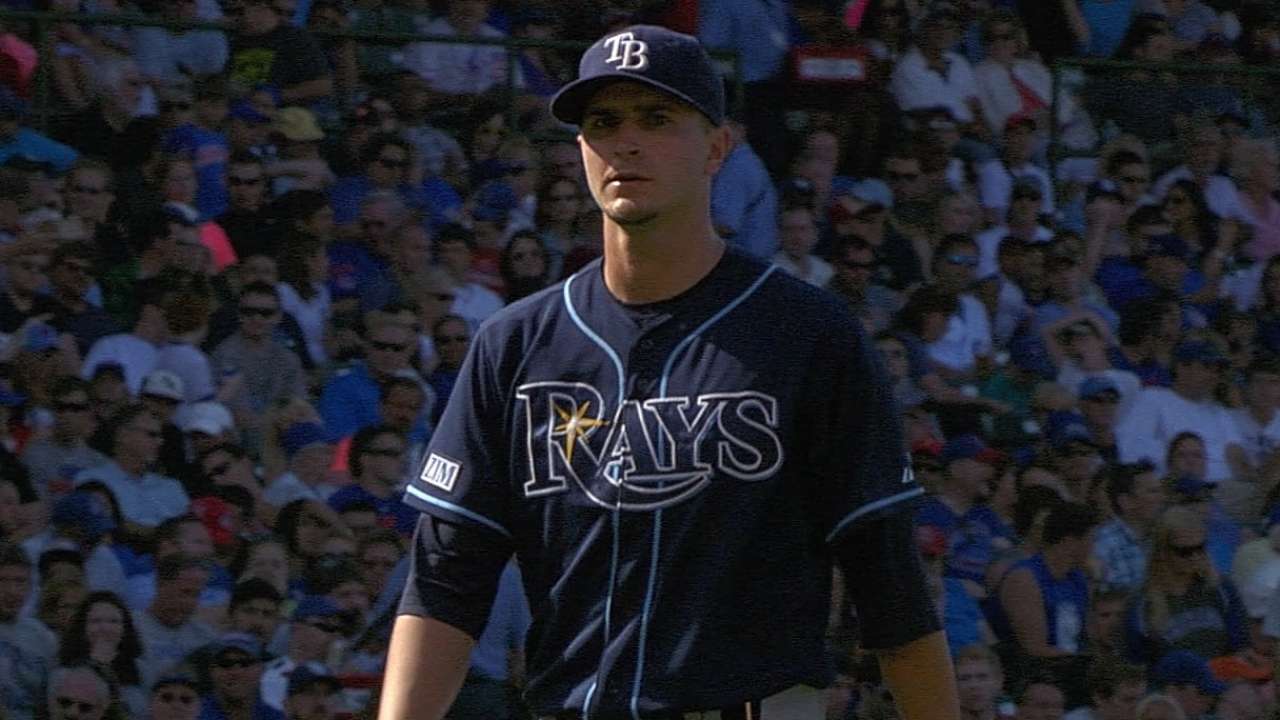 CHICAGO -- A short memory can often be a good thing where a pitcher is concerned. And the way Jake Odorizzi pitched on Saturday, it's clear he knows that the past is the past.
The work of the right-hander keyed a 4-0 Rays win over the Cubs at Wrigley Field.
The Rays (57-59) won their third consecutive game while moving to 3-2 on their road trip and claiming the series. They improved to a Major League-best 15-6 since July 12.
Odorizzi pitched through the sixth, leaving with a clean line in the rearview mirror: No runs on three hits, no walks and nine strikeouts.
Odorizzi's eighth win of the season served as a stark contrast to his previous outing when he needed 46 pitches just to get out of the first against the Angels and couldn't reach the fourth inning.
"I felt the same, body-wise [as my last outing], I felt the exact same, I just felt more sharp," said Odorizzi, who had been on a roll prior to his start against the Angels. "The other day I wasn't very sharp, I was missing here and there.
"Today I was throwing it where I wanted and it was just one of those days where you've got that good feeling and you know where it's going. You know where you're going to put it and you're able to get strikeouts, but I really wasn't going for strikeouts. I was just trying to go get it as fast as I can, put it in play, keep going."
Added Rays manager Joe Maddon: "The other day against the Angels, he was just picking around, picking around. Today he was just, 'let's go' and I really like when he plays 'let's go.'"
Odorizzi led a quick charge out of the gate for the Rays by holding the Cubs scoreless through the first four innings while posting all nine of his strikeouts.
"He was smart," Cubs right fielder Justin Ruggiano said. "He was using the wind and the field elements to his advantage. He was throwing the ball up in the zone and making us want to swing at it, and if we did, we put it in play in the air and it's not going anywhere today. I watched countless video on the guy, and he's never been up in the zone much, and today I think he had a plan and he executed it."
Odorizzi found Wrigley Field's mound to his liking, too.
"I was comfortable on the mound," Odorizzi said. "It felt comfortable. I feel like you're pretty close to the hitter with the close brick backdrop. The fans are all around you and everything is very on top of you, so you feel a little bit closer just because everybody is closer to you."
Meanwhile, the offense got going against former Ray Edwin Jackson, who started for the Cubs. Ben Zobrist began the fourth with a double off Ruggiano's glove that died in the ivy for a ground-rule double. One out later, Evan Longoria doubled to left to score Zobrist.
"Opportunity there with a runner on third and less than two [outs]," Longoria said. "Just trying to swing and find an open spot on the field -- slider up that I was able to do that. I've been getting some decent pitches to hit. Again, I'm just happy in that situation with a runner in scoring position and less than two that I was able to come through."
Yunel Escobar added a two-out single to right drove home Longoria for a 2-0 lead.
The Rays got busy again in the sixth -- with a little help from the Cubs. Zobrist walked to start the inning, and one out later, Longoria scorched a shot to Luis Valbuena. The Cubs third baseman dove to his left to snare the ball then threw to second with a good shot at a inning-ending double play. But Javier Baez dropped the ball and all runners were safe. Matt Joyce walked to load the bases before Escobar singled through the middle to drive home two, putting the Rays up, 4-0.
Longoria appreciated what he and his fellow hitters accomplished against Jackson.
"He's good, man, he's good," said Longoria of his former teammate. "He's as competitive as ever. It seems like he's learned how to pitch a little bit more. I saw his velocity go from 89 [mph] all the way up to 95 today. So it seems like he's pitching a little bit more as opposed to just throwing.
"He can throw it 97-98 mph. I saw him throw some really good changeups today. ... I thought he threw the ball well, we just cashed in some guys with runners in scoring position in big situations today."
Kirby Yates pitched two scoreless innings before Jake McGee pitched the ninth -- though it wasn't a save situation. Maddon explained that he wanted his best reliever to face the top of the Cubs' dangerous order. Both Yates and McGee fanned three, bringing the Ray's K total to 15.
And so the Rays continue to play a far better brand of baseball than what they played in the first half. But Maddon noted they won't be looking at the standings.
"If we keep our nose down and keep playing well, at some point, all of a sudden people are going to say, 'Hey, they're getting pretty close,'" Maddon said. "So I'd much prefer that."
The Rays will go for the sweep Sunday afternoon at Wrigley Field.
Bill Chastain is a reporter for MLB.com. This story was not subject to the approval of Major League Baseball or its clubs.