Prospects learning to adjust, but Cubs' bats quiet
Baez doubles, whiffs three times; Alcantara flashes leather in outfield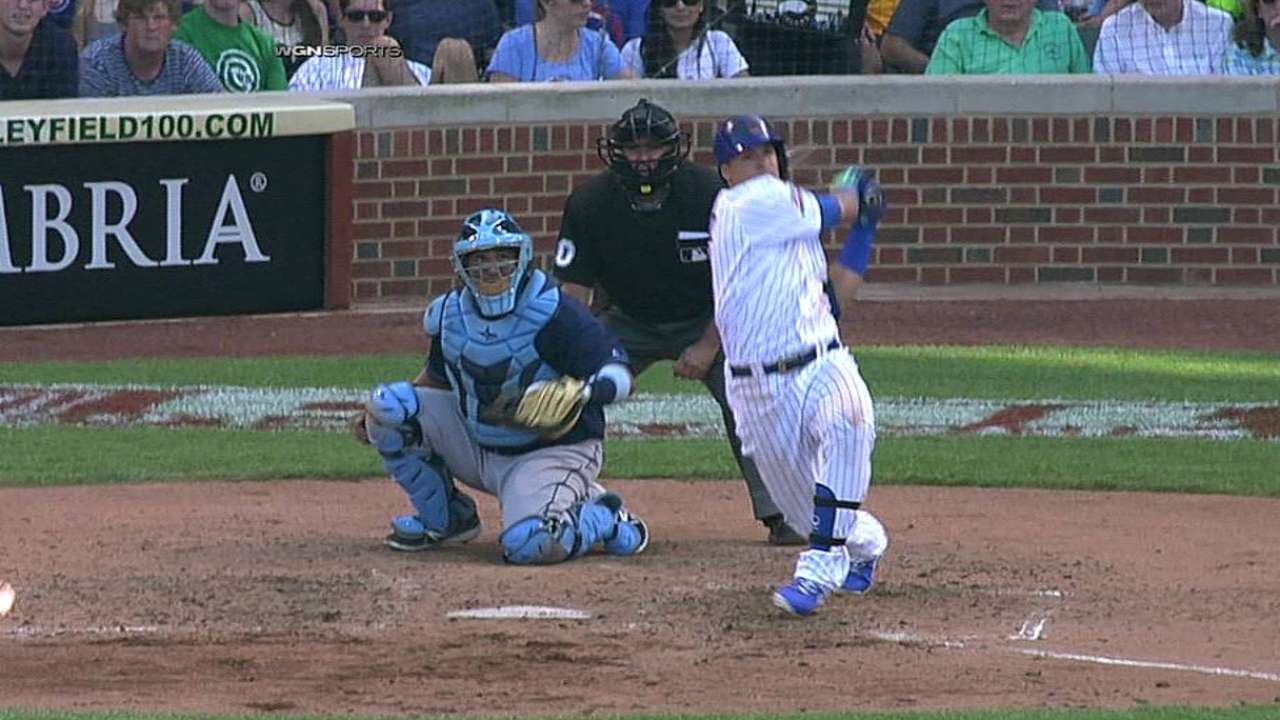 CHICAGO -- For someone who has never pitched at Wrigley Field before, Jake Odorizzi took advantage of the conditions, which didn't favor Justin Ruggiano.
Odorizzi struck out nine in the first four innings and Yunel Escobar drove in three runs to lead the Rays to a 4-0 Interleague victory over the Cubs on Saturday in front of 36,739 fans hoping to see Javier Baez hit a home run at Wrigley Field.
Baez, one of the Cubs' heralded prospects who was promoted last Tuesday, did double with two outs in the sixth, but also struck out three times. Manager Rick Renteria was encouraged by the rookie's approach.
"He wants to prove to the whole world that he belongs here," Renteria said of Baez. "It's part of the conversations are that, 'You don't have to carry the team on your back, you just have to be yourself. You have a lot of teammates.' I think he'll continue to make adjustments and I think he'll be fine."
Does Baez feel he needs to do more to prove he belongs in the big leagues?
"Not really," he said. "I think I've already proved what I can do."
He hit 23 home runs at Triple-A Iowa before his promotion, and has three in his first five games, although they were on the road in Denver. Baez, 21, has struck out 10 times in 23 at-bats.
"I'm not going to change my approach because I strike out a lot," Baez said. "I have to be patient and get a good pitch to hit."
"[Baez's] at-bats today were visibly more controlled," Renteria said. "I think he was trying to work the pitcher a little bit more. He was very conscientious of his at-bats. In terms of results, I take it one step at a time."
Odorizzi finished two strikeouts shy of his career high of 11, set May 9 against the Indians. The Rays right-hander, who leads all Major League rookies with 136 strikeouts, scattered three hits over six scoreless innings.
"[Odorizzi] was smart," Ruggiano said. "He was using the wind and the field elements to his advantage. He was throwing the ball up in the zone and making us want to swing at it, and if we did, we put it in play in the air and it's not going anywhere today. I watched countless video on the guy, and he's never been up in the zone much, and today I think he had a plan and he executed it."
This series is Rays manager Joe Maddon's first time ever at Wrigley, and he learned about the ballpark's quirks in the fourth. Ben Zobrist hit a ball to right that deflected off Ruggiano's glove and into the ivy. Ruggiano couldn't find the ball, and Zobrist was awarded a ground-rule double. Maddon argued the call, asking the umpires to consider giving Zobrist at least a triple. It didn't matter. One out later, Zobrist scored on Evan Longoria's double. One out after that, Longoria scored on Escobar's single that dropped in front of Ruggiano to open a 2-0 lead.
The 3:05 p.m. CT starts do create problems for right fielders because of the late afternoon sun and shadows.
"I think I should've caught [Zobrist's ball], but between the sun and the wind and the wall, I just kind of alligator-armed a little bit," Ruggiano said.
And Escobar's single?
"I pulled back on it, and after that point, I didn't think I had a play, and I looked up and definitely had a play," Ruggiano said. "It was just a mental mistake by me."
The Rays loaded the bases with one away in the sixth when Zobrist walked and was safe at second one out later on an error by Baez, who dropped a relay throw from third baseman Luis Valbuena. Instead of a double play, Longoria reached on a fielder's choice and Matt Joyce walked to load the bases. Escobar followed with a two-run single.
Cubs starter Edwin Jackson did post his first quality start at Wrigley since May 17 but took the loss, his 12th, and is now 1-5 in his last nine starts. Longoria remembers Jackson from his no-hitter on June 25, 2010, when the right-hander was with the D-backs. Longoria went 0-for-3 with a walk in that game.
"He's as competitive as ever," Longoria said of Jackson. "It seems like he's pitching a little bit more as opposed to just throwing. I saw him throw some really good changeups today, and some breaking balls like the Edwin Jackson that we may have known, or the guy that threw the no-hitter against us a few years back."
That may seem like a long time ago for Jackson, who has posted double-digit losses in three consecutive seasons. This year, he's looking ahead, as are the Cubs. Rookie Arismendy Alcantara made a couple impressive catches in center field, Baez is still getting comfortable, and pitcher Kyle Hendricks has been solid. Yes, the Cubs lost, but there are positive signs.
"We can definitely finish on a pretty good note and show what's to come in the future," Jackson said. "Everyone's high intensity, and that's what it's going to take to win ballgames. We're going to lose some here and there, but we'll continue to battle. Things are definitely headed in a positive direction."
Carrie Muskat is a reporter for MLB.com. She writes a blog, Muskat Ramblings, and you can follow her on Twitter @CarrieMuskat. This story was not subject to the approval of Major League Baseball or its clubs.