Liriano strong but bats can't rally late
Harrison extends hitting streak to 13 games with two-hit night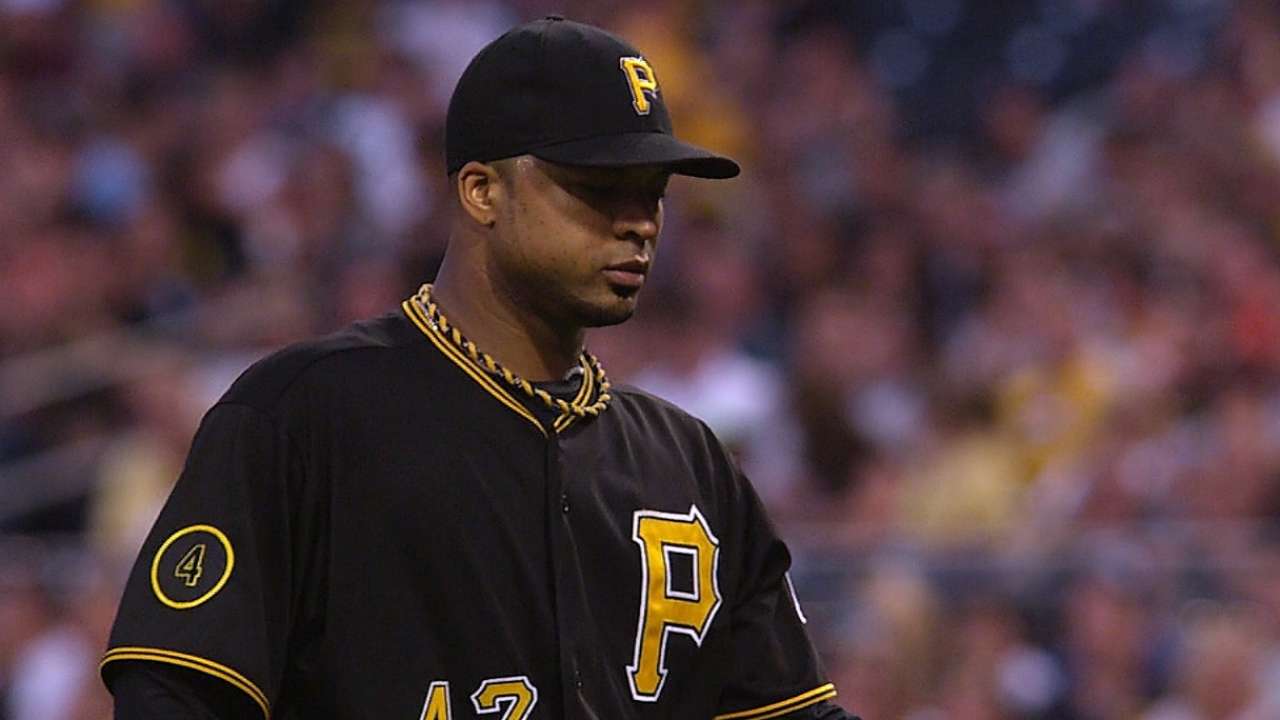 PITTSBURGH -- Clint Hurdle thought it was pretty unusual and quite wonderful Friday night when the Pirates led 2-1 after the first inning -- and that endured as the final of the victory over San Diego.
The Buccos manager had to think it was even more unusual, but far less wonderful, when the exact same oddity -- different result -- occurred Saturday night.
The Padres scored two in the first before Francisco Liriano barred their way on base, Eric Stults gave back only one of the runs in the bottom of the first -- and the Friars emerged with a 2-1 win in front of another PNC Park sellout of 38,614.
"I don't think I've ever been in a position where [it's] 2-1 after one last night and 2-1 after one tonight and they both finished that way," Hurdle said after the Padres had confirmed his pre-series impression of them. "We knew they could pitch coming in. One-run games both nights. We had opportunities to tie or go ahead, we just didn't cash in."
A night of missed opportunities came into maddening focus in the eighth, against Kevin Quackenbush. Jordy Mercer led off with a single, then Russell Martin doubled off the Clemente Wall.
The needle on the frustration meter began wobbling immediately.
San Diego right fielder Jeff Francoeur, after gloving the ball off the wall at an awkward angle, did a face-plant while throwing it back to the infield -- with the ball thus doing a slow dribble to the cutoff man.
Third-base coach Nick Leyva had already flashed the stop sign to Mercer -- who might have been able to score the tying run given Francoeur's flop.
"He did what?" Mercer said, surprised. "I had no idea. I can only look at Nick -- and we had to hold up. Francoeur has a fantastic arm. And, anyway, I'd think we'd take men-on-second-and-third, none out."
Cue the frustration meter, again. Ike Davis, pinch-hitting, barreled-up a ball that seemed headed into the right-center gap -- but when his bat cracked, it only made it as far as Gyorko's glove at second.
"Over the right fielder's head," Davis said, when asked how far that ball would have gone had his bat not cracked. "If I'd only hit it a little higher, we win that game. But that's the way the cookie crumbles."
That was still only one out. Starling Marte's strikeout and Gregory Polanco's fly to right made it three.
"We weren't able to make good outs and didn't get a hit," Hurdle said, curtly. "Nothing happened for us that we needed to happen for us."
So it became a strange pill to swallow for Liriano, who technically pitched seven no-hit innings after allowing three hits before there was an out in the first, which set up the two early runs.
The first four to face Liriano reached -- and there would be two outs in the seventh before another San Diego runner got on base. Everth Cabrera singled to first a dozen feet off the bag and stole second before stopping at third on Yangervis Solarte's single, and a breaking pitch bounced off Tommy Medica's rear foot to load the bases.
Jedd Gyorko singled for a run, and the bases were still loaded after Chris Nelson bounced into a force at home. The Padres made it 2-0 on a Yasmani Grandal sacrifice fly to right that became a double play when Polanco's strong throw caught Nelson between bases.
And Liriano kept mowing 'em down. He retired 19 straight batters until issuing a two-out walk in the seventh to Grandal -- who was promptly erased on Francoeur's inning-ending force. Liriano was done one out later, having gone seven innings; in addition to the two runs and three hits, he walked one and fanned four.
The 2013 Comeback Player of the Year is on a pretty good in-season 2014 comeback. He sports an ERA of 1.68 in five starts since the All-Star break and, in a bigger sample size, has allowed more than two earned runs only once in his last nine starts.
"He's done it before," Hurdle said of his 2013 ace. "It's not like all of a sudden we're seeing something we hadn't seen before. He's finding his rhythm, he's got confidence out there, repeating the delivery. His fastball command, really is again, getting back to what it was last year."
However, the only run of support the Bucs could provide against Stults was on Martin's RBI single to score Josh Harrison, who had led off with the first of his two singles and stole his way into scoring position.
"I was throwing the backdoor slider tonight and they were sort of giving up on it," said Stults, who went 6 1/3 innings, allowed seven hits but no walks, and struck out six. "I don't know if they weren't picking up on it or not."
Harrison's hits extended his streak to 13 games, the longest of the season by a Pirates player.
In defeat, Liriano sustained a couple of impressive streaks by Pittsburgh's starting pitchers: They have gone seven innings in each of the five games of this current homestand and, counting the last two road games, have combined for an ERA of 1.91 in the last seven games.
Tom Singer is a reporter for MLB.com and writes an MLBlog Change for a Nickel. He can also be found on Twitter @Tom_Singer. This story was not subject to the approval of Major League Baseball or its clubs.