Effective McCarthy absorbs first loss with Yanks
Jeter passes Wagner for sixth place on all-time hits list in defeat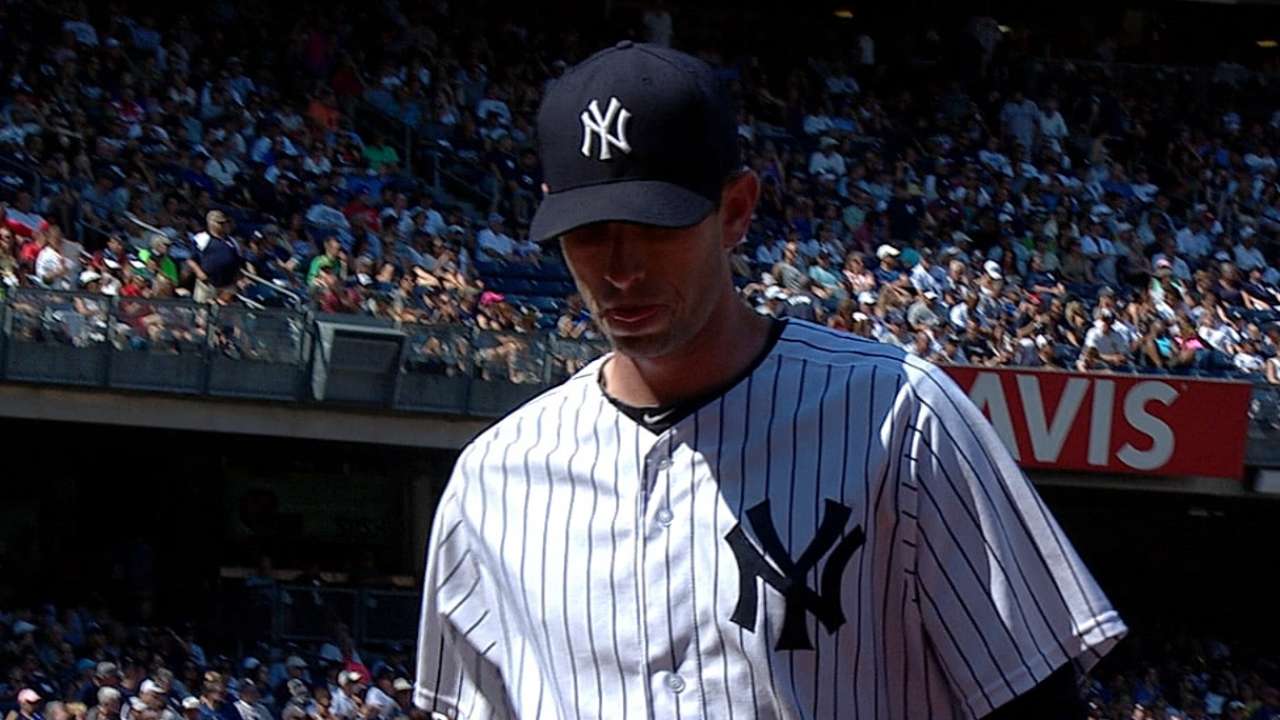 NEW YORK -- The Yankees just won three out of four games against the Tigers, who started three American League Cy Young Award winners and one of the AL's leaders in wins. Brandon McCarthy was coming off a victory on Monday against Detroit's Max Scherzer, who won last year's Cy Young.
But on Saturday, the Yankees' bats were stifled by Indians right-hander Corey Kluber, who is pitching as well as, if not better than, any of the pitchers the Yankees have faced this week.
New York had no answer for Kluber, who tossed six strong innings to lead Cleveland to a 3-0 victory at Yankee Stadium.
"He's just got really good stuff," Yankees manager Joe Girardi said of Kluber. "He's got an outstanding slider that he uses to right-handers and left-handers. I know there was a lot of talk for what we faced this week [against] Detroit, but you look at the top five guys in the AL, [Kluber's] right there.
The Yankees' best scoring chance against Kluber came when they opened the sixth inning with a pair of singles, one of which was off the bat of Derek Jeter. The captain's 3,431st career hit moved him past Honus Wagner and into sole possession of sixth place on Major League Baseball's all-time hits list.
But Kluber (13-6) responded by promptly striking out the next three batters in order, finishing with 10 on the day. The right-hander allowed four hits, walked one and lowered his ERA since the All-Star break to 0.68.
"He's nasty," Jeter said. "He throws a fastball, cutter, two-seamer, four-seamer, slider -- he mixes it up pretty good. I don't think he threw too many pitches over the middle of the plate. He's got control, he didn't walk guys. He's a handful.
"If he continues to pitch like this, he's going to have an extremely long and successful career."
The Yankees had not been shut out at home since June 13, 2011, also against the Indians. Cleveland won that game 1-0, and before Saturday had not won here since, enduring a streak of seven games.
The Indians are competing with the Yankees in the crowded race for the second AL Wild Card spot. While the Indians have been inconsistent since the All-Star break (11-12), the Yankees have been much improved (14-8).
Some of that success can be attributed to McCarthy, who was solid again, although that has become expected since he was traded to the Yankees last month. The veteran right-hander allowed two runs on seven hits while striking out eight in 6 1/3 innings.
McCarthy made one costly mistake in the second inning, and Jose Ramirez capitalized by hitting a two-run home run, the rookie's first career homer. Cleveland never looked back.
"Over the course of a game, you expect a few [mistakes] to happen," McCarthy said. "Just, they don't typically get punished like that."
McCarthy (4-1) took his first loss in six starts as a member of the Yankees, and it ended a personal six-game winning streak.
There was a moment where it looked as if McCarthy might not make it as far as he did. Michael Brantley, who also hit a solo homer in the eighth, hit a line drive in the third inning right back up the middle that nailed McCarthy in the middle of his right foot.
Girardi and head athletic trainer Steve Donohue came out to the mound to check on McCarthy, who threw a few warmup pitches. He remained in the game and said the foot did not affect his performance the rest of the way. While Girardi expects McCarthy's foot to be sore on Sunday, X-rays came back negative.
"It feels like everything's broken instantly," McCarthy said. "And then you realize the feeling comes back."
This was just the Yankees' second loss in their past eight games, and those losses have come in games started by David Price and Kluber, two of this season's top candidates for the AL Cy Young Award.
"You're going to run into guys that have great stuff," Girardi said. "And sometimes you're going to get them. And sometimes they're going to shut you down."
Jamal Collier is an associate reporter for MLB.com. This story was not subject to the approval of Major League Baseball or its clubs.