Angels open RBI World Series with two wins
Anaheim squad is only senior team to notch pair of victories on first day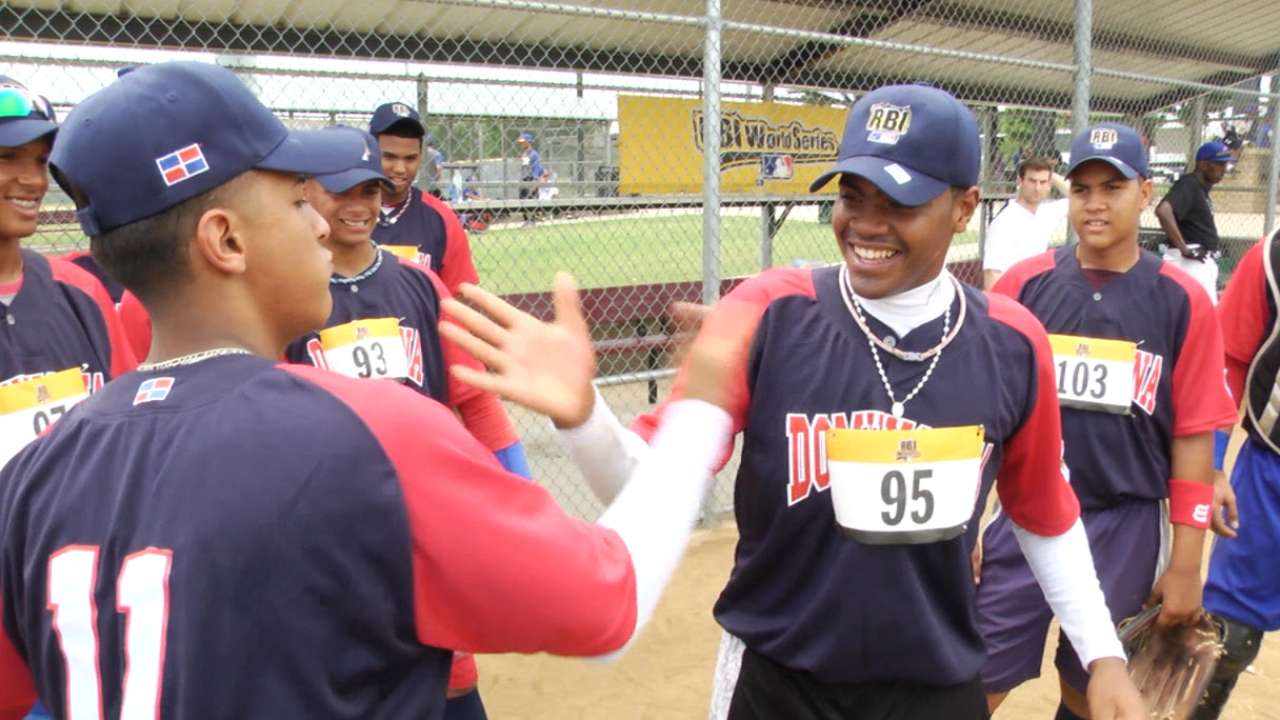 GRAPEVINE, Texas -- Entering the nightcap from the first day of games of the 2014 Reviving Baseball in Inner Cities (RBI) World Series, Venezuela and Anaheim Angels RBI matched up after both teams shut out their opening opponents.
Venezuela cruised to a 9-0 victory over Kansas City, Kan., while Angels RBI easily handled Houston Astros RBI, 10-0.
Angels RBI wasted no time jumping on the board with Laine Huffman launching a first-pitch home run to center field to lead off the game. Huffman's shot was the first of three Anaheim home runs on the evening, pacing the way offensively behind another impressive pitching performance from the Angels' staff to coast to a 7-1 victory over Venezuela.
For the first time in the program's 22-year history, the Texas Rangers are hosting the RBI World Series, with baseball and softball tournaments being played through Aug. 17 at local high schools in the Dallas-Fort Worth area. The RBI World Series is the international baseball and softball tournament of the RBI program.
Anaheim knew Venezuela would come out aggressive after winning its opener, so Angels RBI head coach Richard Aceves made sure his team played its game and tried to keep the same momentum going.
"We came in with a game plan tonight and one thing I really liked about what our guys did today was they had a good mental approach to the game and they came out aggressive at the plate -- we executed our plan," said Aceves.
Angels RBI used three pitchers in the two-hit victory against a good offensive Venezuela squad. Vicente Guzman started the game for Anaheim, going three innings and only allowing two baserunners on a walk and a hit. Andrew Pactwa and George Avina each tossed two innings, while striking out three Venezuelan batters apiece to help seal the victory.
"All of our guys knew coming in how many outs they needed to get, so just come in and throw strikes," Aceves said about the game plan for his pitchers. "We have a defense that can take care of business behind them. Overall, I'm really proud of my pitchers. They came in and delivered against a very good team and did what they had to do."
Of course, timely hitting helps, too. With two outs in the fourth inning, Angels RBI was holding onto a slim 2-0 lead when Avina cranked a solo home run to right-center field to pad the lead to 3-0. Venezuela got on the board in the bottom half of the fourth to cut Anaheim's lead to 3-1.
With the same score still intact, Venezuela recorded two quick outs against Anaheim in the top of the sixth before walking two straight batters and giving up the biggest hit of the game -- a three-run home run to Delfino Higuera to put away any chance Venezuela had at making a comeback.
Angels RBI finished the day as the only team in the senior division to win both of its games. Aceves is happy with the way his team played, but he knows it needs to keep competing.
"Our focus is we are never content. I always preach we celebrate every victory, but we never stay content - we are always pushing for more," Aceves said.
Across the board for the rest of the senior division was Philadelphia going 1-0-1, with its victory coming against Jersey City, 13-6, and tying Cleveland, 6-6, in its opener. After getting shut out by Anaheim in its first game, Kansas City bounced back to defeat Houston Astros RBI, 15-11, to go 1-1 on the afternoon. Venezuela, Miami Marlins RBI and Jersey City also split their first two games. Astros RBI and Cleveland didn't record a victory on the day.
In the junior division, consisting of 13- and 15-year-olds, each team played only one game on the first day. Detroit pounded Prince George's County in an 18-10 rout, while St. Louis and Dominican Republic played a tighter offensive game, with St. Louis edging out the 13-12 victory. Austin RBI made its first appearance in the RBI World Series, falling to Los Angeles RBI, 9-2. Miami Marlins RBI cruised to a 12-4 win over Jersey City.
Pool play will continue through Saturday evening with both age groups competing for the best seeds for when bracket play starts on Sunday.
Ryan Cox is a contributor to MLB.com. This story was not subject to the approval of Major League Baseball or its clubs.