Marlins hold off Reds, reward dazzling Eovaldi
Stanton homers; righty's eight scoreless hold up despite shaky Cishek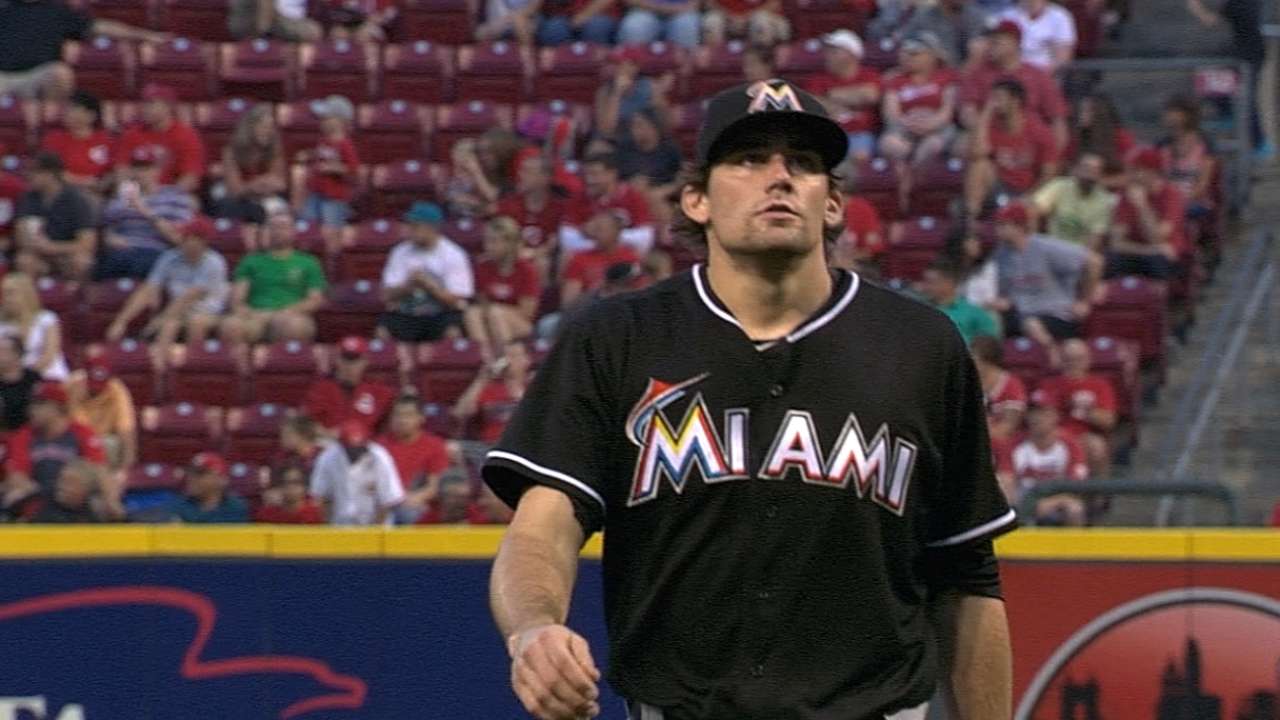 CINCINNATI -- Nathan Eovaldi brought the heat Friday night, and Giancarlo Stanton provided the thunder.
Eovaldi tossed eight shutout innings, while Stanton blasted a towering home run as the Marlins beat the Reds, 2-1, at Great American Ball Park.
The outing was one of the finest of Eovaldi's career, as he matched a personal most with his eight innings. The right-hander struck out six, including fanning Billy Hamilton with a 98-mph fastball in the eighth. He also collected his first victory since June 23 at Philadelphia.
The Marlins were seeking a bounce-back performance after dropping two of three at Pittsburgh. Now they're 2-2 on this six-game trek, which wraps up on Sunday.
"After the way we struggled a little bit in Pittsburgh, it was great to be able to come back tonight and get a big one for us tonight," Eovaldi said. "Hopefully we can win the series."
Eovaldi was in command, but after 112 pitches, he turned the ball over to Steve Cishek, who gave up a run in the ninth but was able to secure his 28th save in 31 opportunities.
It was a rocky ride for the closer, who allowed back-to-back doubles to Todd Frazier and Devin Mesoraco to open the inning. But with one out and Mesoraco on third, shortstop Adeiny Hechavarria made a terrific play with the infield in. Skip Schumaker chopped a grounder over the mound and Hechavarria fielded the short-hop, and he threw to first from his knees for the second out.
"That was huge," catcher Jarrod Saltalamacchia said. "Not only to make sure it didn't get through, but to get the out, also. That saved the game, obviously."
The game ended with runners on the corners when Cishek struck out Zack Cozart.
"Not ideal," Marlins manager Mike Redmond said. "Shrek has been so good for us. He was able to pitch through it. Hech made that play, which was huge. Thankfully they weren't going on contact. We were able to get through it."
Eovaldi received limited run support, but he made two runs hold up.
Saltalamacchia lifted a sacrifice fly in the sixth inning, and Stanton blasted a two-out homer off Mike Leake in the seventh.
"It was a bad slider," Leake said of the Stanton homer. "This is going to sound bad, but I'll take a solo homer. I was more angry about the pitch. He's strong. If he gets any wood on the ball, he's going to hit it hard."
The Reds didn't present too many threats against Eovaldi, who scattered five hits and walked just one.
"That eighth inning was big for him to get through," Redmond said. "It's something we've wanted our starters to do, and it is part of the development process for some of our guys to get them over that hump. It was good to get him in there and finish that inning. It was big."
Stanton homered for the second straight night, increasing his National League lead to 28. According to stadium estimates, the drive into the second deck traveled 437 feet.
With 145 career shots, Stanton is closing in on Hanley Ramirez (148) for second all-time in Marlins history. Dan Uggla is the franchise leader with 154.
The Marlins certainly had chances early, putting a runner in scoring position in each of the first three innings. But Leake was able to make pitches to get out of potential jams.
When Casey McGehee doubled with one out in the sixth inning, the Marlins were set up once again to break through. Garrett Jones walked and Marcell Ozuna was plunked on the ribs with a pitch, loading the bases.
Saltalamacchia gave Miami the lead with a sacrifice fly to center field. A chance to do more damage in the inning was erased when Hechavarria was intentionally walked and Eovaldi struck out.
The Reds threatened in the sixth inning, piecing together a two-out rally. Jay Bruce singled to right, and Frazier chopped a single up the middle. With two on, Mesoraco lofted a fly down the right-field line that Stanton made a nice running play on to end the threat.
"When you're able to save some runs, you want to be able to do it in a game like this," Stanton said. "I had a long way to go. Good thing that I got it."
Joe Frisaro is a reporter for MLB.com. He writes a blog, called The Fish Pond. Follow him on Twitter @JoeFrisaro. This story was not subject to the approval of Major League Baseball or its clubs.