Offense stymied as Halos fall to Red Sox
Weaver gives up four runs over six frames as losing streak reaches four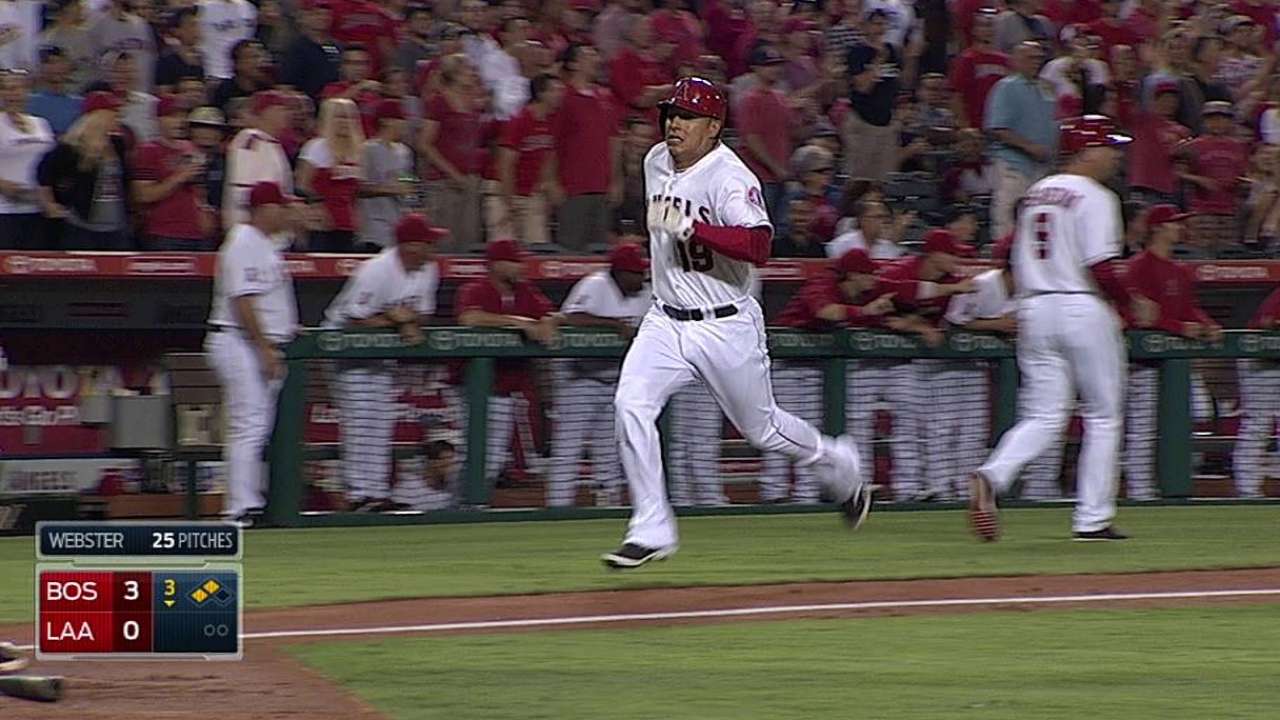 ANAHEIM -- The Angels' current slump has followed them through everything.
It has clutched to them at home and on the road, against Cy Young Award winners and unknown rookies. It has shadowed them during winning streaks and losing streaks, against championship contenders and cellar-dwellers.
They've tried to escape it with hit-and-runs and run-and-hits. They've tried to shake it with extra batting practice. They will attempt to lose it with no batting practice Saturday.
But the slump tightened its grip on the Angels' offense Friday night, when they fell, 4-2, to the Red Sox at Angel Stadium. The loss was the Angels' fourth straight -- their first four-game slide since May 30-June 3. They have not lost five straight this season.
"It happens periodically throughout the season where you might have nine guys that struggle," manager Mike Scioscia said. "It doesn't mean you can't go out there and win games, as we've seen. We're not attacking the ball with the consistency that we did before the break, obviously."
Since the All-Star break, the Angels are hitting just .224 and averaging 3.19 runs per game. Prior to the break, they hit .269 and scored 5.09 runs per game. They have scored in just three of their last 33 innings and have two homers in their last seven games.
The Angels' pitching staff has kept the club competitive (3.16 ERA in 21 games since the break) and allowed the Halos to post a 10-11 record and trail division-leading Oakland by four games.
"Since the All-Star break, we've struggled," Scioscia said. "We're talking 20-plus games where we just haven't gotten into our offensive flow. We will. These guys are good hitters. Our pitching staff is keeping our head above water right now.
"These guys will find it and they'll keep it for the rest of the year. Right now, it's hit or miss. We've had a lot of guys in our lineup that have a tough 40 or 50 at-bats. It'll turn around."
The dry spell has been magnified by close games -- nine of the 11 Angels losses have been by two runs or fewer -- and every out made has been magnified by the slump.
During Friday's ninth inning, Howie Kendrick sent a deep fly ball to center field, one that would normally fall for extra bases, but Jackie Bradley Jr. leapt, snatched the ball before colliding with the wall. Instead of the leadoff man on second in the bottom of the ninth, there was simply one out.
"We got guys that have been swinging the bats well, but lately, that's the way things have been going," Kendrick said.
David Freese followed Kendrick's loud out with a booming blast of his own, one that evaded Bradley and caromed off the wall for a one-out double.
"Just kind of [stinks]. You're trying to get a rally going and then Freese comes up next and hits a double into the same spot," Kendrick said. "That's part of the game."
The Angels eventually put men on the corners with two outs, but Kole Calhoun struck out looking to end the game.
In 21 second-half games, no Angel is hitting at least .260. Albert Pujols leads the team with a .259 mark, Freese is hitting .257 and Mike Trout is at .247.
"All in all, I think on the offensive side, we've paid the price the last 20 games just with some guys being down a little," Scioscia said.
Despite the recent downturn, the Angels still rank second in the Majors in runs scored and own baseball's second-best record.
"We can't live in the past," Kendrick said. "All we can think about is what we're doing now and just move past this. You're not going to go through the whole season and win every game. Right now, we just happened to lose a bunch of games together but we got a lot of good guys in this clubhouse and things are going to change."
Boston scored three runs in the third inning and added a fourth in the fifth on Mike Napoli's solo home run to left field. It was just the second time in Angels starter Jered Weaver's last seven outings that he gave up more than three runs.
"Location and everything was not up to par and it was disappointing," Weaver said. "Losing a couple there to the Dodgers, I wanted to come in here and set the tone for the series, and that wasn't the case. … Couldn't make pitches, that's all there is to it."
The Angels answered with two runs of their own on a Yoenis Cespedes error and Trout's sacrifice fly. In eight of the nine innings, the Angels had a baserunner, but they managed only two runs.
Boston starter Allen Webster earned the win and scattered four hits, giving up two runs in his 6 2/3 innings.
"My fastball command was the biggest difference between starts," Webster said. "I just started going after batters. After every pitch, I just told myself to keep going after batters and trust my stuff and let my defense work."
Weaver took the loss after going six innings and giving up four runs on seven hits and two walks. He struck out three and gave up his 19th home run of the season.
Matthew DeFranks is an associate reporter for MLB.com. This story was not subject to the approval of Major League Baseball or its clubs.