Four homers help Braves snap eight-game skid
Club holds on vs. Nats after Uptons, Freeman, La Stella go deep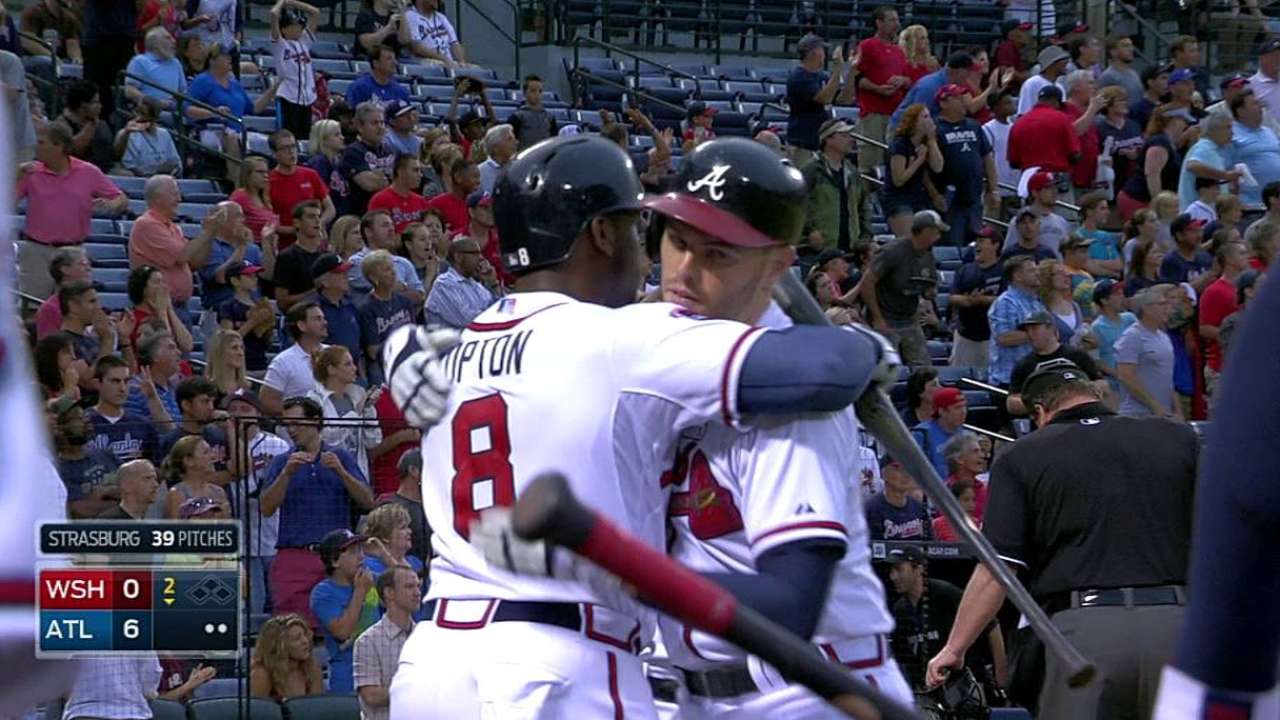 ATLANTA -- Given a chance to unleash a week's worth of pent-up frustration against a pitcher and team they have made miserable over the past year, the Braves powered their way out of an eight-game losing streak with Friday night's much-needed 7-6 win over the Nationals.
"That's what we needed to do tonight, score early just to let them know even though we've lost eight in a row, we're still here to stay," said Freddie Freeman, who hit one of the three two-out, two-run home runs that Stephen Strasburg surrendered within the first two innings.
Justin Upton and B.J. Upton accounted for the two other two-run shots, and Tommy La Stella capped the power barrage when he hit his first career homer to open the bottom of the fifth off Strasburg, who had not surrendered more than two home runs in any of his previous 99 career starts.
After La Stella's homer provided a comfortable 7-0 lead, the Braves had to sweat their way toward their first victory since July 28. Ervin Santana allowed one hit through the first five innings and then seemed to be affected by the rain that fell during a four-run sixth that was highlighted by Anthony Rendon's three-run homer. The Nationals then exited a 71-minute rain delay and continued their comeback bid with help from Wilson Ramos, who homered to begin a two-run seventh against Anthony Varvaro.
"[Santana] was really in control of the whole game," Braves manager Fredi Gonzalez said. "But when you crack the door open a little bit for a good team like that, they're going to put a big number on you and they did. We held it together the rest of the way."
While the early power provided early comfort, it might have gone for naught without the contributions of Jordan Walden and Craig Kimbrel, who combined to retire the final seven batters the Nationals sent to the plate. Walden's perfect appearance began with him stranding a runner at second base in the seventh. The versatile right-handed setup man then retired two left-handed hitters -- Adam LaRoche and Bryce Harper -- in the eighth.
Once Walden and Kimbrel combined to restore order, the Braves celebrated a win that brings them back within 3 1/2 games of the first-place Nationals in the National League East. They have to feel quite fortunate to be in this position given how miserable they had played while losing each of their eight games on the West Coast trip that concluded Wednesday in Seattle.
"You had to remind yourself that we had lost eight in a row, because we hadn't played that bad of baseball," Gonzalez said. "We just hadn't scored any runs. Today, we did a nice job of scoring runs and then holding on."
The seven runs tallied by the Braves on Friday night matched or exceeded the cumulative total they tallied during any of the series played during their recently completed trip that included games against the Dodgers, Padres and Mariners.
While the Nationals might currently possess the lead in the division standings, the Braves own a mental edge courtesy of the fact that they have won 21 of the 30 games played against Washington dating back to the start of the 2013 season.
In the process of recently dominating this division rivalry, the Braves have had their way with Strasburg, who matched a career high with the seven earned runs he surrendered in five innings. The 26-year-old hurler has a 4.62 ERA in 15 starts against the Braves. In the 85 starts made against all other opponents, he has fashioned a 2.94 ERA.
"I can't put a finger on that," Freeman said. "He's got great stuff. The mistakes he makes, for some reason, we're able to hit them. That's what he did tonight. He left some pitches out over [the plate], and we were able to jump on him early."
Strasburg's latest woes began after he carefully pitched to Freeman, who entered the game hitting .450 (9-for-20) with a 1.319 OPS against the pitcher. After Freeman drew a two-out walk in the first inning, Justin Upton sent his two-run shot over the center-field wall to account for the game's first runs and give him a second straight 20-homer season for the first time in his career.
Freeman's two-run shot sneaked over the right-field wall to cap a four-run second inning that included B.J. Upton hitting an historic blast. With their respective two-run blasts, Justin and B.J. now stand as the only brothers in Major League history to homer as teammates in the same game five times.
"It was nice to shake hands [after winning]," Gonzalez said. "It seemed like it had been an eternity."
Mark Bowman is a reporter for MLB.com. This story was not subject to the approval of Major League Baseball or its clubs.