Slow start, mental lapse doom Rox against D-backs
Matzek allows three first-inning runs; catcher McKenry's gaffe costly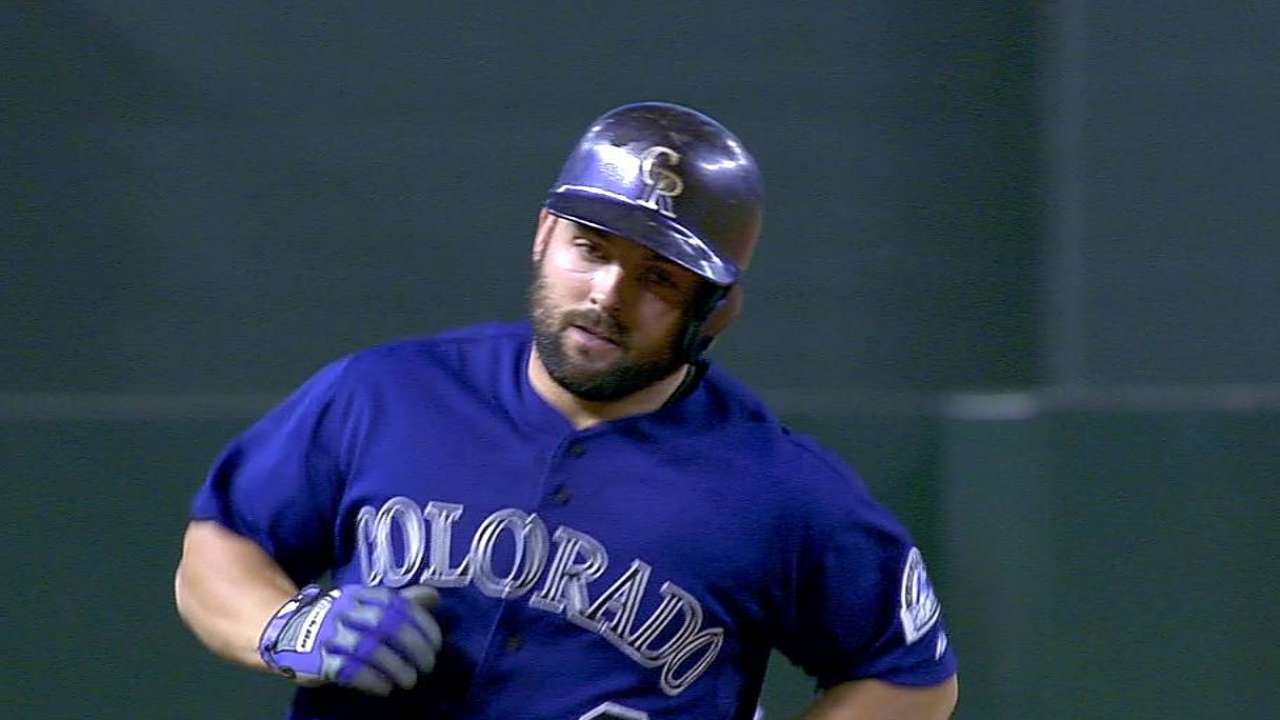 PHOENIX -- Catcher Michael McKenry unwittingly put the "kick us" sign on the Rockies during Friday night's 5-3 loss to the D-backs at Chase Field in front of 21,782.
With two out in the seventh and the D-backs' David Peralta occupying third base and Jordan Pacheco hitting, McKenry reached to his right for a Rex Brothers pitch. McKenry then casually flipped the ball back to the mound, only to rip off his mask and stare in horror and embarrassment as Peralta dashed in for a steal of home.
"Honestly, I messed up," McKenry said. "I was focused on keeping the ball in front of me and figuring out a way to get that guy [Pacheco] out.
"It's on me."
Peralta had delivered a run-scoring triple two batters earlier. McKenry said he considered picking Peralta off third, but abandoned the idea to concentrate on Pacheco. But McKenry's forgetting about Peralta meant a 5-1 lead for the D-backs, who have the Rockies to thank for keeping them out of last place in the National League West.
It seemed the Rockies were resigned to their 10th loss in 12 games -- and 19th in the last 21 on the road. But Brandon Barnes delivered a pinch-hit triple in the ninth, and Corey Dickerson and DJ LeMahieu added RBI singles off reliever Addison Reed. But with two on, Charlie Blackmon took a third strike -- one he disputed -- to end the game.
About all that could be said for McKenry, a respected member of the club and the source of Colorado's first run (fifth-inning solo homer), was that the Rockies didn't score another run. That would have drawn more attention to McKenry's inattention.
"I guarantee you my entire career that'll never happen again," McKenry said.
Rockies manager Walt Weiss doesn't want to see it again, either.
"There are things I take care of with our club," Weiss said. "I'm not going to reveal that stuff. That's something we'll handle in-house. But we lost sight of the guy on third. That's all that happened there. Our awareness wasn't where it should've been."
Until the ninth, it was yet another weak Rockies loss on the road.
Rookie left-hander Tyler Matzek (2-7) served up a three-run homer to the D-backs' Miguel Montero with two out in the first inning, after a one-out walk to Cliff Pennington and Peralta's double. Although Matzek pitched through constant traffic for five innings, with four hits and four walks, he didn't allow any further scoring.
He had good fortune after walking the bases loaded in the fifth. Pacheco knocked a pitch off his own left leg. Umpires didn't see the ball hit him, and the Rockies ended up with an easy double play as Pacheco painfully limped around the batter's box.
Friday was better than Matzek's previous start, when he yielded eight runs and 10 hits in four innings at Detroit.
"I felt good," Matzek said. "The home run and the double before were sliders that backed up on me and I left them over the middle. After that I felt pretty good. I walked a few people, but overall felt pretty good."
Flashing a changeup he threw at any time, D-backs starter Chase Anderson (7-4) struck out six and held the Rockies to four hits in six innings.
"His pitch count got kind of high for six innings, but he's kind of been on a roll," D-backs manager Kirk Gibson said. "It's been five or six games in a row where he's thrown the ball very good, made good pitches when he had to, throwing all his pitches."
Three of Anderson's strikeouts came from Carlos Gonzalez, who left the game in a seventh-inning double-switch. The club announced that Gonzalez didn't feel good.
Peralta made the Rockies feel worse.
"It was my first time [stealing home]," Peralta said.
Thomas Harding is a reporter for MLB.com. Read his blog, Hardball in the Rockies, and follow him on Twitter @harding_at_mlb. This story was not subject to the approval of Major League Baseball or its clubs.