Rangers can't hold lead, fall to Astros
Cotts allows eighth-inning HR as Texas loses sixth straight to Houston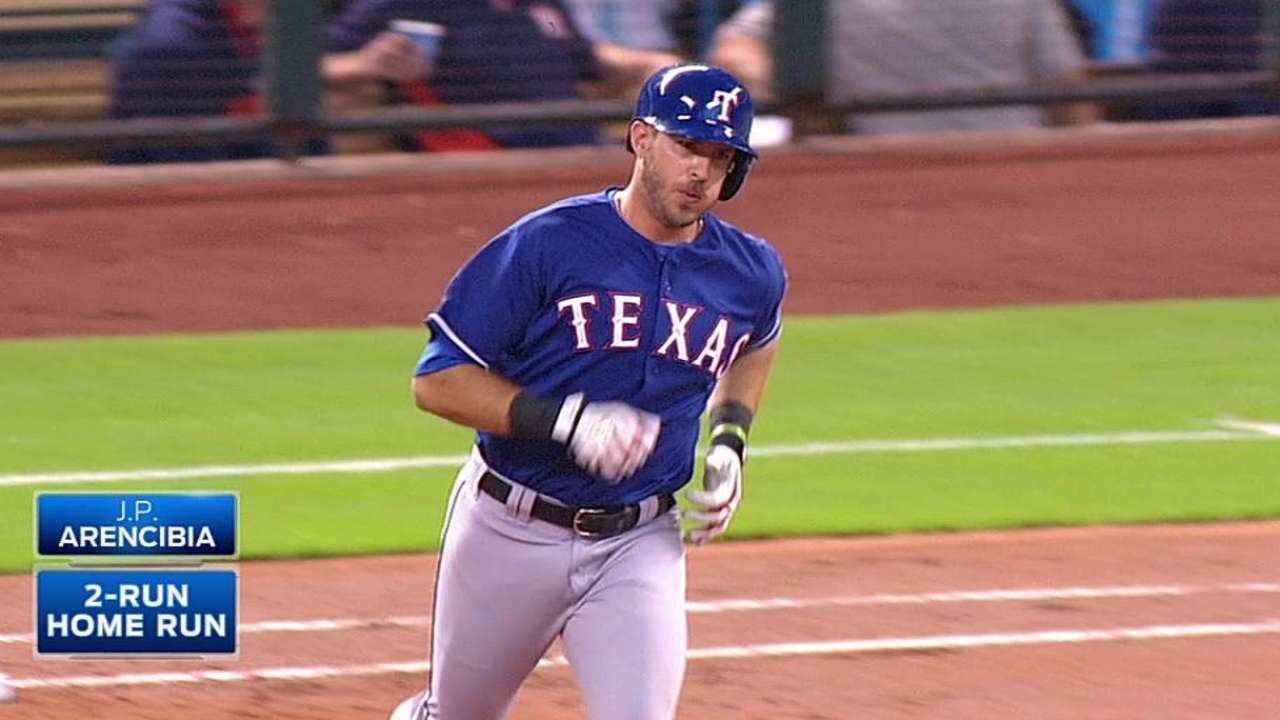 HOUSTON -- Neal Cotts just didn't make the pitches he needed to make. His eighth-inning misses proved costly on Friday as he allowed a Rangers lead to evaporate in a 4-3 loss to the Astros at Minute Maid Park.
Cotts was called on to protect a 2-1 lead that the Rangers had achieved on a two-run, first-inning home run by J.P. Arencibia, and five innings of one-run ball from starter Miles Mikolas.
But Houston's Jon Singleton led off the bottom of the eighth inning with a single, and two batters later Robbie Grossman hit a go-ahead, two-run home run to left field that gave the Astros a 3-2 lead. Cotts later allowed a RBI double to Gregorio Petit.
"He didn't make some pitches that he should have made," said Rangers manager Ron Washington. "He didn't want to leave that curveball the way he left on Singleton. He certainly didn't want that fastball where he put it on Grossman."
Grossman's fifth home run of the season was his third hit of the game. He reached base in all four plate appearances and was a triple shy of the cycle.
"It was a tough ballgame," said Washington. "We put up two runs in the first inning and just couldn't get anything else.
"They fought for their at-bats. They beat us. They beat our best pitcher that we had in that situation. I'd give the ball to Neal again in that situation. He just didn't get it done."
The left-handed Cotts (2-6) had his sixth blown save and took the loss, ending the Rangers' two-game winning streak. In one inning, Cotts allowed three runs and four hits with two strikeouts. But the home run to Grossman was the difference.
"I made mistakes tonight," said Cotts. "I got ahead of them, I just couldn't put them away. Grossman, I tried to throw a fastball away, it came back over the middle."
The Rangers (45-70) scored a run in the top of the ninth inning off Houston closer Chad Qualls on pinch-hitter Mike Carp's RBI single that scored Adam Rosales, who led off the inning with a double. Carp was pinch-hitting for Geovany Soto, who was 0-for-3 after being activated from the disabled list on Friday.
Down 4-3 with runners on first and second and one out, Texas looked poised to rally. But Daniel Robertson grounded into a 4-6-3 double play to end the game and make a winner out of Jose Veras (2-0), who relieved Brett Oberholtzer, who allowed only two runs and six hits in seven innings.
Mikolas allowed only one run and four hits in five innings, but he walked three. He went too deep in counts and only lasted five innings, throwing 105 pitches, 64 for strikes.
"I kind of got myself in trouble, more walks than I would like to," said Mikolas. "I thought my stuff was good. I tried to nibble at the edges a little bit, couldn't get them to bite."
Mikolas allowed a fifth-inning home run to Chris Carter on a full-count slider to cut the Rangers' lead to 2-1.
"At that time I had a couple of walks, I really didn't want to walk him," said Mikolas, who struck out Carter twice before he homered. "I tried to throw that pitch for a strike too much. He stayed on it pretty well. He got it up there. It was a mistake pitch and he got a real good piece of that one."
The Rangers wasted little time in taking a 2-0 lead in the first inning. Arencibia's eighth home run, a deep ball to left field off left-hander Brett Oberholtzer, scored Shin-Soo Choo, who led off the game with a single. Arencibia has seven homers since the All-Star break, the most in the Major Leagues.
Mikolas was working on an extended five days' rest. He was hitting 96 mph, and consistently staying in the mid 90s with his four-seam fastball. Mikolas retired Jose Altuve, who entered the game tied for the American League lead in batting at .335, all three times he faced Houston's second baseman. Altuve left the game after five innings with discomfort in his neck.
Mikolas was sailing along with a two-run cushion until Carter hit his club-leading 25th home run of the season with two outs in the fifth.
Richard Dean is a contributor to MLB.com. This story was not subject to the approval of Major League Baseball or its clubs.