Kennedy solid but bats falter vs. Bucs
Righty battles through six, but Friars squander a bases-loaded rally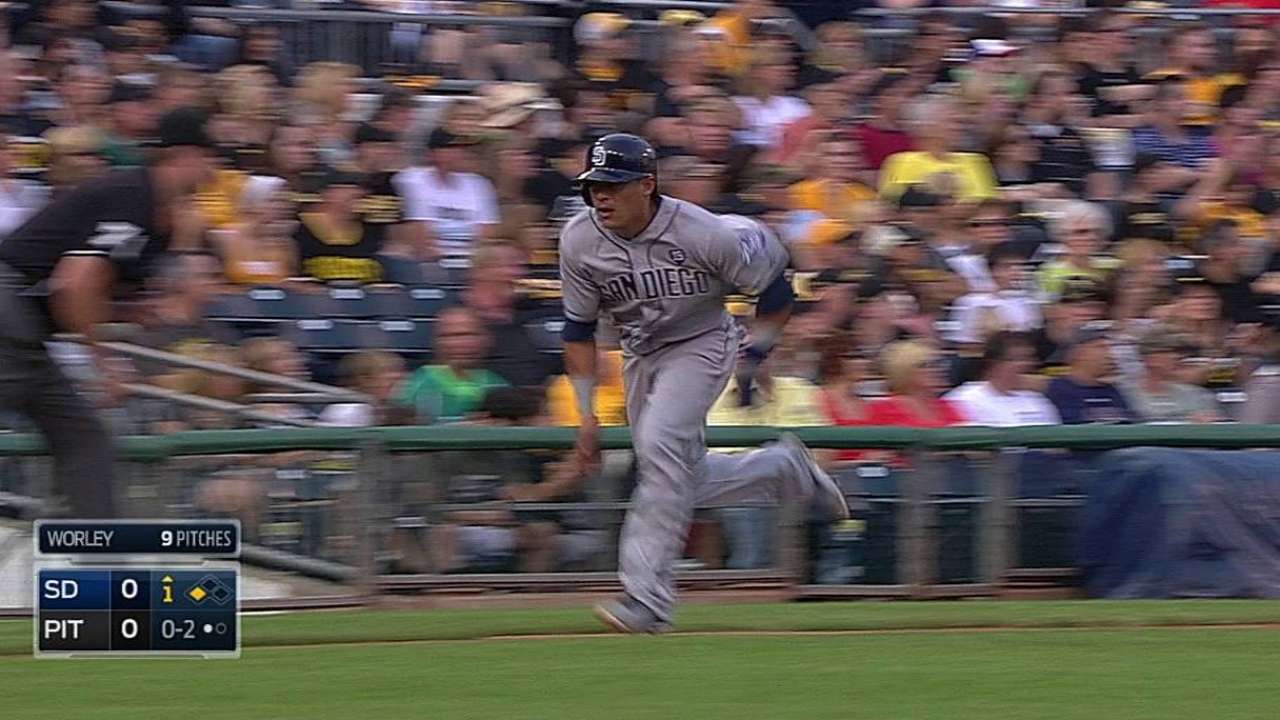 PITTSBURGH -- It was a slow and meticulous effort Friday for the Padres to load the bases with no outs in the sixth inning against Pirates pitcher Vance Worley.
Everth Cabrera singled on the fifth pitch he saw to start the inning. Yangervis Solarte then did the same on the fourth he saw from Worley. Seth Smith then worked a walk after seven pitches, fouling off three pitches in the process.
Down a run on the road, with two of their best hitters in the last 10 days due up, the Padres appeared in good shape -- a chance to tame the sold-out crowd at PNC Park and bust out in a big way against Worley and the Pirates.
In a flash, though, it was all over.
Two pitches, three outs. Inning, rally, all of it over in an unsavory finish to the inning as the Pirates went on to top the Padres, 2-1, before a crowd of 38,088.
Worley got Jedd Gyorko to chase a first-pitch cutter, as the Padres' second baseman -- playing in front of a lot of friends and family from nearby Morgantown, W.Va -- bounced into a 5-2-3 double play. Then, teammate Yonder Alonso flied out to left field on the first pitch he saw to end the inning.
"Looking back, obviously the guys in front of me worked their butts off," Gyorko said afterward. "That's on me. I got a little overanxious. I can't let them [Pirates] off the hook like that."
Worley allowed one run on five hits in seven innings, striking out seven as the Pirates won the first game of the three-game series from the Padres.
"I just went after him," Worley said of Gyorko. "I knew what I needed -- a ground ball. So if I went fastball, either be a sinker or something in, so he can just roll over. Or a cutter, which he still wasn't making an adjustment on. Went to it three times today, and it wound up working for us."
San Diego manager Bud Black likes his odds with Gyorko and Alonso coming to the plate with the bases loaded. Gyorko has been swinging the bat well since coming off the disabled list on July 28. The same has been the case for Alonso, who was coming off two three-hit games.
"The way they've been swinging, since their return, they've been two of our hottest guys," Black said.
San Diego pitcher Ian Kennedy, making his second start since returning from missing a start due to mild left oblique soreness, got off to a rough start, allowing two runs (one earned) in the first inning. He settled down thereafter, but admitted to not quite feeling like himself.
"It wasn't my best stuff, but you try to battle through it," said Kennedy, who allowed one earned run in six innings on seven hits with three walks and five strikeouts. "… You try to limit the damage and grind through it. I'm still not 100 percent. But it's slowly getting better."
The Padres got their lone run in the first inning when Cabrera doubled, moved to second base as Solarte bunted on his own, and scored on a sacrifice fly by Smith.
Corey Brock is a reporter for MLB.com. Keep track of @FollowThePadres on Twitter. This story was not subject to the approval of Major League Baseball or its clubs.