Kiermaier comes up clutch to lift Rays in 10
Right fielder hits go-ahead single; Archer gives up one earned run in six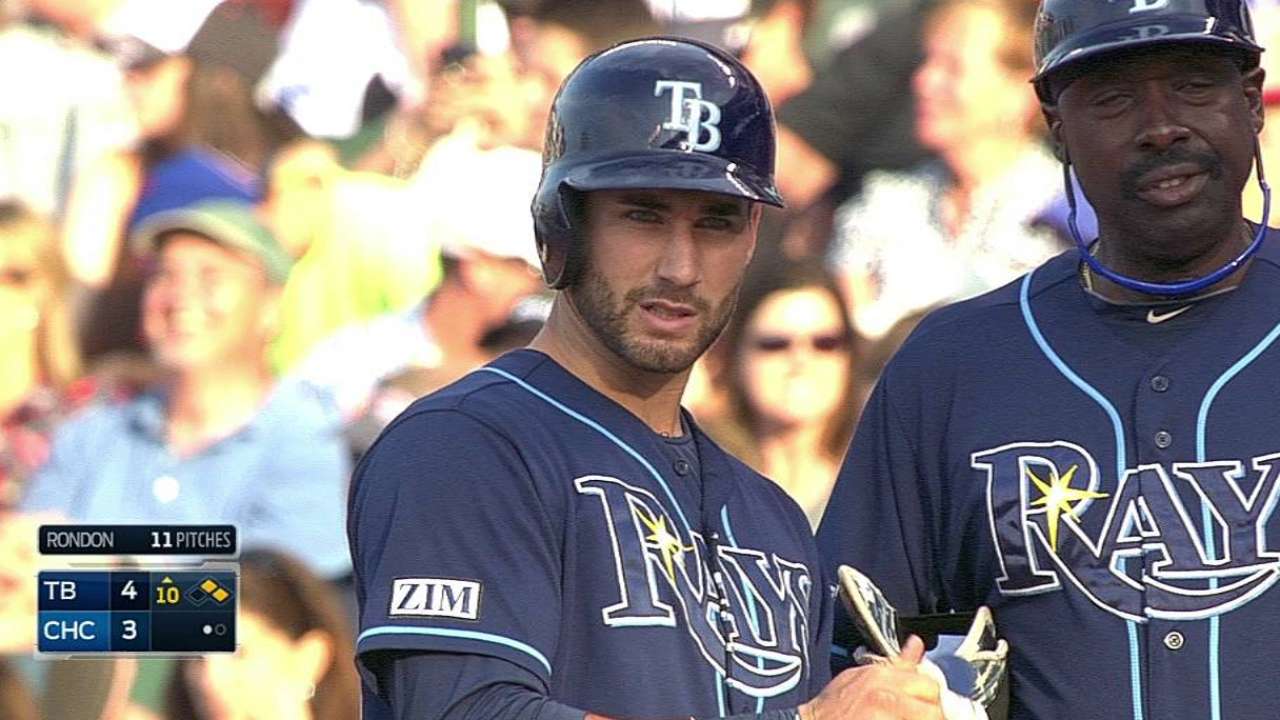 CHICAGO -- Joe Maddon's brain seemed to hurt following an afternoon of National League rules baseball. Double switches, pitchers hitting, etc.
What's an American League manager supposed to do?
"There's so much more going on," the Rays manager said following the Rays' 4-3 win in 10 innings over the Cubs on Friday. "When you manage a game like that, you actually feel like you played when it's all over."
Dependable Brad Boxberger had just blown the Rays' 3-2 lead in the ninth by allowing a broken-bat RBI single to Ryan Sweeney to tie the game at 3 when Kevin Kiermaier came up in the 10th with a chance to do something.
Desmond Jennings singled off Hector Rondon with one out to start the inning and Ben Zobrist followed with a single to center to advance Jennings to third and bring Kiermaier to the plate.
After falling behind, 0-1, Kiermaier drilled a 94-mph fastball back through the middle to score Jennings, which turned out to be the winning run.
"Just trying to hit something hard on the ground," Kiermaier said. "I was just trying to hit the ball hard, really. They were playing double-play depth. So it was one of those things where I really wasn't trying to go middle of the field so much. But he gave me a fastball over the middle of the plate, and thankfully I hit it hard enough where it got through."
With two outs, Maddon then allowed Boxberger to hit. He grounded out to end the inning, but by doing so, he was able to stay in the game and pitch the 10th.
"Once it got to that point, [Boxberger] was going to go back out there unless we had to pinch-hit for him," Maddon said. "Once we got the lead there, we didn't have to pinch-hit for him and that was that."
Boxberger, who blew his second save in three chances, redeemed himself by pitching a scoreless 10th to get the win.
"It's always good to get back out there when you struggle early on," Boxberger said. "And be able to get back out there and eventually get the win."
Chicago got busy early when Javier Baez singled with one out in the first and Anthony Rizzo followed with a ball to right that looked like a monster blast when he first connected and stood at home watching. Fortunately for the Rays, a hard wind was blowing in from right, turning the blast into a shot off the wall. Once right-fielder Zobrist retrieved the ball and threw to the infield, Rizzo had a standup double and Baez stood on third.
Starlin Castro singled home Baez, but that was all the Cubs got. "I kind of turned my head and went to get another baseball," said Archer of Rizzo's blast.
"And the next thing I know, the umpire's saying it's in play. So I go to back up home. It was one of the most relieving moments I've ever had.
"Seriously, I looked up and I thought it was gone, it's 2-0 with one out and I've thrown eight pitches at that point. But to look up and see that we got it in quick. Maybe one run scored, but that was all they got. That was huge for me."
Desmond Jennings tied the score when he hit his 10th home run of the season, a solo shot in the third off Cubs starter Tsuyoshi Wada.
Archer became his own worst enemy in the fourth when he threw away a potential double-play ball. Instead of an inning-ending double play, the runners were safe, paving the way for John Baker's RBI single that put the Cubs ahead, 2-1.
"Yeah, it's frustrating," said Archer of his miscue. "The most frustrating part is it led to a run, which could have been an 'L' for us if we hadn't scrapped back there in the seventh inning."
Sean Rodriguez tripled off Wada to start the seventh and he scored one out later when Curt Casali hit into a fielder's choice to tie the game at 2.
Zobrist doubled off Pedro Strop with one out in the eighth before pinch-hitter Kiermaier struck out, but reached first when nobody covered the base. The odd play was ruled a wild pitch, even though Cubs catcher Baker had caught the ball. Strop then struck out Evan Longoria swinging before pinch-hitter Matt Joyce singled to score Zobrist for a 3-2 Rays lead.
"Wada threw well today," Cubs manager Rick Renteria said. "He deserved a better fate. We almost got out of that one inning, but they ended up scoring that run and obviously we ended up tying it and they went ahead."
Archer turned in his 14th quality start of the season, allowing one earned run on five hits and a walk while striking out six in six innings en route to a no-decision.
Joel Peralta and Jake McGee pitched two scoreless innings leading to Boxberger in the ninth.
The Rays moved to 2-2 on their road trip, giving them a Major League-best mark of 14-6 since July 12.
Bill Chastain is a reporter for MLB.com. This story was not subject to the approval of Major League Baseball or its clubs.