Cubs show glimpses of future, but fall in 10
Baez singles in first Wrigley at-bat; Rondon gives up game-winner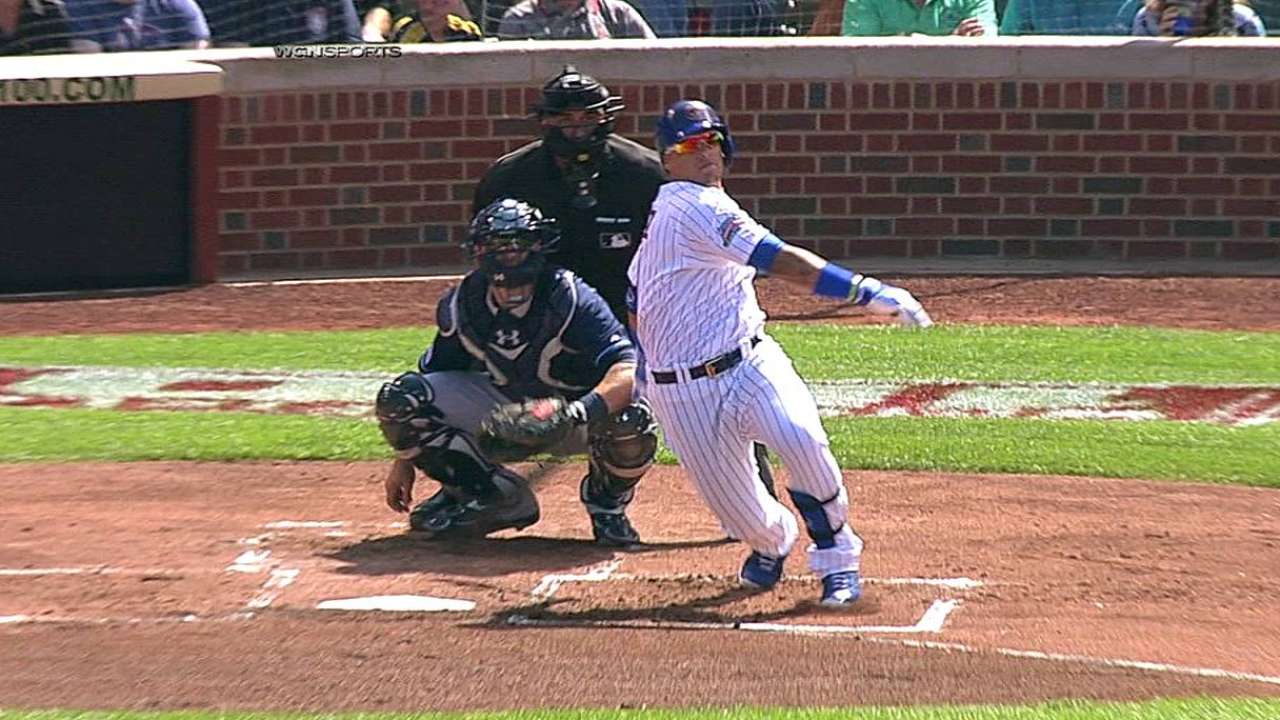 CHICAGO -- Wrigley Field shimmered in sunlight and Cubs fans basked in the home debut of a guy they'd heard plenty about.
Rookie second baseman Javier Baez played his first game at Wrigley Field on Friday, a day after smacking two home runs in the series finale against the Rockies at Coors Field, and the crowd of 34,937 rewarded him with a standing ovation.
It turned out to be a glimpse not only of Baez, but also the not-too-distant future for the Cubs in a 4-3 loss to the Tampa Bay Rays in 10 innings.
"They were very excited," Cubs manager Rick Renteria said of the fans. "You could sense it. [Baez] got to the plate and got a roaring ovation. ... that's pretty special. And we're glad, because we're starting to see some of the young men that have been talked about for a little while."
Watching Baez join Anthony Rizzo, Starlin Castro and Arismendy Alcantara in the home Cubs uniform gave the fans some hope for the future -- especially knowing there are more still to arrive in the next year or two.
"They're starting to arrive and I think there's some excitement to it, because there's some legitimate skill," Renteria said. "We've seen a little taste of it, and as they continue to mature and get better and understand the game, I think all of those skill sets will come into play in a positive way."
Watching this game unfold, however, was a stark reminder there is plenty of work left to be done.
Baez went 1-for-5 and struck out in his final four at-bats, including the eighth inning with the Cubs down 3-2 with a runner on second, and in the 10th with one out. Rizzo, another key piece for the future, made an equally-costly mental miscue in the eighth with the game still tied at 2.
Rizzo didn't recognize a called third strike on a wild pitch with a 3-2 count and neglected to cover first. Kevin Kiermaier ran down the line after a checked swing and was safe to extend the inning. Evan Longoria struck out in the following at-bat for what would've been the inning's third out.
Instead, pinch-hitter Matt Joyce made it pay off for the Rays with a two-out RBI single to put the Rays ahead. The Cubs did manage to tie the game at 3 in the ninth on Ryan Sweeney's one-out single off Brad Boxberger, but the Rays retook the lead in the 10th on three straight one-out singles off Hector Rondon.
Kiermaier hit the game-winning RBI single.
"Just trying to hit something hard on the ground," he said. "I was just trying to hit the ball hard, really. They were playing double-play depth, so it was one of those things where I really wasn't trying to go middle of the field so much. But he gave me a fastball over the middle of the plate, and thankfully I hit it hard enough where it got through."
Boxberger retired the top of the Chicago lineup in order in the bottom half of the 10th.
After the ovation in the first, Baez didn't take long to give Cubs fans another reason to cheer. His single off Rays starter Chris Archer, a former Cubs prospect, led to the game's first run, which he scored following a double by Rizzo and a single by Castro for 1-0 lead.
"It was nothing different," Baez said of his home debut. "It was just [the] same thing. I wasn't nervous or anything. I was just not being patient at the plate and swinging at bad pitches."
Fans and media alike are learning that strikeouts are part of the package with the hard-swinging Baez. Renteria already knows it and doesn't seem to mind too much.
"I think through this experience, he will gain something from it," Renteria said. "He knows the situation. I'll be honest with you, I don't want to take the bat out of his hand, either. So I don't want to limit what he's going to do with the bat. I want him to have an approach that allows him to be able to take advantage of that skill he has."
It might've been Baez's day to dominate the attention, but he wasn't the lone Cubs player providing a snapshot of the future. Left-handed starter Tsuyoshi Wada had another good outing, going six-plus solid innings and allowing only two runs.
Wada allowed a leadoff home run in the third to Desmond Jennings, tying the game 1, and also gave up Sean Rodriguez's leadoff triple in the seventh that led to another game-tying run to make it 2-2. Wada struck out six and walked only one before leaving it up to the bullpen.
Three Cubs relievers each got an out in the seventh to hold Tampa Bay to one run, which scored on a ground ball to shortstop with Chicago's infield playing on the edge of the grass. Castro's throw was late and Rodriguez was ruled safe on a close play at the plate that was reviewed and confirmed.
"At first, I was probably putting too much stress on myself and I feel as the game went along, I was trying to relax myself," Wada said through an interpreter. "[Against] this level of hitters, I'm getting more and more comfortable, but I wasn't able to do my job in the most important situation in the seventh inning, so I think I need to improve on that."
Brian Hedger is a contributor to MLB.com. This story was not subject to the approval of Major League Baseball or its clubs.