Crew comes out on top in clash of division leaders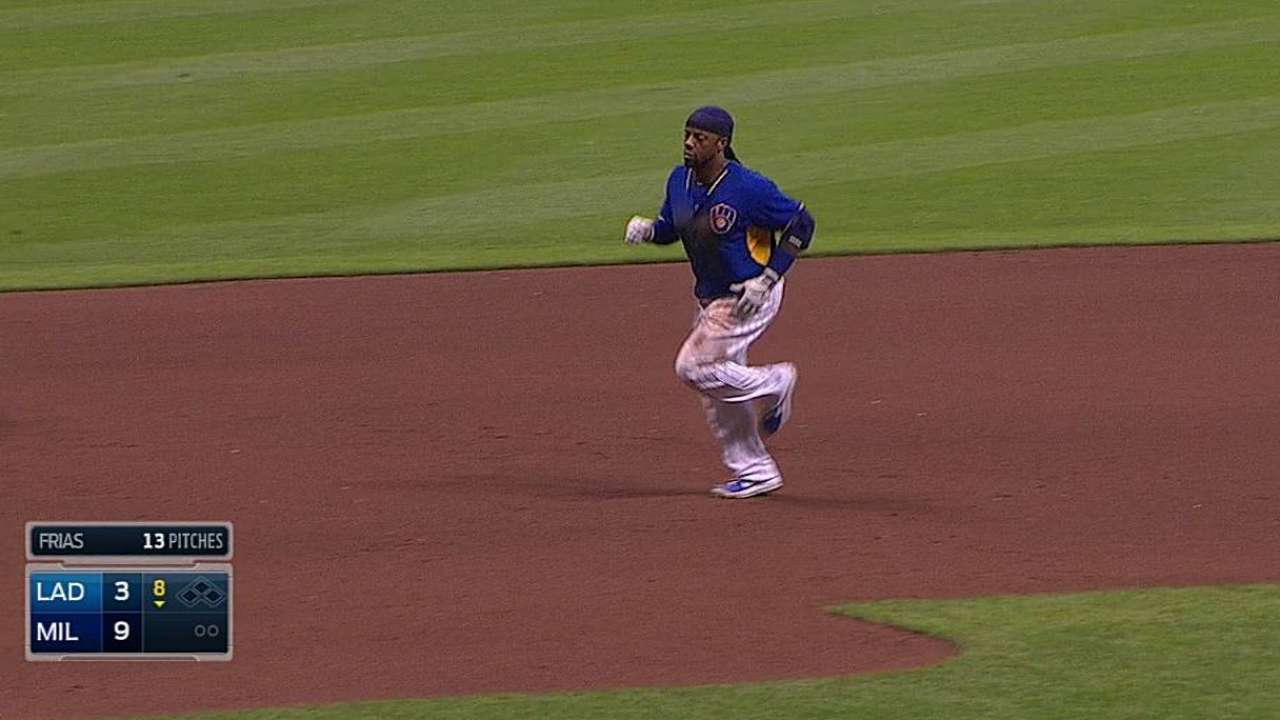 MILWAUKEE -- You expected manager Ron Roenicke to say what baseball men always say; that every game is important, that every victory is a big victory at this stage of the season. Yet he managed like mad on Friday to win one game in the second week of August, and after his team did win, 9-3, over the Dodgers at Miller Park, he actually came close to admitting as much.
"I thought it was a big one to win," Roenicke said. "We know how good this team is and how good they've been playing, and we know the pitching that we're going to face the next couple of nights. So it's important to win this game."
It was important enough that, in the seventh inning alone, Roenicke signaled for three relief pitchers, three pinch-hitters, one timely hit-and-run and one squeeze bunt. When the dust had settled around a well-trampled home plate, the teams had scored six times in the inning, including four times by the Brewers, who reclaimed a lost lead and then some on the way to a final tally that betrayed the tense nature of the night.
The Dodgers, who have Zack Greinke and Clayton Kershaw slated to start the remaining games of the series, felt they gave away the opener with a pair of seventh-inning errors charged to utility man Justin Turner, their third shortstop of the night. The Brewers felt they won it by making moves that consistently led to batters putting the baseball in play.
"You can tell [Roenicke] was pulling all the strings," said reliever Brandon Kintzler after recording the final three outs. "Especially if you have a chance to take a team down like that, and after the Cardinals lost a game. You have to get that win."
The Brewers' win was their 64th of the season, trailing only the Dodgers in the National League, and their third in four games so far on the homestand. With the Cardinals' blowout loss to the Orioles, the Pirates took second place in the NL Central, 1 1/2 games out, and St. Louis fell two games back.
Seven pitchers took the mound in the seventh inning, including starter Kyle Lohse, who never threw a pitch in the frame after battling the Dodgers for six innings. Lohse surrendered at least one hit in all but one of his six frames but allowed only one run, and left the game with the Brewers holding a one-run lead.
That edge slipped away from a bullpen that continues showing signs of wear. Rob Wooten couldn't retire the only batter he faced, Zach Duke surrendered a score-tying single to Adrian Gonzalez and Jeremy Jeffress allowed a go-ahead hit to Andre Ethier.
At the same time, Milwaukee's offense was in a deep slumber that began amid a two-run first inning against Dodgers starter Roberto Hernandez, the former Phillie acquired in a trade the day before. From Scooter Gennett's sacrifice fly in the first inning through the end of the sixth, Hernandez retired 17 men in a row.
It was a different matter in the seventh, when Roenicke and Dodgers manager Don Mattingly started making dueling moves. Against Dodgers reliever Jay Howell, Rickie Weeks worked a pinch-hit walk. Another pinch-hitter, Mark Reynolds, delivered a single up the middle that hopped over Turner's glove and moved Weeks, running with the pitch, to third base. That positioned catcher Martin Maldonado, one of the team's best bunters, for a safety squeeze to the first-base side of the mound against another Dodgers reliever, Brandon League. As the tying run scored, League executed an ineffective scoop.
"Especially in that situation, you're looking for that sign from the third-base coach," Maldonado said with a smile.
Two batters later, and with two outs, yet another pinch-hitter, Khris Davis, reached on Turner's error. The next batter, Carlos Gomez, grounded to Turner as well. Turner briefly bobbled the ball, then threw a bouncer to first for another error that allowed the go-ahead run to score. Gerardo Parra cashed in with a two-run single to make it 6-3.
"It was a classic case of, I didn't catch the ball twice and I didn't throw the ball to first base," Turner said.
An inning later, Weeks homered against Carlos Frias to break open the game.
"There was a lot of stuff going on there," Lohse said. "It's not like one of my games to end up going that long, but there was a lot of stuff, just trying to get matchups. I'm glad it worked out the way it did.
"Every one is [important] from here on out. We've got to win the ones that we have a chance to."
Adam McCalvy is a reporter for MLB.com. Read his blog, Brew Beat, and follow him on Twitter at @AdamMcCalvy. This story was not subject to the approval of Major League Baseball or its clubs.