Hernandez solid in debut, but Dodgers fall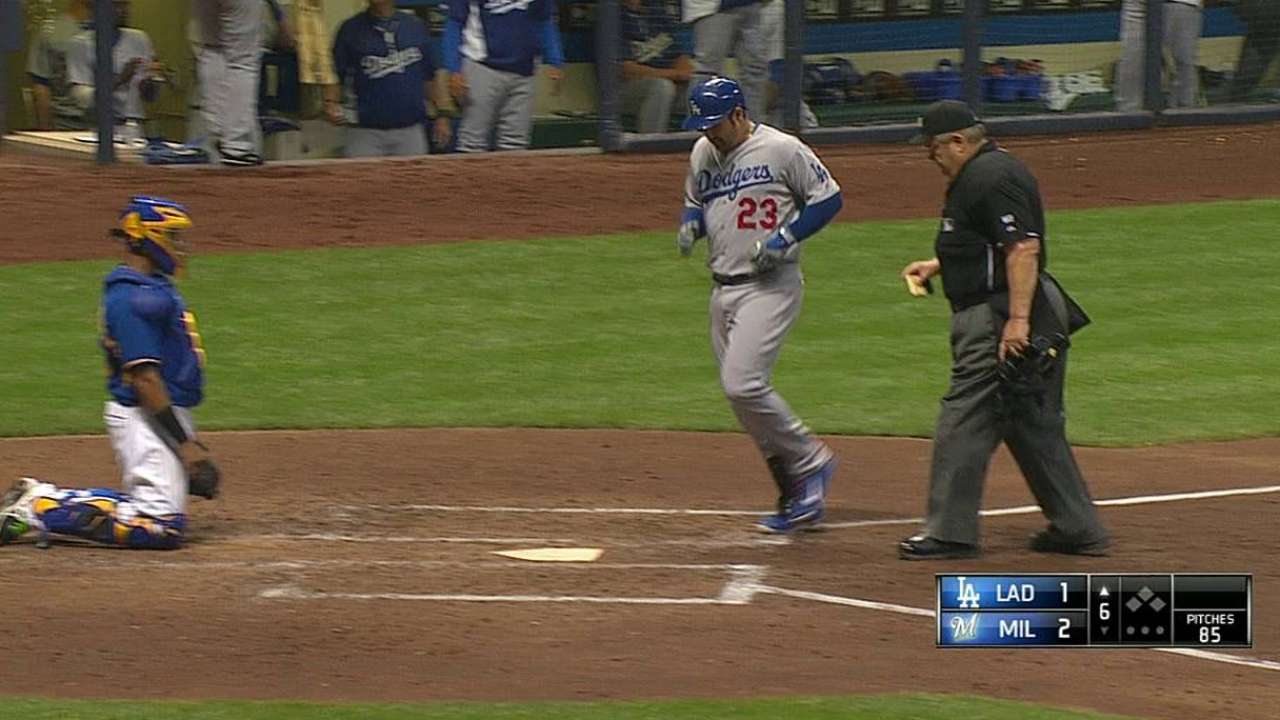 MILWAUKEE -- The early returns on new fifth starter Roberto Hernandez were solid, but he couldn't fix the issues in the infield and bullpen, and the Dodgers melted down late in Friday's 9-3 loss to the Brewers.
Shortstop Hanley Ramirez, who sustained an injury to a muscle in his side before the game, tried to play but came out after a half-inning, setting in motion a series of events that led to Milwaukee's four-run seventh.
Utility man Justin Turner was charged with two errors and could not come up with a third ground ball after entering the game in place of defensive specialist Miguel Rojas, who had been called upon to replace Ramirez.
Manager Don Mattingly initially chose Rojas over Turner as the replacement because Rojas' glove was a better fit, with Hernandez being a ground-ball pitcher. Mattingly double-switched later because the pitcher's spot would have been coming up fourth in the eighth inning.
Turner made a difficult diving catch on Aramis Ramirez's line drive opening the bottom of the seventh, but after J.P. Howell walked Rickie Weeks, Turner couldn't come up with a bouncer up the middle by pinch-hitter Mark Reynolds, ruled a hit that put runners on the corners.
Martin Maldonado followed with a squeeze bunt that reliever Brandon League tried to field and flip home in one motion, but the ball never got to the plate, and everybody was safe.
With two outs, Turner booted a routine grounder by pinch-hitter Khris Davis that loaded the bases for Carlos Gomez. Gomez's bouncer was fielded by Turner, whose rushed throw in the dirt wasn't scooped by first baseman Adrian Gonzalez, and Turner was charged with the throwing error. Gerardo Parra then singled home Maldonado and Davis. The three runs charged to League were unearned.
"It was a classic case of, I didn't catch the ball twice, and I didn't throw the ball to first base," said Turner.
Weeks put the game out of reach with a three-run homer off Carlos Frias in the eighth.
General manager Ned Colletti has said that the club continues to look for relief help. He provided rotation help with Hernandez, who gave the Dodgers a quality start, allowing two runs over six innings and retiring the last 17 batters he faced after allowing a pair of runs in the first inning. Hernandez has taken the place of Josh Beckett, who hadn't been able to pitch through hip pain for more than five innings since late June and was placed on the disabled list on Friday.
"I was a little bit surprised," Hernandez said of the trade. "I was a little bit nervous today. The first inning, I tried too much, but I forget about that. After that I kept the ball down, got ahead in the count."
The Dodgers -- who arrived in town at 6:30 a.m. and skipped batting practice -- scored on a home run by Gonzalez in the sixth, and RBI singles from Gonzalez and pinch-hitter Andre Ethier in the seventh.
Gonzalez, who missed clearing the left-field fence by inches in the first inning, ended Kyle Lohse's shutout bid with his 16th home run, and was greeted when he returned to the dugout with a foam party from the legendary bubble machine.
Hernandez -- obtained in a waiver trade from Philadelphia on Thursday -- allowed two runs on three consecutive hits with five strikeouts and no walks. He used only 65 pitches and was lifted for a pinch-hitter in the seventh.
Ken Gurnick is a reporter for MLB.com. This story was not subject to the approval of Major League Baseball or its clubs.