After Burnett's rough start, late rally falls just short
Righty's woes continue; Phillies plate three in ninth, strand tying run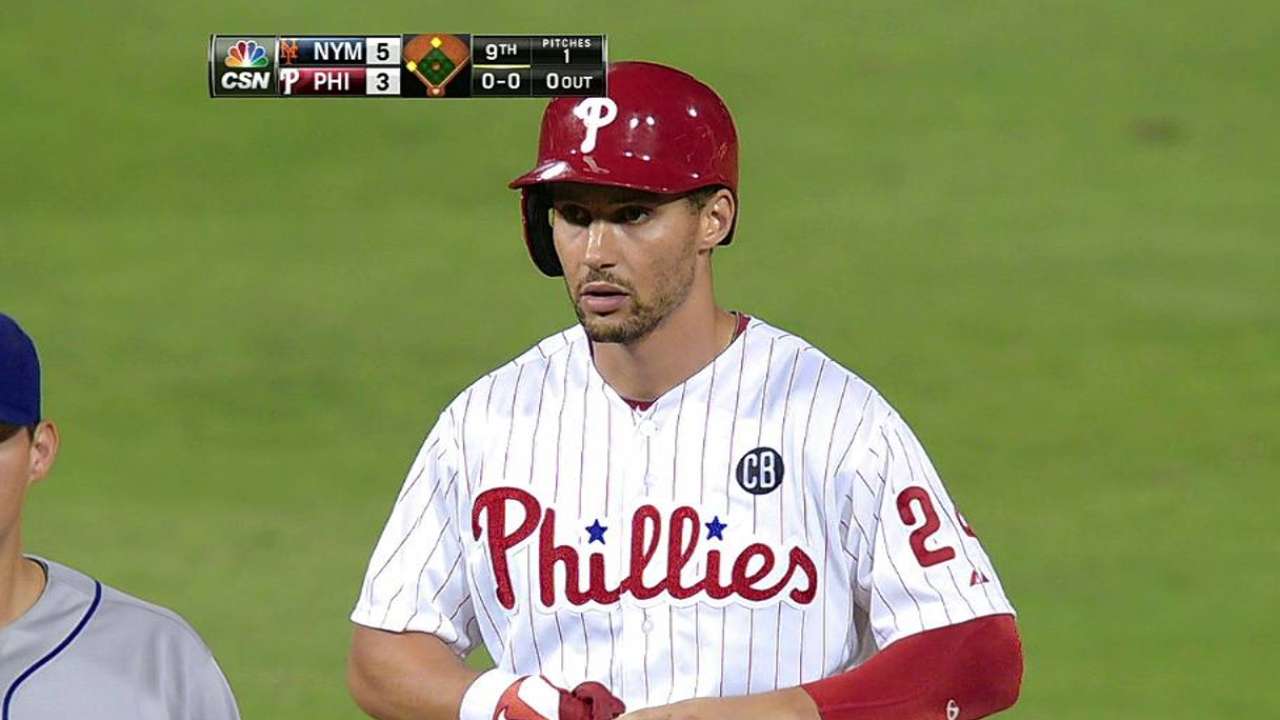 PHILADELPHIA -- Roy Halladay, in a Phillies home jersey and jeans, threw a perfect strike to Carlos Ruiz with the ceremonial first pitch Friday at Citizens Bank Park.
It looked like the lone highlight of the night for the Phillies in a 5-4 loss to the Mets, until a ninth-inning rally fell short.
The Phillies are giving fans a taste of the glory days this weekend with Halladay honored Friday and former manager Charlie Manuel inducted onto the Phillies' Wall of Fame on Saturday as part of Alumni Weekend. The Phillies were living the glory days just three years ago, but these days, they are simply looking to get out of last place in the National League East as they look toward 2015.
The Phillies hoped A.J. Burnett could be part of a quick turnaround following 89 losses last season. They signed him to a one-year, $16 million contract in February because they believed they could still win and hoped Burnett could take Halladay's spot in the rotation.
Burnett, who has been pitching with an inguinal hernia most of the season, went 2-1 with a 2.06 ERA in seven starts through May 3, but is 4-11 with a 5.15 ERA in 18 starts since. He allowed 11 hits, five runs, two walks, one home run and struck out eight in six innings Friday.
"It's time to move on," Burnett said. "It's time to get better. I'm pretty sure they didn't bring me over here to be like this all year, inconsistent. I've got to get the ball back in the zone, get back in my lanes and get the ball back on the corners where it belongs."
It is believed Burnett cleared waivers this month, which would allow the Phillies to trade him before the Aug. 31 waiver Trade Deadline. But a big reason he cleared is because he has a player option that could be worth $12.75 million in 2015 if he makes 32 starts this season. It jumps to $10 million with his 27th start and $11.75 million with his 30th start before capping at $12.75 million.
Friday was his 25th start.
The player option is too much risk for teams, considering Burnett is 37 and his recent performance. He is 0-4 with a 6.66 ERA in five starts since the All-Star break.
"Just one of those grinds, man," Burnett said. "I have to figure out a way to stay positive. Quit getting beat on my third pitch and find my hook earlier in the game. I think when I'm more aggressive I'm better off. Get the ball out of the middle of the plate and get them down."
Burnett worked out of a bases-loaded jam in the third, but allowed a hit to six of the first seven batters he faced in the fifth as the Mets took a 4-0 lead. Travis d'Arnaud, whom the Phillies sent to the Blue Jays as part of the Halladay trade in December 2009, started the inning with a single and continued from there.
D'Arnaud hit a solo homer to left field in the fifth to make it 5-0.
Mets right-hander Bartolo Colon easily handled the Phillies en route to his 200th career victory, allowing just one run in eight innings, on a Marlon Byrd blast to left field in the seventh. It was Byrd's 22nd homer and 65th RBI.
"The movement is the moment. You see pitchers with more movement than that," Cody Asche said. "But he does a good job of changing speeds with his fastball. He mixes some four-seamers in there to keep you honest. I think he's good at reading the hitter, too. Kind of being a step ahead of him. I think that's why he's survived so long in this game and done so well. He's tough."
Dana Eveland started the ninth, but allowed a double to Chase Utley before walking Ryan Howard. Jenrry Mejia replaced Eveland, but allowed a single to Byrd to load the bases with no outs.
Grady Sizemore then ripped a double off the right-field wall to score Utley and Howard and put runners on second and third. Ruiz hit a flare to right with Mets right fielder Curtis Granderson making a nice sliding catch for the first out. Asche followed with a fielder's choice for the second out, but it scored Byrd from third to make it a one-run game.
It set up pinch-hitter Reid Brignac, who has two walk-off hits this season, with a runner on third and two outs. He struck out looking to end the game.
Todd Zolecki is a reporter for MLB.com. This story was not subject to the approval of Major League Baseball or its clubs.