Bullpen can't hang on as late homers drop Blue Jays
Dickey solid over six, but Janssen blows first save since June 9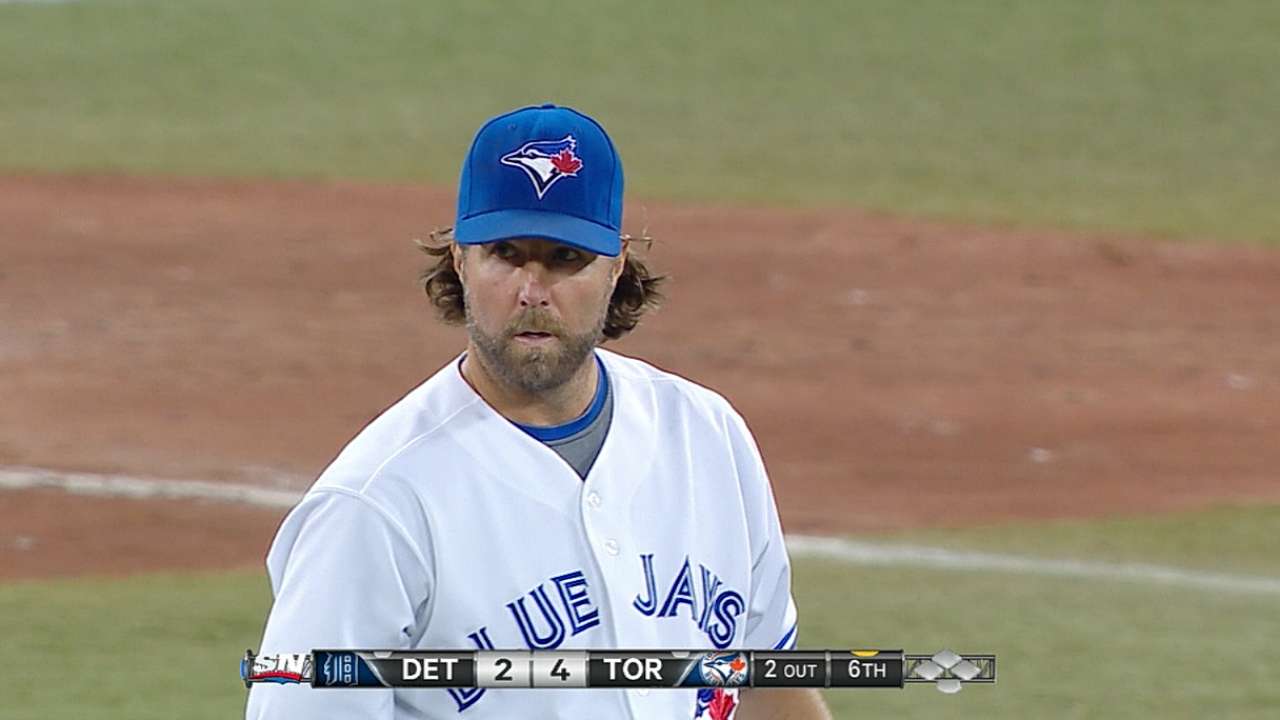 TORONTO -- Casey Janssen has been one of the most reliable closers in baseball for the past two years but that won't help ease the sting he was feeling after Friday night's game.
When the game is on the line, Toronto's closer is normally as good as it gets. During the opener of a crucial series against the Tigers, he wasn't anything close to that.
The Blue Jays were three outs away from a much-needed victory until Janssen surrendered back-to-back home runs. The end result was a crushing 5-4 loss to the Tigers in front of 36,237 at Rogers Centre.
"You have to have a quick memory in this game," a clearly disappointed Janssen said after the game. "I feel bad, I feel bad for the boys. We're in a race, those things burn a little bit more. But no one's going to feel sorry for us and we just have to keep moving forward."
Everything appeared to be well in hand when Janssen took the mound in the ninth. He's not the prototypical hard-throwing reliever most teams prefer at the back end of the bullpen, but that doesn't change the fact that he had just two blown saves this season and four dating back to 2013.
The fifth blown save came in such a hurry that it left everyone in attendance almost stunned. J.D. Martinez hit a hard double, Nick Castellanos had a two-run homer and Eugenio Suarez dealt the final blow with a rocket over the wall in straightaway center field.
It was Janssen's first blown save since June 9 against Minnesota, but there has been some recent cause for concern with his performance. Janssen has allowed nine runs in 8 1/3 innings since the All-Star break, and he admitted some adjustments might need to be made in the near future.
"I haven't pitched that great," Janssen said. "Some times things can streaky. Right now, it doesn't seem like it's streaking in the right direction for me.
"But I have to just continue to work, continue to execute pitches and maybe at times mix up what I've been doing. The hitters might be adjusting to me, so now it's my turn to adjust to them. I'm not quitting and we have a long ways to go."
Even after the ninth-inning collapse, Toronto had an opportunity to come away with a victory. Tigers closer Joe Nathan got into some problems of his own by loading the bases with two outs.
Blue Jays manager John Gibbons opted to stick with backup catcher Josh Thole for the at-bat instead of going with pinch-hitter Nolan Reimold. Gibbons later said he based that decision on the fact that he wanted a left-handed hitter to face Nathan instead of a righty.
The move didn't work out, as Thole popped out on the second pitch he saw. There weren't any late-inning heroics, which is something that has been said a lot about Toronto's season.
"We're still looking for that little magic," Gibbons said. "We haven't been able to get that this year at home. We've had a couple of walk-offs and they were both thrown-away bunts. I don't think we've had one ... with a big hit, home run, gap shot or something like that, and I thought tonight was the night.
"That's something that's deserted us, and hopefully we find that. Usually teams that go on to win, they get a few of those. Not quite a few but a few anyways."
The Blue Jays were in a position to win in the ninth because of a second-inning rally that began with Ryan Goins' squeeze bunt to bring home Munenori Kawasaki from third. Melky Cabrera and Jose Bautista followed with RBI singles to establish a 4-0 lead.
Blue Jays starter R.A. Dickey was effective, even though he was forced to throw a lot of pitches against a Tigers team that seemed to be taking a purposely patient approach. The only mistake that Dickey was forced to pay for came in the third inning. Dickey walked the first batter he faced, allowed a double to Rajai Davis and a two-run single off the bat of Ian Kinsler.
Gibbons removed Dickey from the game after the sixth. He allowed the two runs on five hits and four walks. He has pitched at least six innings in 11 consecutive starts and has a 3.75 ERA over that same span.
Dickey pitched well enough to get the win but even though it didn't happen he hopes people will keep this loss in perspective.
"You have to start thinking outside of that line of, 'This is a must win, or does it hurt that much more?'" Dickey said. "They all hurt. From here on in, it all matters. It mattered back in May when we were losing a game or winning a game.
"It matters, it always matters. Try to wrap your arms around the fact that every game matters, and that it hurts to lose from here on out because we are in it. But we have a lot of games left, so nobody can pout."
Gregor Chisholm is a reporter for MLB.com. Read his blog, North of the Border, and follow him on Twitter @gregorMLB. This story was not subject to the approval of Major League Baseball or its clubs.