Back-to-back jacks give Tigers clutch victory in ninth
Castellanos, Suarez supply power; Anibal exits early with injury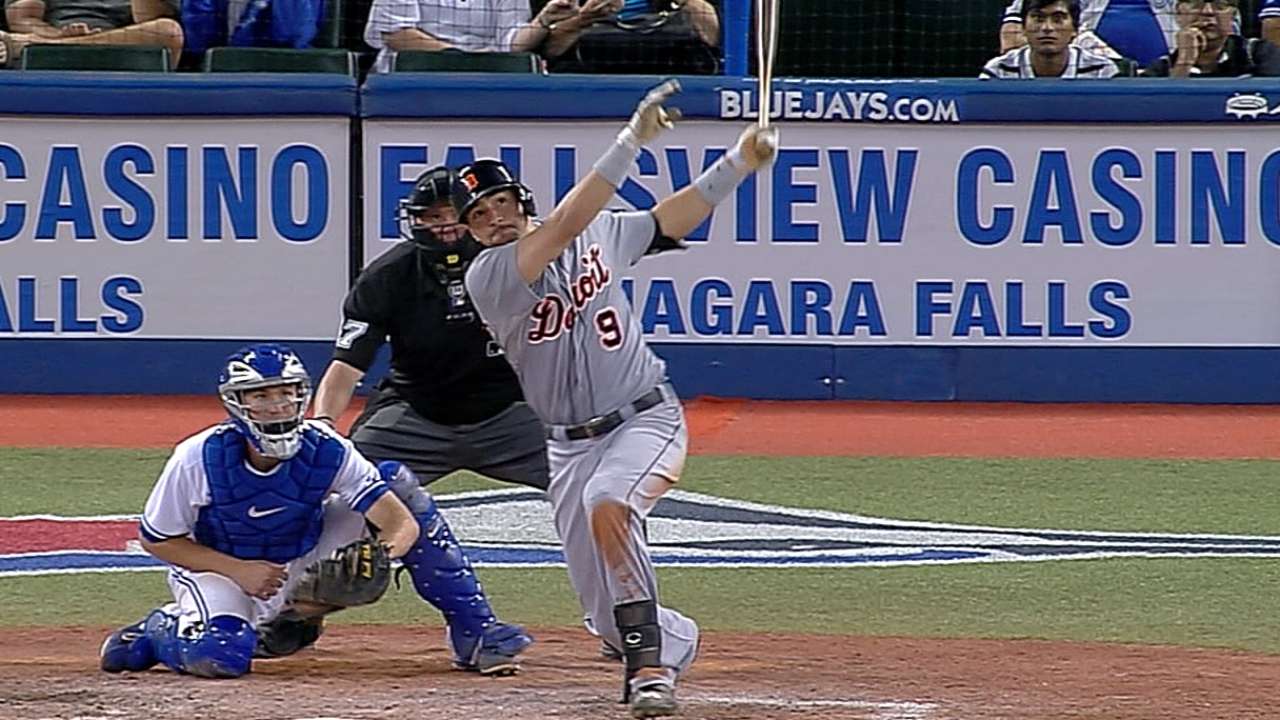 TORONTO -- The Tigers had pitched through low-scoring games all week looking for late-inning rallies from a struggling offense. Just when their hitting woes seemingly hit bottom Friday night, they found the rally from their rookie eighth and ninth batters.
In the process, Nick Castellanos and Eugenio Suarez might have powered the kind of comeback that can rescue their veteran-laden team from its offensive funk.
"They had us veteran guys all pumped up and screaming like little kids, like we just got ice cream," Torii Hunter said after their back-to-back homers off Blue Jays closer Casey Janssen sent the Tigers to a 5-4 win.
They were two swings in a game and a road trip full of weaker ones up and down Detroit's lineup. They weren't even big swings at that; Suarez said he wasn't even swinging hard.
"That was a beautiful swing, man," Suarez said. "It just felt really smooth."
Given where this team stands, on a night when Miguel Cabrera and Victor Martinez combined for one ball out of the infield, they were two of the biggest swings this summer.
"Especially with kind of how flat we've been," closer Joe Nathan said, "these are the games that can be the energy lifter to boost us up a little bit. Time will tell, but these are the games that usually turn things around for you."
Said manager Brad Ausmus: "Hopefully we can look at this as a trigger point where we got on a little roll offensively."
It marked the second win for the Tigers this week in their final at-bat and their second come-from-behind rally. Given everything they overcame Friday, they made Tuesday's 12-inning win at Yankee Stadium almost look easy.
For eight innings, the Blue Jays' three-run second looked like a tone-setter. With their own struggles plating runs, having scored three runs or fewer in five of their previous six games, they took some chances and took the game to the Tigers and starter Anibal Sanchez early. That included a run-scoring squeeze bunt from Ryan Goins for a 4-0 lead and a Colby Rasmus bunt single against the defensive shift that didn't lead to another run.
Even after Ian Kinsler's two-run single in the third inning whittled Detroit's deficit to 4-2, ending a 19-inning scoreless stretch, the gap felt bigger than the scoreboard suggested. Detroit went hitless from Kinsler's fifth-inning single until J.D. Martinez doubled to the fence in left-center field leading off the ninth. Though Blaine Hardy and Al Alburquerque kept the game at two runs with 3 1/3 innings of scoreless relief after Sanchez left in the fifth with a right pectoral muscle strain, the Tigers struggled to get the tying run to the plate.
"It seemed to have a similar flavor to the games in New York, the first two-thirds of the game," Ausmus said. "But that's why we play nine innings."
Once Brett Cecil sent down the middle of Detroit's lineup in order, capped by a strikeout of Hunter, the feeling was stronger. Janssen had given up his share of damage in the last two months, but he hadn't blown a save since June 9.
Martinez's double got some life started, but with the bottom third of the order due up. Alex Avila, whose 12th-inning homer lifted the Tigers on Tuesday, could only advance Martinez to third with a groundout.
The Tigers needed Martinez and another run to tie. Still, given Castellanos' struggles -- he was 2-for-25 in August, and 11-for-54 since the All-Star break entering the at-bat -- he was just hoping to produce something.
"With J.D. at third, I was looking for a pitch that I could hit in the air," Castellnos said. "Just something I could hit into the outfield."
He got a first-pitch curveball that hung over the plate rather than dropping at the knees.
"I thought I could hit that ball to the outfield," Castellanos said, "so I swung."
Castellanos had barely finished slapping his hands and grabbing a drink of water when Suarez -- back after missing the previous three games with a sore knee -- connected two pitches later and took off as the ball kept carrying for his first homer since June 14.
"I didn't know [it was out]," Suarez said. "I knew I hit it good, hit it hard. I just started to run hard, because I didn't know if it was going to go. After I touched first base, I looked up and saw I got it."
Neither, Janssen argued, were bad pitches.
"Down and away, my bread and butter, and he blasted that thing out to center," Janssen said of Suarez's shot. "I tip my cap to them and I'll be ready tomorrow."
So, too, will the Tigers offense, Ausmus hopes.
Jason Beck is a reporter for MLB.com. Read Beck's Blog and follow him on Twitter @beckjason. This story was not subject to the approval of Major League Baseball or its clubs.