Carter's might, McHugh's gem negated by grand slam
Slugger hits pair of two-run homers; starter goes seven strong innings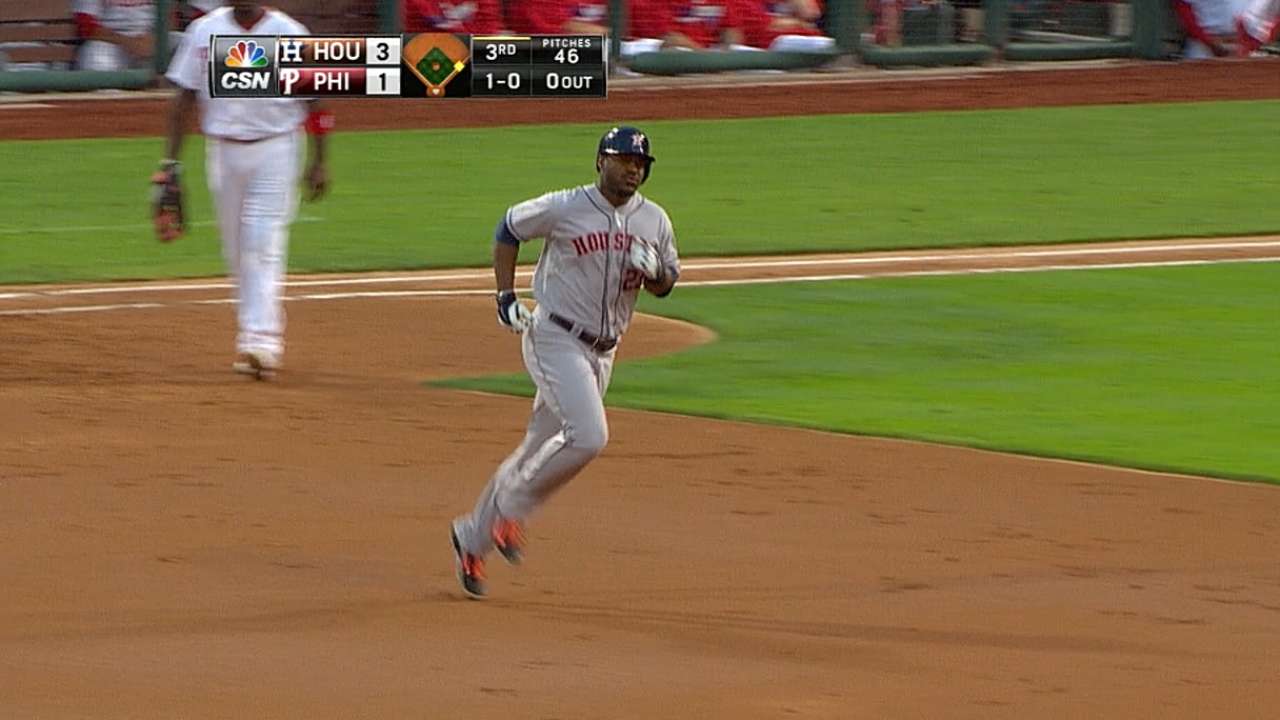 PHILADELPHIA -- It wasn't until Ryan Howard's towering fly ball narrowly cleared the 387-foot sign in left-center field and settled into the Citizens Bank Park seats did Astros pitcher Tony Sipp come to grips with calamity Thursday night.
Sipp missed his spot -- throwing down and in to Howard when catcher Jason Castro was setting up higher -- and Howard jumped all over it, sending the full-count pitch high over the wall for a dramatic grand slam with two outs in the eighth inning that lifted the Phillies to a 6-5 win and series sweep of the Astros.
"I didn't think it was going out," said Sipp, who had held lefties to a .121 average prior to Thursday. "I knew it was high enough, but he just didn't drive it the way his balls usually go. Obviously, he got it well enough. Off the bat, I thought it had a chance until the last minute."
The grand slam was the 13th of Howard's career, extending his franchise record. He was a nemesis in the series for the Astros, going 5-for-14 with two homers and eight RBIs, including a walk-off single in the 15th inning Tuesday.
"I knew he was going to bury some sliders and I had to try to keep off those sliders," Howard said of Sipp. "I knew at bases loaded, he was going to give me something in. He was either going to get me in or get something over the plate. He's got to give me a strike to hit."
The homer spoiled a terrific outing from Astros starter Collin McHugh and a two-homer day by surging slugger Chris Carter. McHugh held the Phillies to one run and five singles in seven innings, and Carter went 3-for-4 with his fifth multi-homer game of the year.
"That's a pretty tough loss there," Astros manager Bo Porter said. "Obviously, they beat the best guys we had down there at the end of the day. Collin did a tremendous job by going seven innings, and offensively we got to their guy early and our bullpen wasn't able to hold it together."
With the Astros leading, 5-1, Josh Fields came on in the eighth and gave up three runs and three hits, including an infield hit toward first by Ben Revere that Fields and first baseman Jon Singleton didn't field in time because of some confusion. That loomed large.
"There was some indecision on Singleton's part on whether or not if he goes and gets the ball, will the speedy runner run past him, and Fields thinking he was going to come and get it," Porter said. "It was one of those in-between plays and neither one of them made a decision to definitely go and get the ball."
Jimmy Rollins greeted Sipp with a single to load the bases, but he got Chase Utley to fly out for the second out. Howard stepped to the plate representing the go-ahead run and battled for eight pitches before getting the best of Sipp.
"It was tough," Sipp said. "He took a couple of good pitches to get back in the count, and I went down and in to him and that's kind of where he likes it when he's good. He put a good swing on it."
Carter continued his torrid second half by hitting two homers in a game for the eighth time in his career, five of which have come this year. He leads the Major Leagues in homers (11) since the start of July and is hitting .327 with 27 RBIs and a 1.094 OPS in his previous 27 games.
He hit a two-run shot to left field off Phillies starter Sean O'Sullivan in the first inning, and Marc Krauss followed with a solo homer to right to make it 3-0. Carter homered to straightaway center field -- another two-run bomb -- in the third to push the lead to 5-1.
"Early in the game offensively, I felt like we swung the bat well," Porter said. "We were in position to win the game."
McHugh appeared to be cruising to his first win since June 3, but instead is 0-6 with a 3.81 ERA in his last nine starts. For a guy who was 0-7 with an 8.69 ERA in his first nine career starts (2012-13), he's unfazed.
"So it's not a first for me," he said.
Brian McTaggart is a reporter for MLB.com and writes an MLBlog, Tag's Lines. Follow @brianmctaggart on Twitter. This story was not subject to the approval of Major League Baseball or its clubs.