Mariners tee off for four homers vs. White Sox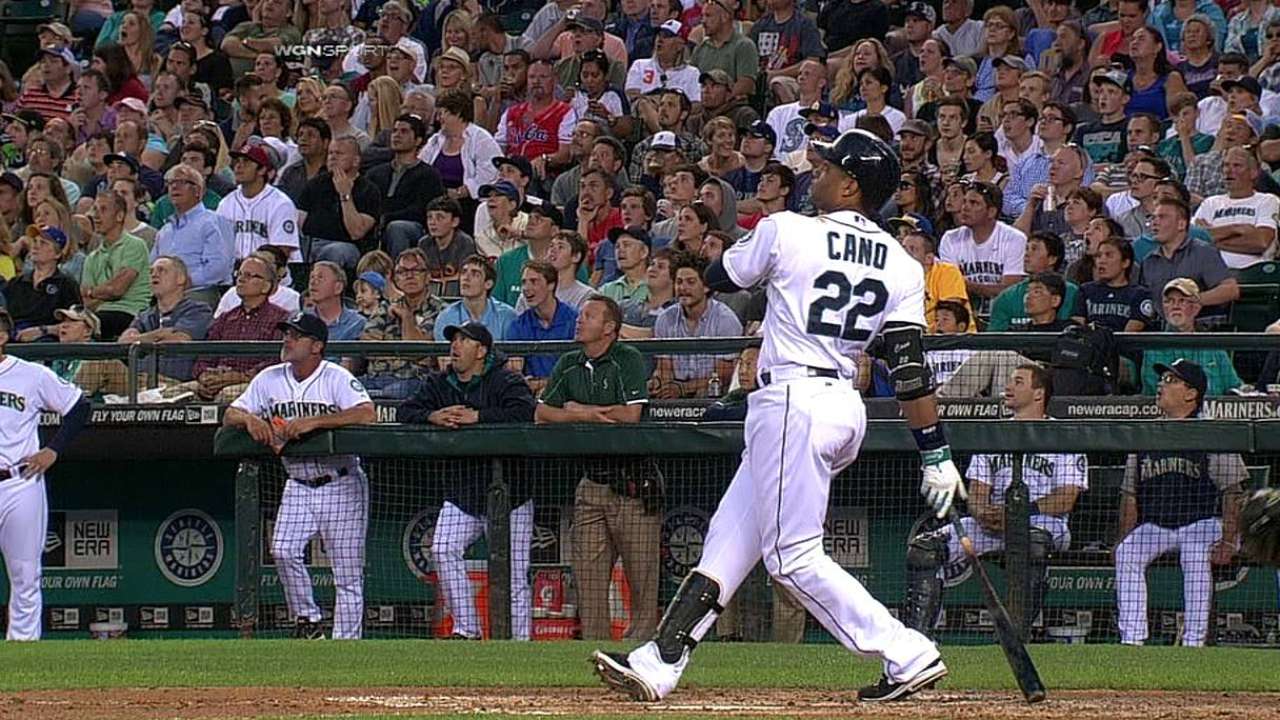 SEATTLE -- If the Mariners are going to make a legitimate playoff push, they need their offense to support the outstanding pitching they've received all season.
And that support came in a big way on Thursday, when the Mariners muscled up with four home runs, rookie Roenis Elias rode that support to his ninth win of the season and Seattle rolled to a 13-3 victory over the White Sox at Safeco Field.
Robinson Cano, Endy Chavez, Dustin Ackley and Kyle Seager supplied the long-ball support as the Mariners won their third straight to improve their record to 60-54, just a half-game out of the American League's second Wild Card spot.
A Mariners team that had been averaging just 3.3 runs per game at home crossed the plate 20 times in the past two days and equaled its season high with Thursday's 13 tallies. The four home runs also tied a season best.
"The good thing is, we're waking up at the right time," said Cano, whose homer was his ninth of the season. "This is when every game really counts. That's how we want to play every game."
Cano wasn't just talking about the long-ball barrage, as he pointed to a sacrifice bunt by Chavez that set up a three-run sixth inning.
"Those are the little things that help everything start," Cano said. "You have to play the little game and be able to do the little things, and then big things can happen."
Manager Lloyd McClendon feels that his club is starting to turn the corner offensively, bolstered by the recent additions of veterans Austin Jackson and Kendrys Morales.
"I think we have a deeper lineup, we have professional hitters in that lineup, guys with some at-bats behind their name, and they're feeling good about what they're doing," McClendon said. "I just like the talk, I like the walk. I think we're getting better."
Elias, 25, didn't allow a hit until the fifth inning and wound up giving up two hits and two runs over 5 2/3 innings in evening his record at 9-9, with a 4.14 ERA. He has pitched the most innings of any rookie in the Majors this season, at 134 2/3, and is 2-1 with a 2.08 ERA in his last four outings.
Elias was breezing until two outs in the sixth, when he hit fellow Cuban Jose Abreu in the arm, then gave up an opposite-field blast to another countryman, Dayan Viciedo. With Elias at 92 pitches, McClendon went to his bullpen, and Brandon Maurer and Danny Farquhar did the rest.
Ackley continued his recent power surge with a first-inning blast that just cleared the fence -- and the glove of leaping right fielder Moises Sierra -- for a one-run lead. Chavez followed with a two-run homer in the fourth, driving a hanging curve from Scott Carroll into the right-field seats.
Ackley's solo shot was his eighth long ball of the season, with four of those coming in the past seven games. He added a two-run, bases-loaded single in the sixth and finished 2-for-4 with a career-high-tying four RBIs.
Chavez's homer was his second of the season and 30th in his 13-year Major League career.
"What can I say? That doesn't happen very often," said Chavez, a 165-pound veteran. "But when you hit a ball good, anything can happen."
But he, too, knew that his sacrifice in the sixth was equally important.
"That's part of my game. For me, it's like the homer," he said. "That's part of the team, to move the runner and do the little things for the offense. I was just trying to do my job and put the team in better situations to score runs."
Cano went 2-for-2 with two intentional walks, and his two-run shot in the fifth gave Seattle a four-run lead; his average is now at .335. Astros second baseman Jose Altuve leads the AL, with a .338 mark.
The Mariners scored three runs in the sixth, when their only hit was Ackley's bases-loaded single, as they took advantage of three walks, a hit batter and a wild pitch to break open the game. They tacked on three in the seventh and two in the eighth on Seager's 17th homer of the season.
The White Sox have a 38-15 record against the Mariners since 2007, but Seattle evened the season series at 2-2 with three games left this weekend at Safeco.
With the Yankees and Royals winning on Thursday and the Blue Jays losing, the race for that second Wild Card berth tightened even further. Kansas City leapfrogged Toronto, taking the lead in that pursuit, while Seattle, New York and Toronto are now a half-game back with just over seven weeks to go.
Greg Johns is a reporter for MLB.com. Follow him on Twitter @GregJohnsMLB as well as his Mariners Musings blog. This story was not subject to the approval of Major League Baseball or its clubs.