Lester dominates, takes perfect game into sixth
Vogt busts out of slump with two-run blast to support lefty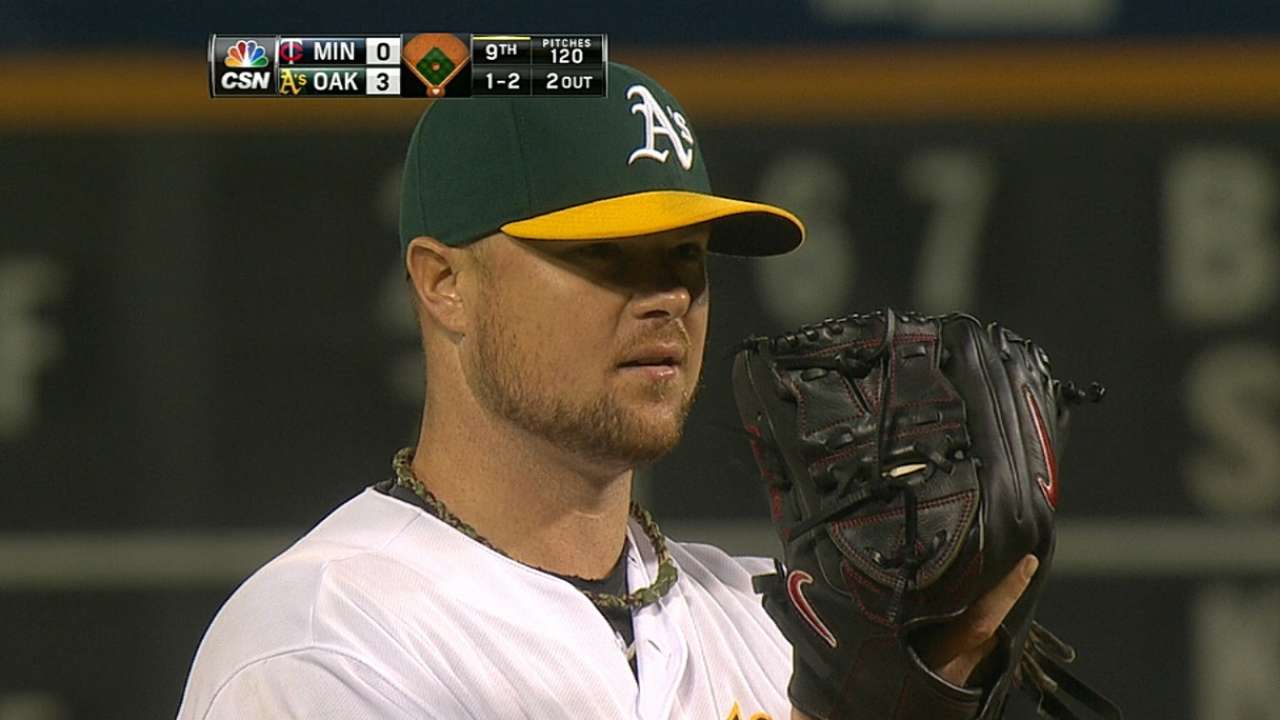 OAKLAND -- A superb Jon Lester flirted with perfection for five innings Thursday evening at the Coliseum, ultimately settling on a three-hit shutout in a 3-0 victory over the Twins.
The A's will take it.
They're the first team to 70 wins, and Lester's routine dominance only further cemented their reasoning for last week's startling trade with the Red Sox, who took Yoenis Cespedes from them in a deal no one saw coming.
Cespedes will be missed sorely, no doubt, but the A's offense still has plenty in its tank to do just enough to throw some runs on the board. That's all Lester needs.
The southpaw fanned eight and allowed just three hits and two walks on a night that ended to the soundtrack of fans chanting "Lester! Lester!" in a roaring Coliseum.
"The biggest thing is to feel welcomed," said Lester. "We all know what Cespedes did for this organization and how well he's liked. Just coming over here, you don't want to screw that up. You want to make the trade look like it had a purpose and it was good. You don't want to come in halfway through the year after these guys have been battling their butts off to be in first place and screw that up."
It was Lester's first shutout of the season but the fourth of his career, which includes a 2008 no-hitter.
He was on track for another until the start of the sixth, when Kurt Suzuki lined a clean single over the head of shortstop Eric Sogard, who perhaps gets to it if only on the shoulders of 6-foot-8 teammate Nate Freiman. Chris Colabello followed with a base hit of his own and, after a pair of strikeouts, Lester would issue a walk to Brian Dozier, who missed a three-run homer by all of a few feet -- simply putting on pause what would amount to another scoreless inning.
"That was really the only trouble he was in," said manager Bob Melvin, who celebrated his 800th managerial victory. "Once he got out of that one, he was smooth sailing to the end."
Melvin, typically conservative with pitch counts, checked in on his new ace after the eighth. Lester had 105 pitches to his name. Melvin had not allowed any of his other guys past 113 this year, with both Sonny Gray and Scott Kazmir topping out at that point.
But this isn't any other guy, and Lester "wanted it," said Melvin.
"That was all I needed to hear," he said. "He's probably the only guy here I let go to 120 pitches. That was my limit."
Lester did it in 122, tying his season high and capping off his 12th victory of the season and second with the A's. He's 6-0 with a 1.21 ERA in his last 10 starts.
"Every once in a while you kind of look over and you're like, 'Holy cow, Jon Lester's pitching,'" said Stephen Vogt. "To have a guy like that with his experience and his ability, it's pretty special to have that every five days. And the other four aren't so bad."
On a night that belonged to Lester, Vogt didn't mind that he was something of a side note, despite snapping an 0-for-23 hitless streak with a two-run homer to right field off right-hander Yohan Pino in the third inning.
Brandon Moss, too, shattered a lengthy hitless stretch, breaking out of a career-long 0-for-18 with a double in the fourth inning, scoring on Derek Norris' ensuing double. John Jaso, also mired in an 0-for-18, wiggled out of it with a base hit in the third.
"For the most part," said Vogt, "I just felt like I was back to my normal self. This game is funny. I was locked in for 90 days. Then you go four days without a hit, all of a sudden there's panic. Why? Why? But that's just the nature of this game."
"Nobody wants to go through that, especially when they're quality hitters like those guys," said Melvin. "In Stephen's case, he dropped all the way to .315 during this stretch, which means he's been swinging the bat pretty good. It's a relief, because it starts to wear on you a little bit, and all three of those guys are quality hitters."
The A's needed such reprieve, particularly on a night that was clearly scripted for something special. Lester wanted the last word.
"I just didn't think he was going to let me finish it," he said. "It was cool that he gave me that opportunity. I was glad it worked out."
Jane Lee is a reporter for MLB.com. This story was not subject to the approval of Major League Baseball or its clubs.