Angels' slide continues in Freeway Series finale
Dodgers lefty Ryu leads combined two-hit shutout at Angel Stadium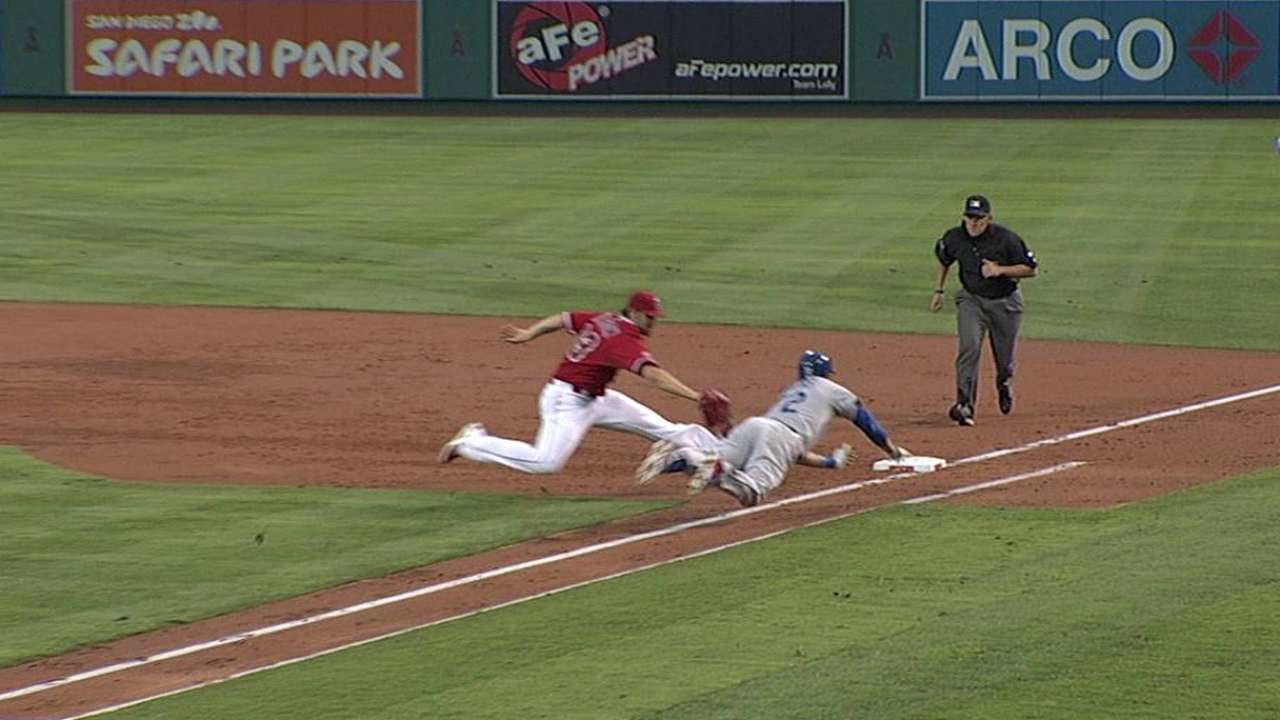 ANAHEIM -- All those good vibes the Angels carried from their first-inning barrage against Zack Greinke and that nine-inning gem from Garrett Richards on Monday seemed a lifetime ago come Thursday night, yet another one when the offense fell flat and C.J. Wilson's command stayed home.
After an uplifting Freeway Series-opening win, the Angels had lost to the Dodgers for the third straight time, a 7-0 defeat that put them three games back of the A's in the American League West for the first time since July 24.
Lefty Hyun-Jin Ryu carried a no-hitter through 4 1/3 innings, 24 hours after Dan Haren twirled a perfect game for 5 1/3, and the Angels suffered their third shutout of the season and their first three-game losing streak since the start of June.
Wilson entered having given up 28 runs (25 earned) over his last 18 innings and left with a 4.82 ERA that's the third-highest among qualified AL pitchers. He gave up four runs in 5 2/3 innings, a near-miracle given that almost half of his pitches -- 46 of 100 -- went for balls.
"There's definitely concern," Angels manager Mike Scioscia said of Wilson, who has an 11.03 ERA in his last six starts. "There's certainly been some head-scratching over the last seven or eight starts with C.J. But seeing how hard C.J. works, and seeing that it doesn't look like it's anything physical with him, we're very confident that he's going to get back on that beam and do what we need him to do."
Wilson was coming off a six-run, 1 1/3-inning outing in his return from a right ankle sprain. Five days later, he scattered six hits, walked four batters, hit another and put the Angels in a 3-0 hole by the third inning. Justin Turner drew a one-out walk, Yasiel Puig followed with an infield single, Adrian Gonzalez walked, Hanley Ramirez smacked a two-run single on a down-the-middle cutter and Matt Kemp added a sacrifice fly.
In the sixth, Wilson gave up a one-out walk to Kemp, allowed a scorching RBI double to Juan Uribe, walked A.J. Ellis, who entered with a .190 batting average, and was pulled from yet another start that left him mystified.
"It's better than last time," Wilson said, "but that's not saying much because I think I could've thrown right-handed and pitched better last time."
The stuff is there, Wilson said several times. "Night and day" from where it was at Tropicana Field on Saturday, catcher Chris Iannetta added. But the 33-year-old left-hander had a hard time locating it, getting into nine three-ball counts and started behind on 10 of the 26 batters he faced.
"Location is the issue," Wilson said after the Angels lost a series to the Dodgers for the first time since 2006. "There's no issue with stuff or anything else; it's just location."
Ryu countered with seven scoreless innings, a little more than 13 months after a complete-game shutout in his first start against the Angels. The 27-year-old gave up two hits, walked one and struck out four, putting him at 13-5 with a 3.21 ERA.
But it's a different game if not for Puig's sixth-inning catch.
Mike Trout -- celebrating his 23rd birthday -- beat out an inning-ending double play, Albert Pujols doubled to put runners on second and third with two outs and Josh Hamilton lofted a towering fly ball to deep left-center field.
Puig -- a punch line after Pujols tagged up from first base against him on Monday, a hero when he threw out Hank Conger at third base on Wednesday -- raced to the warning track, leaped and made the catch just as he banged into the wall, saving two runs and halting any momentum.
"That was great," said Kemp, the right fielder who used to patrol center for the Dodgers. "That could've been a big turnaround if he didn't make that catch, and he's been playing great defense all year."
That was as exciting as it would get for the Angels. Cory Rasmus loaded the bases in the top of the eighth and Cam Bedrosian served up a two-run single to Gonzalez. By that point, a large segment of the 44,561 in attendance -- representing the largest regular-season crowd at Angel Stadium since the 1998 renovation -- had filed out, allowing Dodgers fans to make their presence felt.
The Angels' offense has managed only two runs in its last 24 innings and is batting .226 in the second half, after sporting a .269 clip in the first half.
"You can't go wire-to-wire in this game," Iannetta said. "It's 162 games. You're going to go through stretches where you're not pitching well, you're not playing well. It just happens. We're not playing bad right now; we're just not playing to our potential. Offensively before the break, we were exceptional. We've had four days off, and we're still looking to find it. It's the ups and downs of the season."
Alden Gonzalez is a reporter for MLB.com. Read his blog, Gonzo and "The Show", and follow him on Twitter @Alden_Gonzalez. This story was not subject to the approval of Major League Baseball or its clubs.