Swisher may be in line for more outfield duty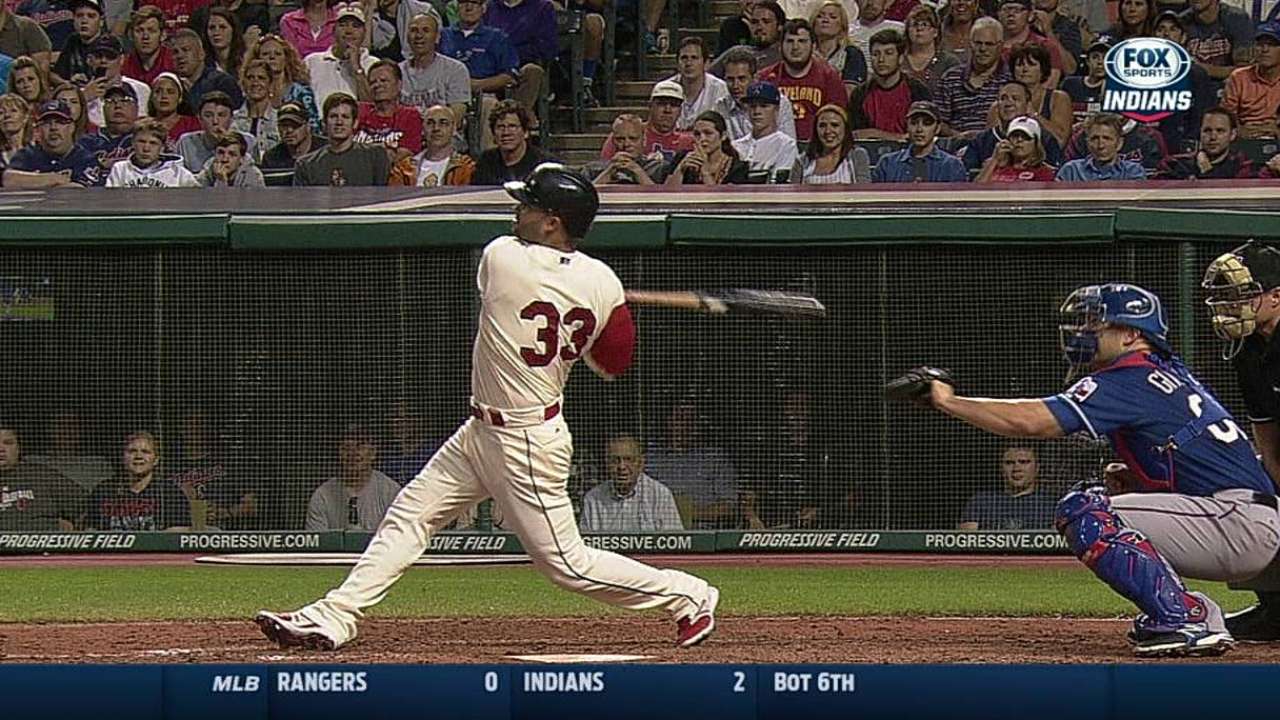 NEW YORK -- The Indians did not hand Nick Swisher a long-term contract two winters ago with the idea that he would develop into a full-time designated hitter. As this season has progressed, though, that has appeared to be the road they're going down with their struggling star.
Sitting in the visitors' dugout at Yankee Stadium on Friday, general manager Chris Antonetti disagreed that Swisher might be already heading down a path toward full-time DH duty. In fact, Antonetti hinted that there could be more outfield in Swisher's future with the Tribe.
"I don't think we've looked at it at all like that," Antonetti said of Swisher being a full-time DH down the road. "We asked Swish to try to go out to left field [Wednesday and Thursday], because it was a way for us to get him in the lineup. But having the offseason and having Spring Training to prepare, I'm not concerned at all about it.
"I think that again, just to rewind a little bit, the plan coming into this year was for Nick to play a lot of first base. So, he prepared in the offseason and in Spring Training to do that, and not play a lot in the outfield. Going into next year, the plan could be different.
"Giving him that head's up and allowing him the offseason to go and prepare to be an outfielder, come into camp, get reps in the outfield, that will prepare him better for the season."
The 33-year-old Swisher -- signed to a four-year pact worth $56 million prior to last season -- began spending more time at DH after Carlos Santana emerged as the better option at first base. Complicating matters for Swisher has also been that he has battled knee issues off and on this year.
Antonetti did not feel the knee problems would lead to surgery over the winter.
"I've got no indications that that's the case," the GM said.
Swisher, who was in the lineup as the right fielder on Friday against the Yankees, had posted an uncharacteristic .207/.278/.332 slash line with eight home runs and 42 RBIs through 95 games. Since the beginning of June, he has played only six of 46 games at first base, spending most of his time as the Tribe's DH.
"Nick wants to play. He loves playing and he'll do anything he can to help the team," Antonetti said. "This season hasn't unfolded for him individually maybe the way we had all hoped, but there are a lot of players who have those years in their career. The important thing will be to finish the season strong and then get to the offseason, and do everything he can to prepare to come into next season and put this year behind him."
Jordan Bastian is a reporter for MLB.com. Read his blog, Major League Bastian, and follow him on Twitter @MLBastian. This story was not subject to the approval of Major League Baseball or its clubs.