Baez buzz continues: Two HRs help down Rockies
Young standout 3-for-4 with four RBIs; Hendricks goes eight strong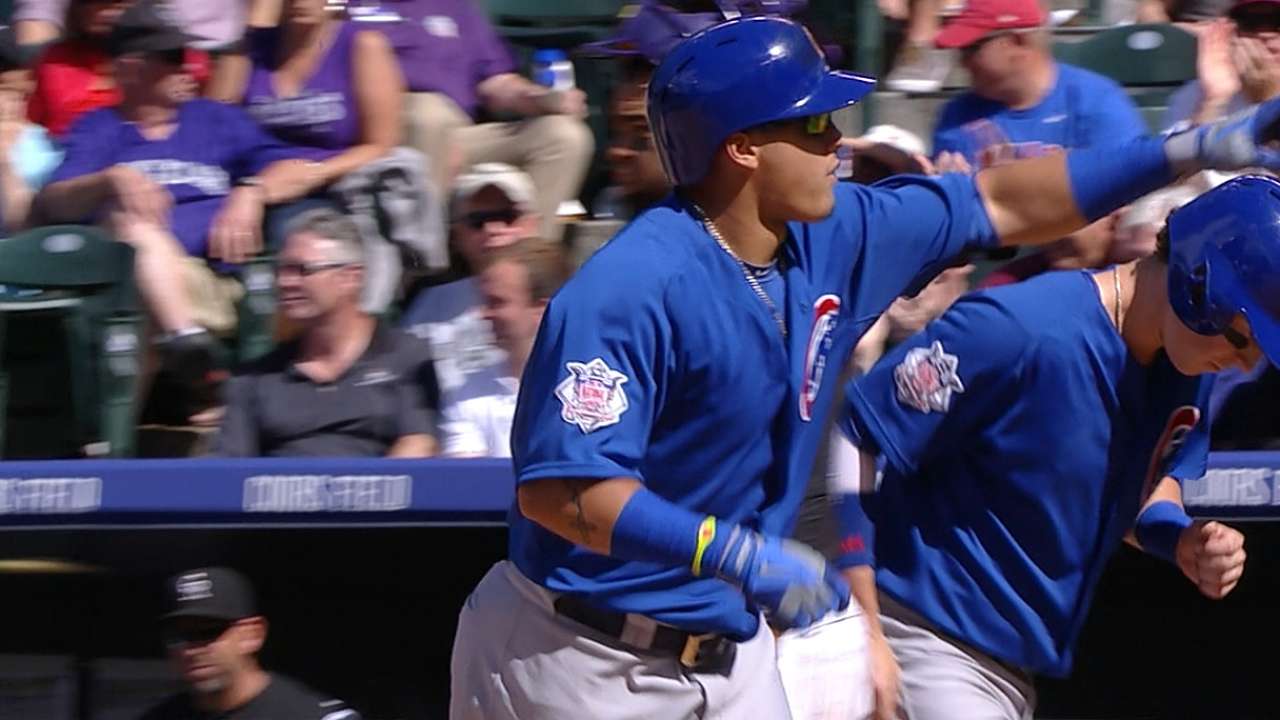 DENVER -- Javier Baez gave Cubs fans more reasons to be giddy about his arrival at Wrigley Field.
Baez belted a pair of home runs and added an RBI single, driving in four runs in his third big league game, to back Kyle Hendricks and power the Cubs to a 6-2 victory over the Rockies at Coors Field on Thursday.
Baez, who hit the game-winning home run in the 12th inning of his debut on Tuesday, led off the sixth with a home run and then hit a two-run, opposite field shot in the eighth. He's the first Cubs player ever with a multihomer game in his third career game, and it's the 23rd time it's happened in MLB history. The last player to do so was the Dodgers' Yasiel Puig, who went yard twice in his second career game.
Rockies manager Walt Weiss saw Baez, 21, in Spring Training, and was impressed, but didn't want to compare the Cubs rookie to the Dodgers outfielder.
"Puig is just so physical," Weiss said. "Baez is, too, for an infielder. Baez doesn't look like a typical middle infielder and he doesn't swing like a typical middle infielder. Puig is kind of a different animal."
The Cubs' top pick in the 2011 First-Year Player Draft, Baez now has four hits and five RBIs in his first three big league games. He's the second player since 1914 to have three home runs in his first three games, and first since Joe Cunningham did so in 1954.
And Baez will make his Wrigley Field debut on Friday. It'll be Christmas in August for Cubs fans who have been waiting to see some of the the much-hyped top prospects in the big leagues.
"It's going to be really, really, really awesome," Starlin Castro said in anticipation of Friday's game. "It'll be a great moment to see him out there in front of the Chicago fans. It'll be a fun day."
Baez downplayed the hoopla. What did he expect?
"I don't know -- just play another game," Baez said.
Does he think he'll be nervous?
"No, not really," he said. "I've played three games, and even though we're playing away, we've had a lot of fans of the Cubs."
They were able to celebrate the Cubs' first series win in Denver since sweeping a three-game set Aug. 3-5, 2004.
Rookie Arismendy Alcantara gave the Cubs a 1-0 lead in the second with an RBI single. Chris Valaika singled to open the third and two outs later, scored on Baez's single to left, his second big league hit and RBI.
In the Cubs sixth, Baez launched a 3-2 pitch from starter Yohan Flande to left for his second career home run, and Castro followed with his 12th long ball of the season and first since June 20 to go ahead, 4-1. It's the fourth time this season the Cubs have hit back-to-back home runs. Baez had faced Flande in the Minor Leagues earlier this year.
"[Flande] wasn't throwing any pitch over the plate until he got to two balls, and I was seeing the ball pretty good and I had my timing really good, too," Baez said. "He had to throw the ball over the plate."
Juan Nicasio walked Chris Coghlan to start the Cubs eighth and set up Baez's second homer of the game, a shot into the Rockies' bullpen in right.
"It's awesome," Castro said about Baez. "I think when he goes to the plate, every at-bat, he has a chance to hit a homer. He's pretty awesome. It's fun to watch. He has a great swing; he doesn't care whatever pitch he hits, he keeps swinging hard. There's a possibility that every ball he hits, he'll hit it out."
Hendricks has played with Baez for a couple years in the Minor Leagues. He isn't surprised at all.
"When he does things like he did today, it's hard not to [be excited], and everyone in the dugout is feeling it," Hendricks said. "There's a lot of energy with some of the young guys, especially since Baez was brought up. It's fun having them around.
"I've seen it for a couple years, and he always thrives on a big stage," Hendricks said. "Every time we have a big game, he does well. He's really fun to watch and I'm glad he's up here. He deserves it."
Baez, who hit 23 home runs at Triple-A Iowa before his promotion on Tuesday, has looked as if he belongs.
"I haven't been nervous or anything," Baez said. "I've been slowing the game down and thinking about the situation in the game."
Cubs fans will be eager to see him.
"I hope so," Baez said.
Carrie Muskat is a reporter for MLB.com. She writes a blog, Muskat Ramblings, and you can follow her on Twitter @CarrieMuskat. This story was not subject to the approval of Major League Baseball or its clubs.