Tribe's bats frozen in finale loss against Reds
House logs six quality frames as Indians lose their grip on Ohio Cup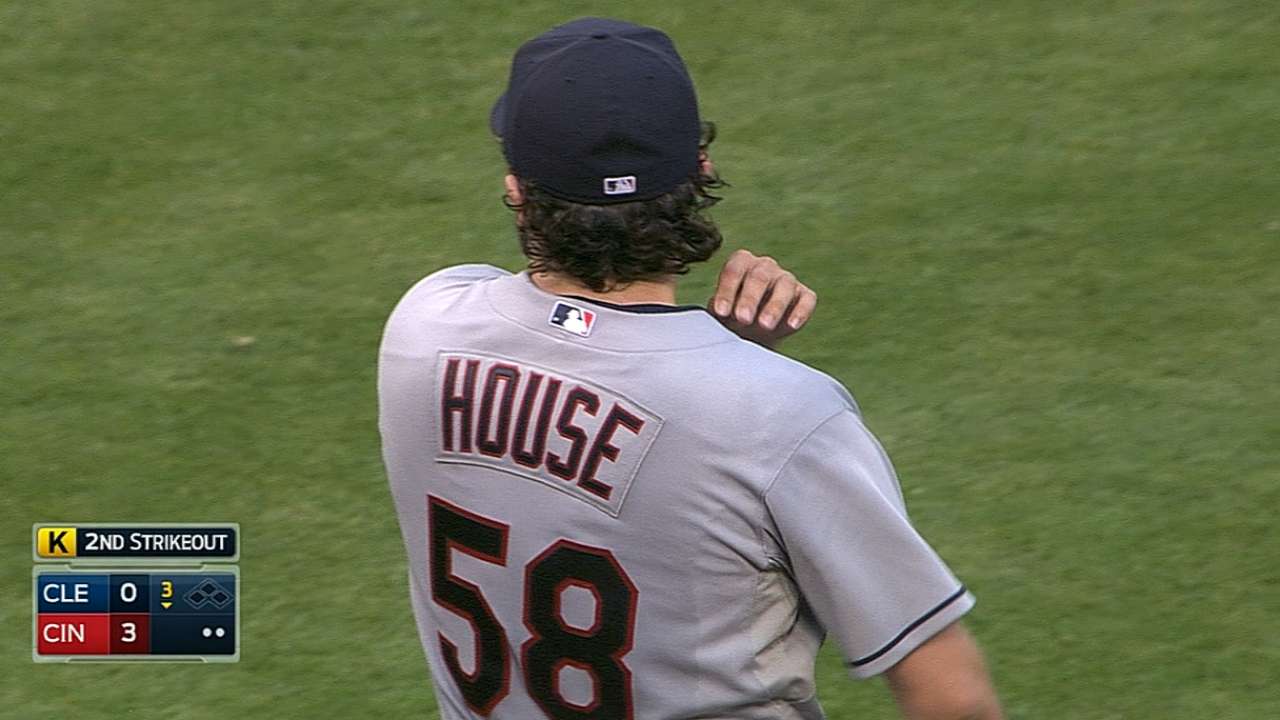 CINCINNATI -- The Indians are still waiting for their hot streak. Cleveland's season has been filled with stunted streaks followed by setbacks, keeping the club in the middle of the American League Central and on the edge of the October conversation.
On Thursday night, the Indians went quietly against Reds righty Homer Bailey in a 4-0 loss to wrap up the annual Ohio Cup series. The Reds won the final three contests of the home-and-home four-game set to claim the trophy for the first time since the 2010 season.
At the outset of the series, the Indians appeared poised for a strong early-August run by romping over the Reds at home on Monday night. But the Tribe's lineup then proceeded to limp through the remainder of the series, as a modest four-game winning streak to open the month gave way for a three-game losing streak that dropped Cleveland below .500 once again.
"With any team," Indians lefty T.J. House said, "when you have that .500 level where you're kind of just hanging around and kind of waiting to see what's going to happen, it's a little tough. I think getting that streak going is going to be the key."
Things will not get any easier as the Tribe heads to the Bronx for a weekend series against the Yankees.
In the finale at Great American Ball Park, House provided an admirable six-inning effort, but the Reds benefited from having center fielder Billy Hamilton in the box and Bailey on the mound.
Hamilton singled off House to lead off the first inning, and then sprinted to third on an infield single by Jay Bruce. On the play, Cleveland first baseman Carlos Santana made an errant throw across the diamond to try to nab Hamilton at third, but the ball skipped away and the runner scored easily.
At first glance, it appeared to be an ill-advised throw, because third baseman Lonnie Chisenhall -- playing towards shortstop with a defensive shift on -- was unable to get back to the bag in time. Indians manager Terry Francona was quick to point out, though, that House was the one tasked with covering third on the play.
"T.J.'s got to be over there," Francona said. "Lonnie did the best he could to get there. After you throw it away, it's easy to say hold it. I think what happens is, that's a tough play. You're trying to throw it all across the diamond and hit a moving target, knowing it's going to be bang-bang. That's difficult."
Cleveland made three errors on the night to raise its Major League-leading total to 89 on the season.
In the second, Hamilton delivered a two-out triple to score Bailey, pushing Cleveland into an early 3-0 hole. After left fielder Nick Swisher was unable to stop the ball from bouncing to the wall in left-center, Hamilton attempted to turn the triple into an inside-the-park home run, but the speedster was erased in a rundown on the play.
"Keeping him off the bases is huge," Francona said. "He can do a lot of things to disrupt the game, as we saw."
House (1-3) was charged with four runs (three earned) on eight hits in his six innings, during which he struck out five and walked one. He also surrendered an RBI single to Ryan Ludwick in the first inning and later allowed a run-scoring single in the sixth to Kris Negron, who was voted the Most Outstanding Player of this summer's Ohio Cup.
That early cushion was ample for Bailey, who cruised through seven shutout innings to improve to 9-5 on the season. The big right-hander struck out eight, walked one and scattered four hits en route to his first victory since June 29.
Bailey allowed two hits and a walk within the first four batters he faced, but he then held Cleveland to a 2-for-22 showing over the rest of his outing. That dropped the Tribe's team average to .179 (17-for-95) over the past three losses, during which it scored in only three of 27 innings.
"Once you kind of get that rhythm," Bailey said, "you can keep attacking and stuff like that. You feel like you've got control all night."
The Indians are hoping to turn that kind of feeling into a prolonged winning streak soon.
"When it happens, I think it's going to explode and we're going to take off," House said. "But we've got to get to that level where we're going to be able to consistently go out there and play good games constantly."
Jordan Bastian is a reporter for MLB.com. Read his blog, Major League Bastian, and follow him on Twitter @MLBastian. This story was not subject to the approval of Major League Baseball or its clubs.