Peralta first to 14 victories, keeps Crew alone in first
Righty wins fifth straight start, fans nine in 6 2/3 innings of one-run ball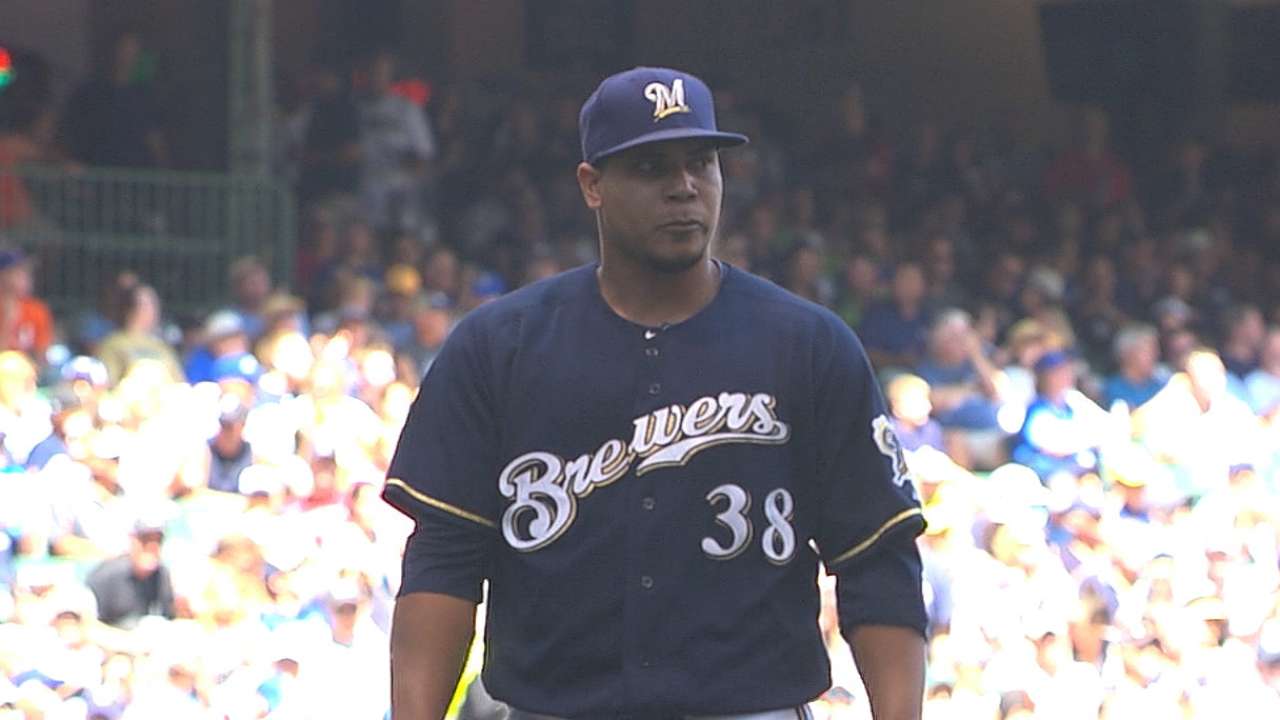 MILWAUKEE -- The Brewers did their part Thursday to ensure their weekend showdown against the Dodgers would pit a pair of first-place teams.
A 3-1 win over the Giants at Miller Park, sealed with two runs in the sixth inning, made right-hander Wily Peralta the Majors' first 14-game winner and ensured the Brewers another day alone in first place in the National League Central.
Up next on the homestand are the NL West-leading Dodgers, who fortified their strong rotation Thursday with a trade for the Phillies' Roberto Hernandez. The right-hander formerly known as Fausto Carmona beat Kyle Lohse and the Brewers with eight strong innings at Miller Park just before the All-Star break, and told reporters he'd been assigned to a Friday rematch with Lohse. After that, the Brewers will draw the Dodgers' co-aces, Zack Greinke and Clayton Kershaw.
"We know what kind of arms we have seen lately, and we know what kind of arms we're going to see, and it's important for us to be able to match it," Brewers manager Ron Roenicke said. "We feel with our five, we can."
Peralta, 25, has emerged as the leader of Milwaukee's five. That he batted in the bottom of the sixth inning Thursday with two runners aboard, one out and the Brewers having just pushed home two go-ahead runs said something about Roenicke's faith in his current bullpen, but more about his faith in Peralta, who returned to the mound in the seventh to set career highs for strikeouts (nine) and total pitches (115).
"I still feel strong back there," Peralta said. "I was able to finish out. … I still felt strong in that inning. You have a lot of innings in your arm, but you keep working, keep doing your routine and keep pitching."
His 114th pitch registered 98 mph. No. 115 was 97 mph, a called strike three against Giants center fielder Angel Pagan that ended Peralta's outing after 6 2/3 innings, seven hits, one earned run and one walk. One of the nine strikeouts actually accounted for the Giants' only run; opposing pitcher Jake Peavy reached first base leading off the fifth on a strikeout/wild pitch on a slider that bounced in the dirt. Peavy came around to score.
Including Peralta's effort, Milwaukee's starters own a 2.64 ERA and 13 quality starts in the team's last 16 games. In Peralta's last five starts, he has surrendered only six earned runs in 33 innings, and logged a victory every time.
Only one Brewers pitcher has ever led his league in wins: Pete Vuckovich, who tied Baltimore's Dennis Martinez, Oakland's Steve McCatty and Detroit's Jack Morris atop the American League with 14 wins in strike-shortened 1981.
Cardinals ace Adam Wainwright was scheduled to get the first chance to match Peralta's league-leading total when he faced the Red Sox on Thursday night.
"There's a lot of great starting pitchers out there, and to be able to be leading the league, that's amazing, a great feeling," Peralta said. "That's a thing that I've been working hard [for] in the offseason and been working hard in the season to be on top."
The Brewers backed Peralta with a balanced attack. Ryan Braun doubled home a run in the first against Peavy, and Aramis Ramirez and Khris Davis delivered back-to-back doubles in the sixth to snap a 1-1 tie. Davis advanced on Rickie Weeks' single and scored an insurance run on Mark Reynolds' sacrifice fly.
Peralta and Jeremy Jeffress combined for a scoreless seventh, Jeffress and Will Smith teamed in a scoreless eighth and Francisco Rodriguez pitched the ninth for his 34th save. Rodriguez needs only two more for his highest total since 2008, when he set a Major League record with 62 saves for the Angels.
By taking two of three games from the Giants, the Brewers won a series for the first time since sweeping the Reds from July 21-23, and for only the second time since winning three of four against the Rockies from June 26-29. Yet the Brewers have been in first place in their division every day since April 5.
"I usually pay attention to, at the end of a series, what we do in the series," Roenicke said. "I haven't as much, just because I know we need to worry about one game, and just getting back on the right track, and trying to get into where we're winning most of the games. It seems like we're just flipping back and forth, and we've been kind of stale as far as movement [in the standings] and what we've been doing.
"So, yes, it is important to win series. Any time you win against a team like the Giants, you feel good about it."
Adam McCalvy is a reporter for MLB.com. Read his blog, Brew Beat, and follow him on Twitter at @AdamMcCalvy. This story was not subject to the approval of Major League Baseball or its clubs.