Mets drop series on walk-off homer in extra innings
deGrom has sixth straight quality start in finale vs. division rivals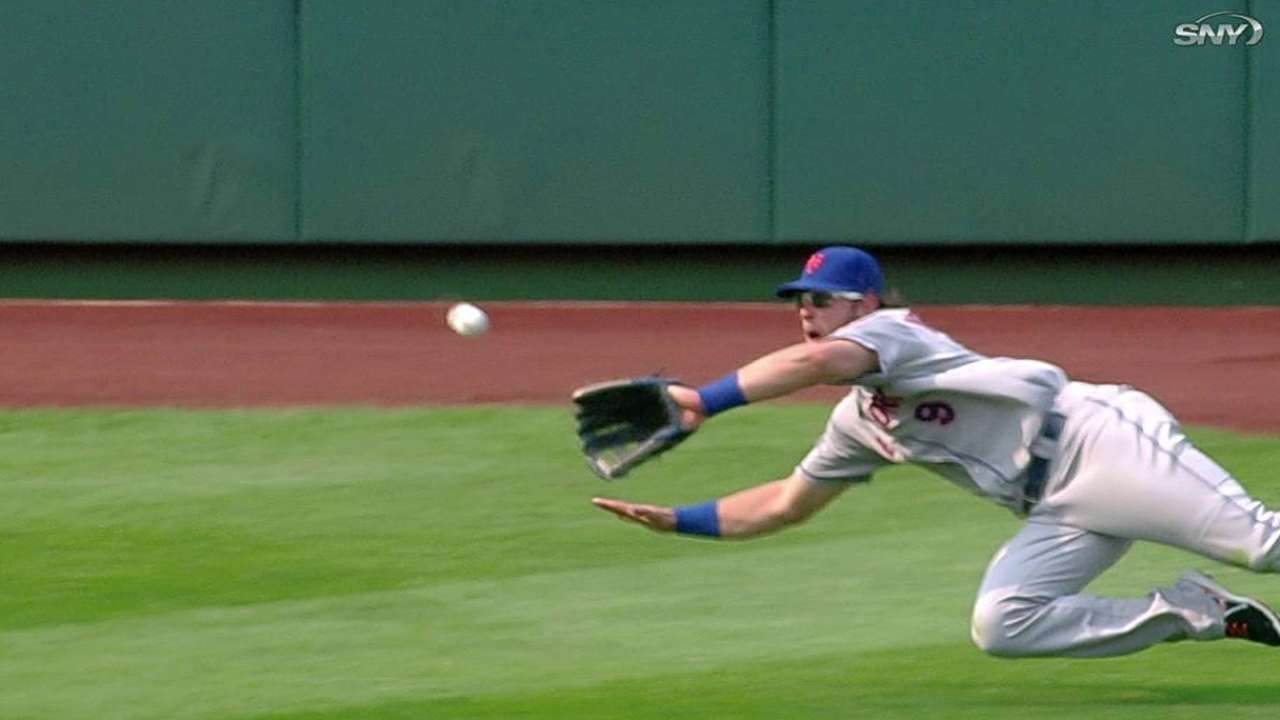 WASHINGTON -- As the summer progresses, it appears more and more certain that the Nationals will make the postseason for the second time in three years. It appears less and less likely that the Mets will join them.
Yet for three games in August, the Mets did not seem particularly outmatched or outclassed at Nationals Park. Their 5-3, 13-inning loss in Thursday's finale came in a four-hour, 34-minute game that Bryce Harper won on a walk-off home run. The Mets had their share of chances, too, prompting them to grasp for optimism after losing two of three in one of their summer's most important series.
"We know how important it is," third baseman David Wright said. "To win in the division is crucial, especially in the position that we're in, where we're fighting like heck to try to get back to .500. You come in here and win the first game and are feeling pretty good about yourself. To drop the next two, it's not how we played it out in our minds."
Washington began rallying for the final time when Ian Desmond drew a leadoff walk against Carlos Torres -- the seventh man out of New York's bullpen -- in the 13th. The next batter, Harper, ended things abruptly with an opposite-field homer to left, snapping the Nationals' nine-game extra-innings losing streak at their home park.
"I was just trying to barrel something," Harper said. "It got to the point where I was just trying to get something out over and try to punish it."
"I just cost our team the game," Torres said. "This is a huge game for us. We need to beat this team in our division. They're No. 1 in our division right now. We need to beat these guys. Costing these guys games and leaving home runs out there is not something I want to do.
"These guys played their hearts out today, and they play really hard every day. We need to beat this team, so for me personally, yes it's frustrating, because I cost us the game that we needed."
Sluggish for most of the afternoon, the Mets' offense finally awoke against the Nats' bullpen in the seventh. After Wilmer Flores and pinch-hitter Kirk Nieuwenhuis both singled to chase Washington starter Jordan Zimmermann, Eric Young contributed a sacrifice fly off Drew Storen. The next batter, Curtis Granderson, tagged Storen for a game-tying RBI single up the middle.
The Mets scored just one other run off Zimmermann, on Daniel Murphy's RBI double in the third. They then proceeded to go hitless from the eighth through 12th innings, squelching any chance they had at upending a vulnerable Nats team that wasn't hitting much better.
"It's very disappointing to us all," manager Terry Collins said. "We played hard today, came back in the game. You're facing one of the best pitchers in baseball -- when you get back in the game, you kind of have a big lift. We just couldn't mount anything after that."
For the first time in over a month, Mets starter Jacob deGrom looked as mortal as his offense, giving up three runs over six innings. Most of the damage came in the second inning, when Desmond's two-run homer snapped deGrom's franchise rookie-record streak of 67 1/3 consecutive innings without allowing a home run. The Nats added a third run on Desmond's RBI single in the fourth.
Yet deGrom rebounded toward the end of his afternoon, racking up three of his four strikeouts in the sixth inning to finish with his sixth consecutive quality start. One of the leading National League Rookie of the Year Award candidates, deGrom took a no-decision while nudging his ERA up to 2.87.
But he, like everyone else in the visiting clubhouse, was somber after the game. Flying down to Washington facing an eight-game divisional deficit, the Mets saw this week as a real opportunity to reestablish themselves in the NL East race. When they won Tuesday's opener, they even allowed themselves to beat their chests a bit.
But losses Wednesday and Thursday drained the Mets of any lasting bravado. Now they face four games in Philadelphia, needing to win most -- if not all -- of them before a three-game rematch next week against the Nats at Citi Field.
"These are big games," Collins said. "This is a big road trip. We're starting to play our division and if we're going to be in the hunt, we've got to win these games."
Anthony DiComo is a reporter for MLB.com. Follow him on Twitter @AnthonyDicomo. This story was not subject to the approval of Major League Baseball or its clubs.