Morse, Sandoval motor offense past Brewers
Giants rely on two-out hitting to back solid start from Vogelsong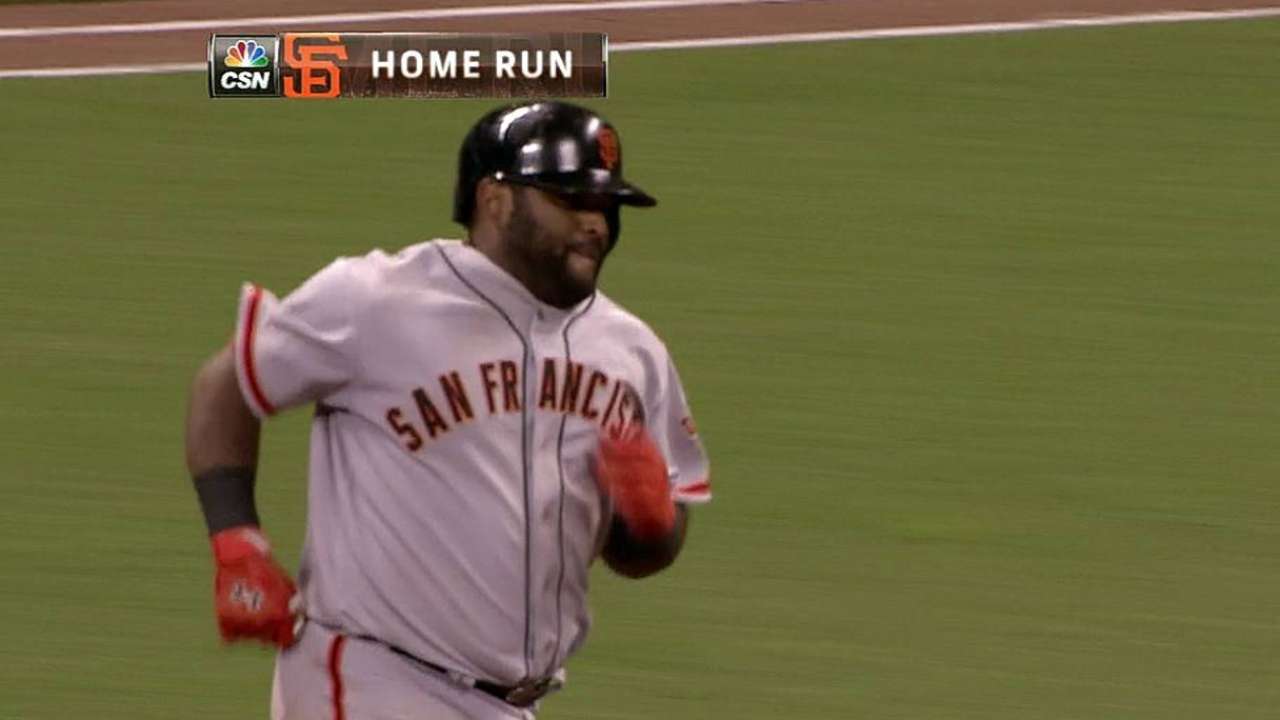 MILWAUKEE -- Michael Morse returned. So did the Giants' knack for scoring with two outs. This wasn't a coincidence.
Finished with a two-day break to shrug off the effects of a slump, a refreshed Morse made an immediate impact Wednesday night by driving in three runs with a pair of two-out singles to lead the Giants past the Brewers, 7-4.
Morse slashed a two-run single in the first inning off Brewers right-hander Yovani Gallardo (6-6) to fuel a three-run Giants outburst. The left fielder added an RBI single in the fourth.
The Brewers weren't done. Aramis Ramirez, still formidable in his 17th Major League season, rapped a two-run single off Jeremy Affeldt in the seventh inning to narrow the difference to 4-3.
The Giants pulled away in the eighth as rookie second baseman Joe Panik, who's 8-for-14 in his last three games, stroked an RBI single for his third hit of the night. Pablo Sandoval homered for the second straight game, a two-run clout that hiked the Giants' total of two-out runs for the evening to five.
Two-out scoring was integral to the Giants' early-season surge. It reflected the depth of their lineup, their ability to generate offense up and down the batting order. Injuries to leadoff hitter Angel Pagan and middle-of-the-order fixture Brandon Belt, along with the expanding black hole known as second base, robbed the Giants of their offensive continuity.
Now, with Morse swinging confidently, Belt feeling healthy and Pagan on the brink of activation from the disabled list to rejoin the lineup, the Giants have regained a semblance of their offensive rhythm. Wednesday, every starting position player except Belt recorded a hit as San Francisco improved to 4-2 on this three-city trip.
Morse's hits may have been the biggest ones, since they distanced him from his multi-dimensional slump. He entered the game in a 1-for-11 skid. He had totaled five RBIs since June 14. And he had three hits in his previous 29 at-bats (.103) with runners in scoring position.
Nevertheless, Morse has 30 two-out RBIs, which ranks among the National League leaders. Obviously, he benefited from the rest that manager Bruce Bochy prescribed.
"This is a man. He gets it," Bochy said of Morse, who has 10 seasons in the Majors. "He just needed a couple of days [off]. Sometimes it's a mental break. To take off and catch a breath can help you more than anything."
Panik demonstrated the importance of remaining mentally unburdened as he recorded his second three-hit game in three days.
"I'm not a guy who's going to hit the ball 500 feet," he said. "I'll run into some balls, hopefully sooner than later, but my job is to get on base and have the guys behind me move me around."
Panik's most essential deed didn't appear in the box score. He slid cleanly yet hard into second base to break up a first-inning double play and sustain the Giants' momentum. Had Milwaukee converted the twin killing, San Francisco would have had Hunter Pence on third base with two outs, instead of runners on the corners with one out.
The Giants proceeded to bat around while scoring three first-inning runs off Milwaukee starter Yovani Gallardo (6-6), but a rare mental error by Ryan Vogelsong denied San Francisco a more fruitful beginning. With the bases loaded and two outs, Vogelsong hit a soft one-hopper to shortstop Jean Segura, who believed he could routinely step on second base for a forceout. But Brandon Crawford, running hard from first base, beat Segura to the bag. Meanwhile, Vogelsong completely stopped running about 15 feet short of first base and didn't realize that Crawford was safe, having stopped watching the play. Vogelsong got himself moving again, but his delay gave Segura enough time to throw him out.
"That was a stupid mistake on my part," Vogelsong said.
Vogelsong (7-8) atoned by working six stubborn innings, yielding one run and seven hits.
"That's a game which, if we would have lost, we all would have been sick about," Bochy said.
Chris Haft is a reporter for MLB.com. Read his blog, Haft-Baked Ideas, and follow him on Twitter at @sfgiantsbeat. This story was not subject to the approval of Major League Baseball or its clubs.