LaRoche goes deep twice as Fister foils Mets
Espinosa contributes three-run jack as Nationals extend division lead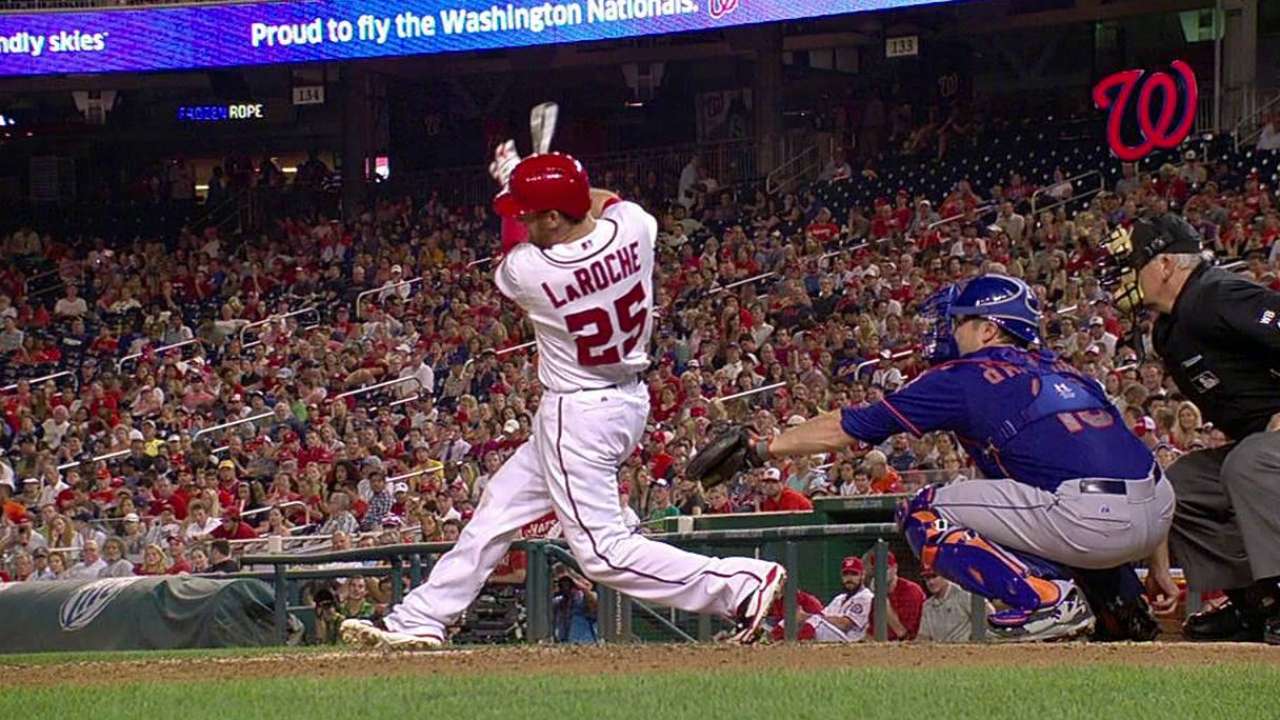 WASHINGTON -- Doug Fister showed why he is arguably the best pitcher on the Nationals' pitching staff. He was solid for 7 1/3 innings, and the Nationals got two home runs from Adam LaRoche on their way to a 7-1 victory Wednesday night.
With the victory, the Nationals are now four games ahead of the Braves in the National League East race. The Mariners defeated the Braves, 7-3, at Safeco Field earlier in the day. The Braves have now lost eight consecutive games.
"I approach this game like this: We need to take care of ourselves," Fister said. "We have two months left of the regular season. If we take care of ourselves, things will play out the right way. We can't rely on anybody else. We have to go out there, play great baseball and take care of our business."
Fister won his team-leading 11th game of the season, allowed one unearned run and struck out seven batters. He started the game off by retiring nine of the first 10 hitters he faced. The Mets scored their only run after Fister left the game. Left-hander Matt Thornton was on the mound when Lucas Duda singled to drive in a run.
Even more important, Fister is 7-2 after the Nationals lose a game. How important is it to have Fister to stop losing skids?
"It's no coincidence that I feel that a lot of runs get scored when Doug pitches," LaRoche said. "I think it's a matter of quick innings. He is pitching to contact and there is a lot of action. We are back in the dugout quickly. I have to think that has something to do with it. It's seems when he is out there, we are on defense for 30 minutes and we spend two hours in the dugout. It's a good feeling."
As usual, Fister declined to give himself credit for the strong outing. Instead, he credited the defense behind him.
"I didn't get quite get what I wanted," Fister said. "But our guys played great defense. [Anthony] Rendon taking lines drives, [Jayson Werth] making sliding catches. Those are the unmentionables that make up a team."
The Nationals gave Fister plenty of run support starting in the first inning against left-hander Jon Niese. After Rendon doubled with one out, Werth singled to right field, which allowed Rendon to score and give Washington a 1-0 lead. LaRoche followed with a two-run homer over the right-center-field wall to extend the lead by three. It was his first home run since July 22nd.
In the sixth inning, Danny Espinosa added to the lead by hitting a three-run homer over the left-field wall.
"That was a changeup," Niese said about the Espinosa home run. "I thought it was in a good location. He put a pretty good swing on it. It hit his barrel and he was able to hit it out, but I thought it was a well-executed pitch."
The switching-hitting Espinosa is having a great year from the right side of the plate, hitting .309 with two home runs and seven RBIs. Asked if he would consider hitting strictly from the right side of the plate until he was able to get his swing back from the left side, Espinosa said, "If it was that easy, I would try it. I've never done it. I know Shane Victorino did it last year. … But I don't know how easy that would be. It would be nice to say, 'Just take it to the other side.' I've never done it."
In the bottom of the eighth inning, LaRoche hit his second home run of the night, a solo shot over the right-field wall. LaRoche now has 23 multi-homer games in his career.
It looks like LaRoche is out of his slump, as he's gone 4-for 6 in his last two games and has seen his average go up to .273. After the game, LaRoche said he was happy to get his power back.
"It's nice to see [the balls] go in the seats and not to the warning track or just foul," LaRoche said."I was kind of snake bit last month. Again, I never felt lost at the plate, which I have plenty of times in the past. I felt like I was right there. Any night, it was going to click. I would start spraying the ball. I figured it was a matter of time. Maybe this is the start of something."
Bill Ladson is a reporter for MLB.com and writes an MLBlog, All Nats All the time. He also could be found on Twitter @WashingNats. This story was not subject to the approval of Major League Baseball or its clubs.