Niese turns in rocky outing as Mets fall to Nats
Left-hander still seeking to get back on track after returning from DL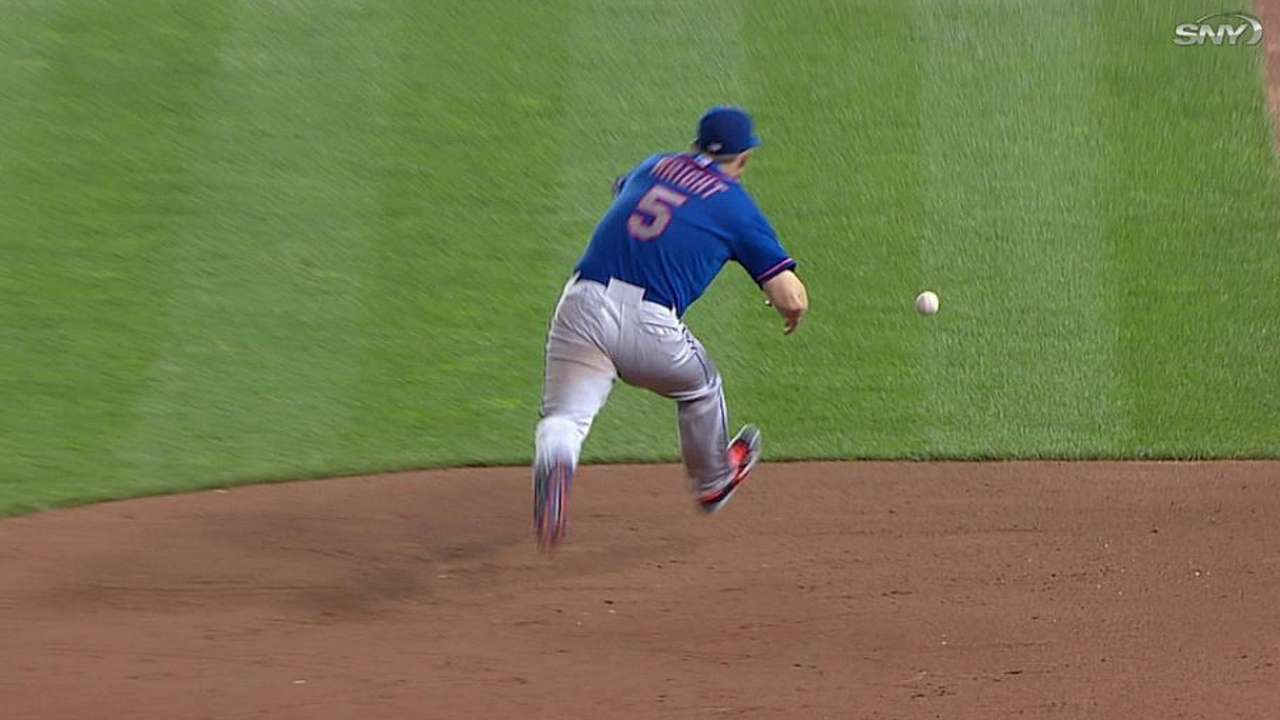 WASHINGTON -- For the better part of three years, the Mets have not had to worry much about Jon Niese. Since enjoying a breakout 2012 season, Niese's only issues have been minor elbow and shoulder ailments that dissipated within weeks. Whenever healthy, his performance has been pristine.
But Niese has now struggled in four consecutive outings since returning from the disabled list in mid-July, giving up six runs Wednesday in a 7-1 loss to the Nationals. Battling mechanical issues all the while, he is 0-4 with a 5.76 ERA since the All-Star break.
"It's easy to talk about the shoulda-woulda-couldas when you're struggling," Niese said. "I'm at the point now where my stuff's back. My arm feels great. But I'm not very consistent hitting my spots. I've just had a couple bad innings and that's what's cost us."
Even if Niese was at his vintage best against the Nats, he might not have won -- Washington starter Doug Fister was that good, blanking the Mets into the eighth. But Niese was not in top form at Nationals Park, nor even particularly close. He gave up three hits in the first inning, including Jayson Werth's RBI single and Adam LaRoche's two-run home run, then three more in the sixth on Danny Espinosa's homer -- a changeup that Niese actually thought he executed well.
The final damage against him was six runs on eight hits and two walks, with only two strikeouts to his credit.
"For sure he's struggled," manager Terry Collins said. "We've just got to keep getting him out there and keep getting him work, and getting him back to where we know he can be successful. That's locating his pitches."
Niese's imperfections proved lethal on Tuesday with his teammates facing Fister, one of the National League's best pitchers since May. Opposing the Mets for just the second time ever, Fister held them to six hits -- all singles -- in 7 1/3 innings. He needed merely 91 pitches to complete seven innings, putting him within reach of a complete game before an Anthony Rendon throwing error complicated things in the eighth.
The Mets finally pushed across an unearned run against reliever Matt Thornton that inning, on a Daniel Murphy grounder that dribbled past second base. Washington's bullpen otherwise finished things off without issue, leaving the Mets once again tipping their caps from the visiting dugout.
Against the NL East's best team, the Mets knew all along that their chances of a series sweep were slim.
"He works real quick, throws a lot of strikes, doesn't walk anybody," Collins said of Fister, who struck out seven and did not, in fact, walk anybody.
What Fister was, in essence, Niese was not. But the longest-tenured member of New York's pitching staff feels he knows what he has to do to return to form.
When he first began experiencing shoulder discomfort back in June, Niese said, he unwittingly slipped into unsound mechanics. By the time he landed on the disabled list in early July, he had formed bad habits that were affecting his pitches.
Now, as Niese attempts to rediscover the mechanics that made him successful in the first place, he feels he's edging closer to where he needs to be. He, Collins and pitching coach Dan Warthen insist that health is no longer the issue for a pitcher who has missed significant time over the past two seasons.
"I've got to figure out how to pitch with [my altered mechanics]," Niese said. "I'm making a lot of mistakes when I'm healthy, with my good stuff, and I'm not getting away with it. I've just got to keep working in my bullpens on hitting my spots and staying positive."
In the interim, the Mets hope to salvage a series victory Thursday before heading back up the Eastern seaboard to Philadelphia. They have the right pitcher on the mound to do it, with Rookie of the Year candidate Jacob deGrom squaring off against Nationals standout Jordan Zimmermann.
By the time Niese's rotation spot comes up again five days from now, the Mets aim to be on the sort of winning streak that has eluded them for much of this season. And Niese hopes to make himself a part of it.
"It's kind of like a shock before, just not being consistent with locating my pitches," Niese said. "I've just got to figure out how to locate."
Anthony DiComo is a reporter for MLB.com. Follow him on Twitter @AnthonyDicomo. This story was not subject to the approval of Major League Baseball or its clubs.