Rockies' rout ends Arrieta's string of quality starts
Coghlan gives Cubs early lead and falls a homer shy of cycle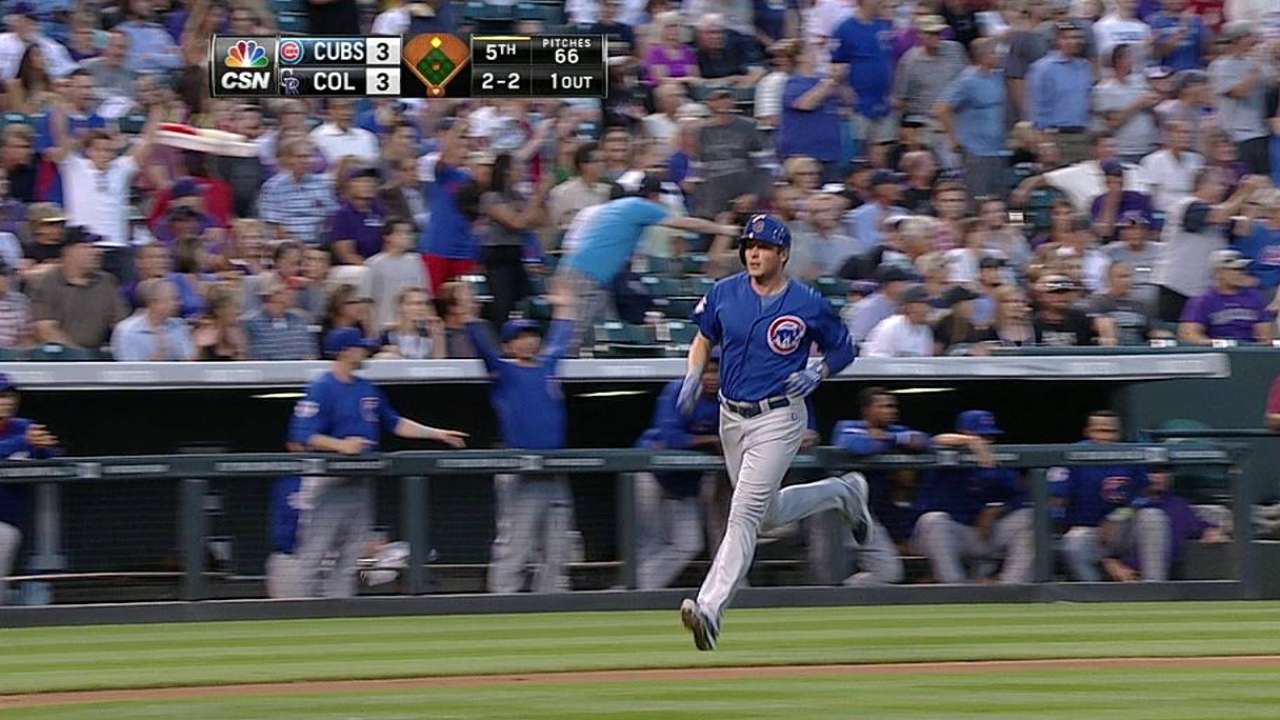 DENVER -- The Rockies ended the no-hitter watch early Wednesday for Cubs starter Jake Arrieta, and didn't stop.
Carlos Gonzalez belted a two-run home run, one of seven straight hits off Arrieta in the sixth inning, to lead the Rockies to a 13-4 win Wednesday night over the Cubs.
Arrieta entered the game riding a string of 10 straight quality starts. That ended, too, as he served up nine runs on a career-high 13 hits over five innings.
"I had an opportunity, going into the sixth inning with the chance to continue that," Arrieta said of the streak. "It just didn't happen for me, or the team.
"I put us in a tough spot there," he said. "Low pitch count and a chance to get at least another couple innings out of it. Not getting to that point is frustrating but I'll build off it."
Arrieta was lifted after throwing a season-low 78 pitches. In his last start at Wrigley Field against the Rockies, he was perfect over the first 4 2/3 innings, and gave up just one run on three hits over seven innings. Not this time.
"It's always tough to beat a team twice in five days," Arrieta said, "but at the same time, there are certain things you can take advantage of moving into the next start against an opponent. You can change your looks, being less predictable, be able to change the game plan and attack guys in different ways.
"Accordingly, I was able to do that in certain sitautions but not consistent enough to get through that game," he said. "My team got me the lead twice and not being able to hold that is probably the most frustrating part of the outing. Those are big situations -- you have a two- or three-run lead, and you have to protect it."
Arrieta is the first Cubs pitcher to go five innings and give up nine runs and not walk a batter since Ted Lilly did so on July 4, 2010.
Chris Coghlan, who missed hitting for the cycle by a home run, tripled to lead off the game, and scored one out later on Anthony Rizzo's sacrifice fly. Rookie Arismendy Alcantara made it 3-0 with his third home run, connecting with two outs and a runner on in the fourth.
But the Rockies rallied, and eventually tied the game at 3 when Corey Dickerson tripled and scored on Michael McKenry's single in the fourth. Coghlan added a RBI double in the fifth, extending his multi-hit streak to six straight games. But then came the ugly sixth.
The Rockies' seven straight hits against Arrieta in the sixth included an RBI double by Arenado, Gonzalez's home run, and RBI singles by DJ LeMahieu and pinch-hitter Brandon Barnes to open an 8-4 lead. Arrieta exited unable to retire a batter that inning.
"They took advantage of some spinning breaking stuff over the middle of the plate," Arrieta said. "It was stuff that didn't have enough bite to it. Give them credit to being ready in those situations and putting good swings on it."
It's the first time Arrieta has pitched at Coors Field, but he said the ballpark wasn't the problem. The right-hander simply wasn't as consistent as he has been in the past.
"I thought it was going to really tough to score runs tonight off Arrieta, and it was for a while," Rockies manager Walt Weiss said. "I was impressed with him when we faced him in Chicago. We put together some really good at-bats and got to him late."
Alcantara, now playing center field with the arrival of top prospect Javier Baez, had to hustle to chase down some of those balls. Coors Field's outfield looks huge.
"It's big, but I have to get to the ball quickly, that's all," Alcantara said.
"Mendy was trying to get to balls as best he can but those are some of the things he has to continue to work on -- understanding the depths, understanding how to attack those balls better," Cubs manager Rick Renteria said.
Colorado added four runs in the seventh against Chris Rusin, including a two-run single by Dickerson, who was a home run shy of hitting for the cycle, too. It's the third time this season the Cubs have given up 13 runs in a game.
With Alcantara and Baez now on the roster, the Cubs players -- not just the fans -- are excited about the future.
"We already have guys here who have pretty firmly established themselves and you add Baez and Alcantara to the mix, and we all know what those guys can do," Arrieta said. "That two-run home run that Alcantara hit, that's pretty impressive -- those are things that big time players do.
"As far as Baez goes, he just needs to get his at-bats, get comfortable, play here on a daily basis, don't get too high, don't get too low," Arrieta said. "Those are things he'll learn and understand.
"It's definitely an exciting time for us. It's going to be fun to watch."
Carrie Muskat is a reporter for MLB.com. She writes a blog, Muskat Ramblings, and you can follow her on Twitter @CarrieMuskat. This story was not subject to the approval of Major League Baseball or its clubs.