Walks come back to bite Collmenter in loss
Pair of two-out free passes lead to Royals' go-ahead single in fourth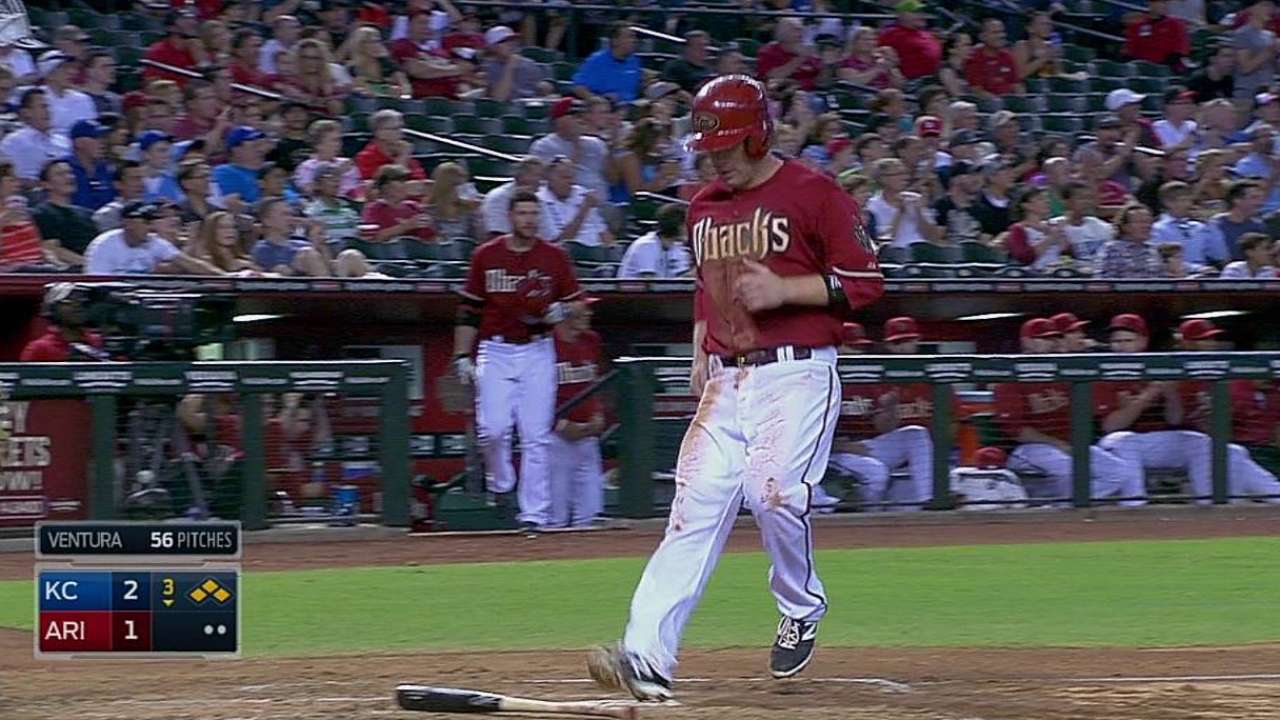 PHOENIX -- A brief lapse in command proved to be costly for Josh Collmenter.
The D-backs right-hander walked a pair of hitters with two outs in the fourth and one ended up scoring the go-ahead run as the Royals beat the D-backs, 4-3, on Wednesday night at Chase Field.
"That's all on me," Collmenter said. "That was the difference."
Collmenter allowed a two-out two-run homer to Mike Moustakas in the second to give the Royals an early lead.
The D-backs, though, answered back to tie the game in the third when Aaron Hill and David Peralta each collected RBI singles.
Following the Moustakas homer, Collmenter retired six batters in a row including Salvador Perez and Billy Butler to start the fourth.
But after being able to hit the strike zone seemingly at will up to that point in the game, Collmenter walked the next two hitters.
That brought Moustakas, who had entered the game hitting just .191, to the plate.
Collmenter fell behind 2-0 before getting a called strike. The next pitch was an 87-mph cut fastball that Moustakas lined to right for an RBI single to give the Royals a 3-2 lead.
"The team gave me a chance, got back in it," Collmenter said. "Went out to have a shutdown inning, got the first two guys, and then walked two guys and gave up a hit, and that was the difference in the game. So that was all on me. The guys played well, put pressure on them a bunch of times, even coming back there in the ninth. But I'll take that one. It's unacceptable."
Those two walks were the only ones that Collmenter allowed during his six innings of work.
"I got the first two guys, I think, and after that I don't know if I was trying to make too good of a pitch or whatever it was," Collmenter said of the walks. "You can't have that."
Royals starter Yordano Ventura allowed two runs on eight hits while striking out eight over six innings to pick up the win.
It was not as though the D-backs didn't have chances against Ventura. They were 2-for-14 with runners in scoring position.
"These guys got 12 hits," Royals manager Ned Yost said of the D-backs. "They were really swinging the bats well against Ventura. Ventura really kind of had to grind it out tonight. He couldn't get his secondary stuff going on a consistent basis. They were sitting dead-red fastball and putting good swings on it. But he made big pitches when he had to. That's just a testament to his stuff. He's got great stuff."
Ventura was just one of three hard-throwers the Royals featured as he hit 100 mph several times. Kelvin Herrera, who pitched the seventh, hit 101, while both Wade Davis and Greg Holland, who pitched the final two innings each threw in the upper 90s.
"You look at the ones they were throwing against us, there's a reason those guys are good," D-backs infielder Cliff Pennington said. "I mean that's about as good of arms as we've seen all year. I know I haven't played in a while, but 98-101 over and over and over again is pretty good."
The Royals scored a crucial tack-on run in the in the ninth and once again Moustakas was right in the middle of things.
With one out and runners at first and third, Moustakas hit a grounder to Hill, who threw to Didi Gregorius at short for an out. Moustakas, though, was able to just beat Gregorius' throw to first to avoid the double play as Butler scored to give the Royals a 4-2 lead.
Moustakas was initially called out on the play, but Yost challenged the play and after a brief 48-second review, the call was overturned.
The D-backs scored a run in the bottom of the ninth off Holland to pull to within 4-3.
"The run we gave up in the top of the ninth was a killer," manager Kirk Gibson said. "We didn't execute pitches in that inning."
Steve Gilbert is a reporter for MLB.com. Read his blog, Inside the D-backs, and follow him on Twitter @SteveGilbertMLB. This story was not subject to the approval of Major League Baseball or its clubs.