Cincy's bats pour it on behind solid Latos
Cozart, Negron combine for five hits and six RBIs in win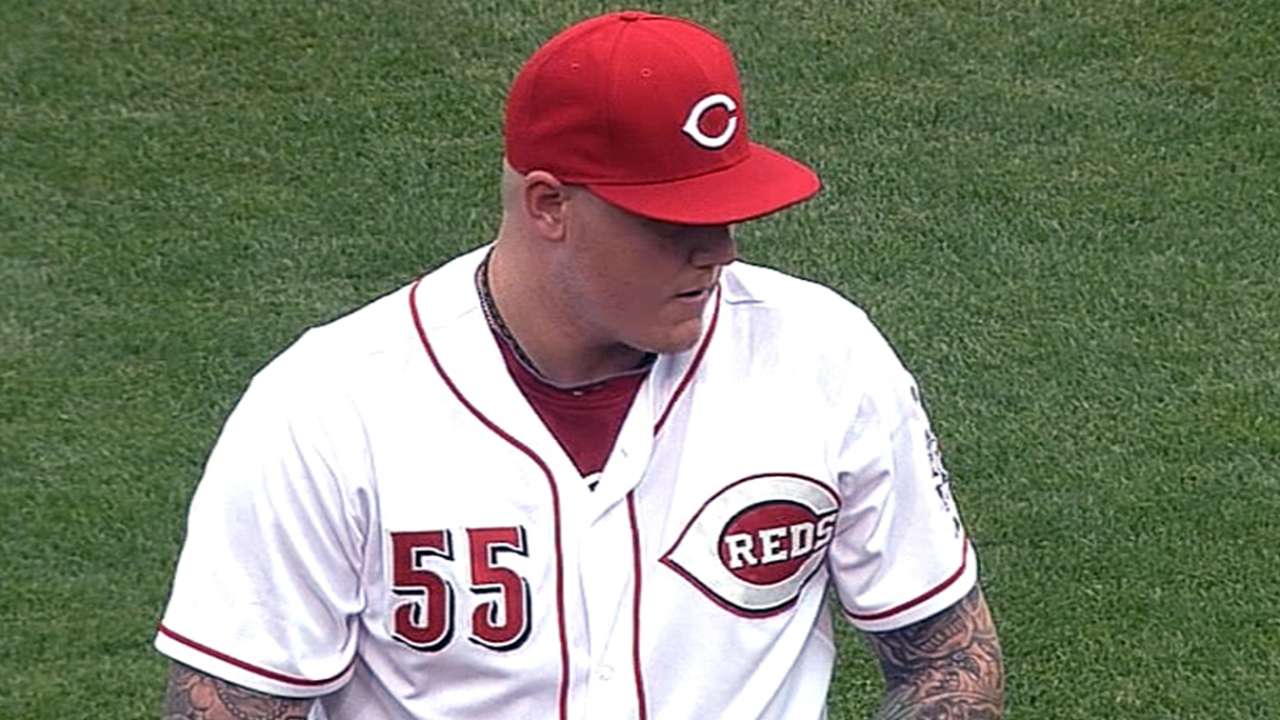 CINCINNATI -- For the second consecutive game, the bottom of the Reds' lineup erupted and lifted Cincinnati to a much-needed victory.
Zack Cozart and Kris Negron each homered and combined for six RBIs to back a solid outing by Mat Latos in the Reds' 8-3 win over the Indians at Great American Ball Park on Wednesday night. It was Cincinnati's sixth win in nine games after beginning the second half of the season 1-9.
After exploding for nine runs on 15 hits in a win over the Tribe in Cleveland on Tuesday, the Reds had 10 more hits on Wednesday, five of which came from the seventh and eighth spots in the order where Negron and Conzart, respectively, were penciled in.
Much like Cincinnati's offense as a whole, the two middle infielders have begun to emerge from their post-All-Star break offensive ruts:
• Cozart went into Tuesday's game batting .125 (6-for-48) since the All-Star break. In the last two contests, he's gone 4-for-8 with a triple, homer, four RBIs and four runs scored.
• Cozart's four RBIs on Wednesday were a season-high.
• Cozart's triple on Tuesday was his first extra-base hit since July 11 against the Pirates, and by tripling and homering in his last two games, he equaled his extra-base hit total over his previous 104 at-bats dating back to June 27.
• Negron entered Tuesday batting .192 (5-for-26) in the second half. Over the last two contests, he's 5-for-9 with two doubles, a homer, four RBIs and four runs scored.
• As a team, the Reds are batting .282 in six August games after batting .228 in July.
• Cincinnati has hit four homers in the last two games after hitting four homers in the previous 14 games combined.
Cozart opened the scoring in the second. With one out, Brayan Pena singled against Tribe starter Danny Salazar and moved to second one out later on Negron's infield single. That set the stage for Cozart's homer, a 391-foot blast off the foul pole in left that gave the Reds a 3-0 lead.
It was Cozart's third home run this season and first since June 1 against the D-backs at Arizona.
"It feels really good not only to get some hits, but to get some extra-base hits," Cozart said. "I'm not a guy, at least early on in my career, that's hitting .300, but I've had my fair share of extra-base hits every year. And this year, it just seems like I haven't had any at all."
In the fourth, Pena and Negron again factored into Cincinnati's run production. Pena singled with one out and, following a Chris Heisey strikeout, Negron launched a 410-foot homer to left-center, his third of the season, to extend the Reds' advantage to 5-0.
Negron was 3-for-4 in the game, doubling to open the seventh. It was the first three-hit effort of his career.
"Any time you can contribute like that in a big win, especially with this push we're trying to make during this last part of the year, it feels great," Negron said. "We're definitely riding the momentum from top to bottom of the lineup, and any time you can get production from the bottom and roll it over to the top, it helps."
Following Negron's double in the seventh, Cozart singled him home with a flare to right to make it 6-0. Latos then singled, and two outs later Todd Frazier doubled in two more to make it 8-0. It was Frazier's first double since July 8 against the Cubs, and his first multi-RBI game since July 13 against the Pirates.
Meanwhile, Latos tossed seven scoreless innings before allowing three runs in the eighth on a solo homer by Yan Gomes and a two-run double by pinch-hitter Ryan Raburn that chased him from the game. He went 7 2/3 frames, giving up six hits while walking two and fanning five.
"A lot of what helped today was a lot of strike one's for me," Latos said. "[I tried to] pound the zone down and keep it down, and getting strike one and going from there."
The Reds are hoping the 17 runs they've scored since losing to the Indians in the first game of the Ohio Cup series on Monday is a harbinger of things to come. Reds manager Bryan Price said his team has always had the ability to produce on offense, it's just manifesting itself right now.
"It reminds our guys of how good we can be offensively when we string together good, quality at-bats," Price said of Wednesday's performance. "And getting production at the bottom of the lineup, that was really the catalyst tonight … It's a beautiful thing."
"I'm not saying we're getting really, really hot," Cozart said. "But we've had a couple good games where we had some big hits in Miami and that Sunday game [at Miami], too, where we hit well. So, hopefully, it's coming around."
Manny Randhawa is an associate reporter for MLB.com. This story was not subject to the approval of Major League Baseball or its clubs.