Miller and Kelly evenly matched, but Cards fall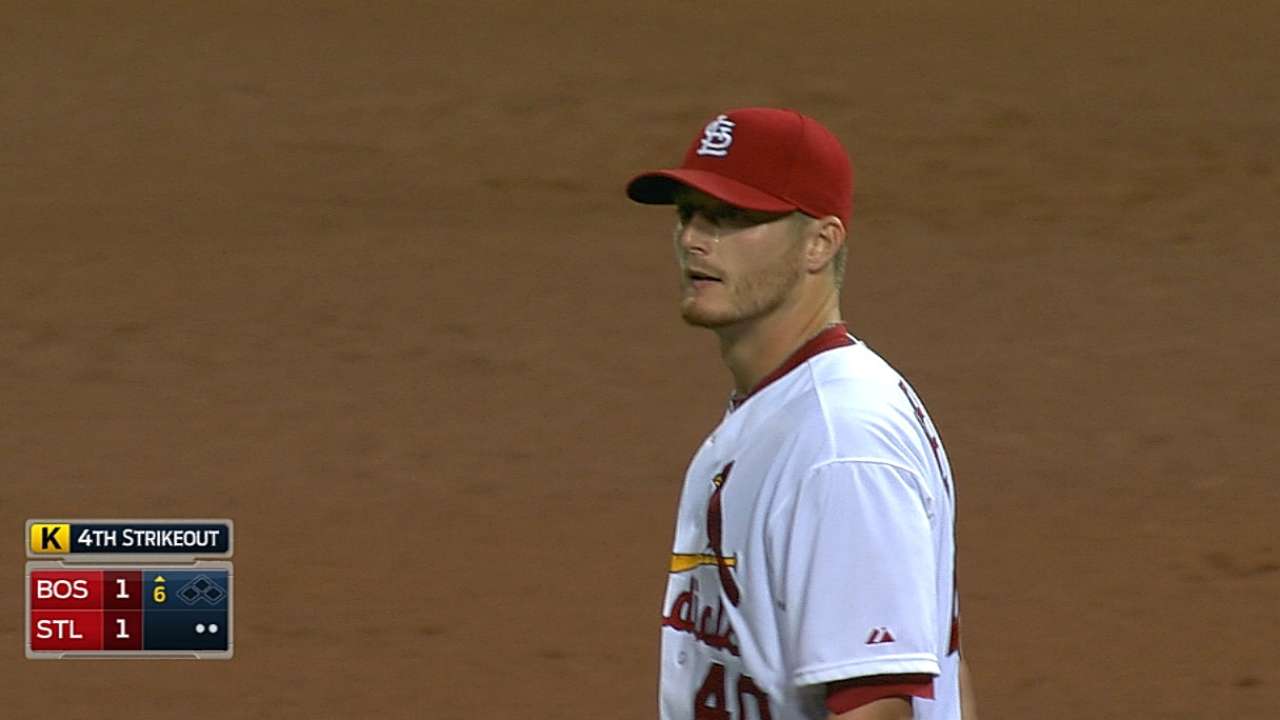 ST. LOUIS -- The lead-in may have been all about Joe Kelly and Shelby Miller, best friends pitted as opponents in Kelly's Red Sox debut, but with their matchup ending in a draw, the Busch Stadium spotlight would need another place to fall.
It found Trevor Rosenthal.
Called upon to pitch in a fourth consecutive game, Rosenthal couldn't escape a complicated ninth inning. Boston's run off him halted St. Louis' opportunity to pull even with Milwaukee atop the National League Central and left them with a 2-1 loss. Their chances at another come-from-behind win stalled when Jon Jay grounded out to end the game with two runners onboard.
"I felt good when I was out there," said Rosenthal, who had been scored upon once in his last 12 appearances. "There was no question I was ready to go today. It's hard to let [the team] down."
Manager Mike Matheny's readiness to go to Rosenthal for the fourth time in a five-day span was built off their pregame conversation, during which Rosenthal convinced Matheny he was good to go. That was in contrast to Pat Neshek, who was deemed unusable for the night despite having pitched in the same five games that Rosenthal had over the past week.
Rosenthal, coming off a relatively stress-free 12-pitch outing on Tuesday, got into immediate trouble. Yoenis Cespedes singled off a changeup, and Mike Napoli drove a double to right field. An intentional walk gave the Cardinals a chance for the forceout at home, but Xander Bogaerts negated that with a sacrifice fly to center.
"There are days where we have been riding [Rosenthal] hard and he comes back out there and he slams the door and gives us another shot offensively to make something happen," Matheny said. "He's the guy we want in that situation. He was ready to throw today. It just didn't work out."
Red Sox closer Koji Uehara allowed two singles in the bottom half of the inning before finishing off the game to even the series.
The game became a battle of bullpens after Kelly and Miller dueled to a 1-1 tie through seven innings. The start matched the longest of Kelly's career; Miller's extended outing was further justification for the Cardinals' decision to give him a recent two-week sabbatical from starting.
"He does look good now, without question," Matheny said. "Before, I think, we were seeing some mechanics fall apart. He's in a good spot now, and hopefully can continue to build off of it."
Miller's efficiency has improved dramatically, evidenced by his navigating through seven innings on 88 pitches. His command has also been much better. He has walked just one over his last three starts (18 2/3 innings) while scattering 10 hits and five runs. Before his hiatus he averaged a walk every two innings.
"The fastball command was there for us," Miller said. "We got ahead in the counts early, too, which helps out a lot, and got some curveballs over trying to keep them off balance a little. Just trying to find that balance to where they're not getting too comfortable in the box, especially with an offense like that, that's tough."
The only blip came in the fourth, when back-to-back two-out hits helped the Red Sox even the score at 1. The second of those hits, scored as a double for Bogaerts, deflected off the glove of left fielder Matt Holliday, who had tracked the ball to the wall.
After the hit, Miller retired the final 10 batters he faced on 29 pitches.
"Just an overall great day for him," Matheny said.
The Cardinals, despite the familiarity factor, had no better success off Kelly. Pitching against the club that dealt him six days earlier, Kelly gave the Red Sox the sort of quality start the Cardinals hoped this trade would produce, except they'd banked on it coming for them from John Lackey, not against them by the young right-hander they sent away.
Kelly was as good as the Cardinals had ever seen him, limiting his former teammates to three hits over seven innings. Two of those hits came in the first, when the Cardinals jumped out to an early lead on Matt Adams' two-out RBI single. The club was unable to capitalize on any of the four walks Kelly issued thereafter, and finished 1-for-10 with runners in scoring position.
"There were some emotions there," said Kelly, who received multiple standing ovations from the Busch Stadium crowd and continued pitching after taking a liner off his knee in the fourth inning. "After the first inning, basically after the first pitch, I realized it was just pitching again."
"Joe threw a great game," Matheny said. "We've seen him throw like that in the past, and we know he has that potential. That's the competitor that he is."
Jenifer Langosch is a reporter for MLB.com. Read her blog, By Gosh, It's Langosch, and follow her on Twitter @LangoschMLB. This story was not subject to the approval of Major League Baseball or its clubs.