Gray's superb run ends in abrupt fashion vs. Rays
Righty allows six earned runs after giving up five in previous six starts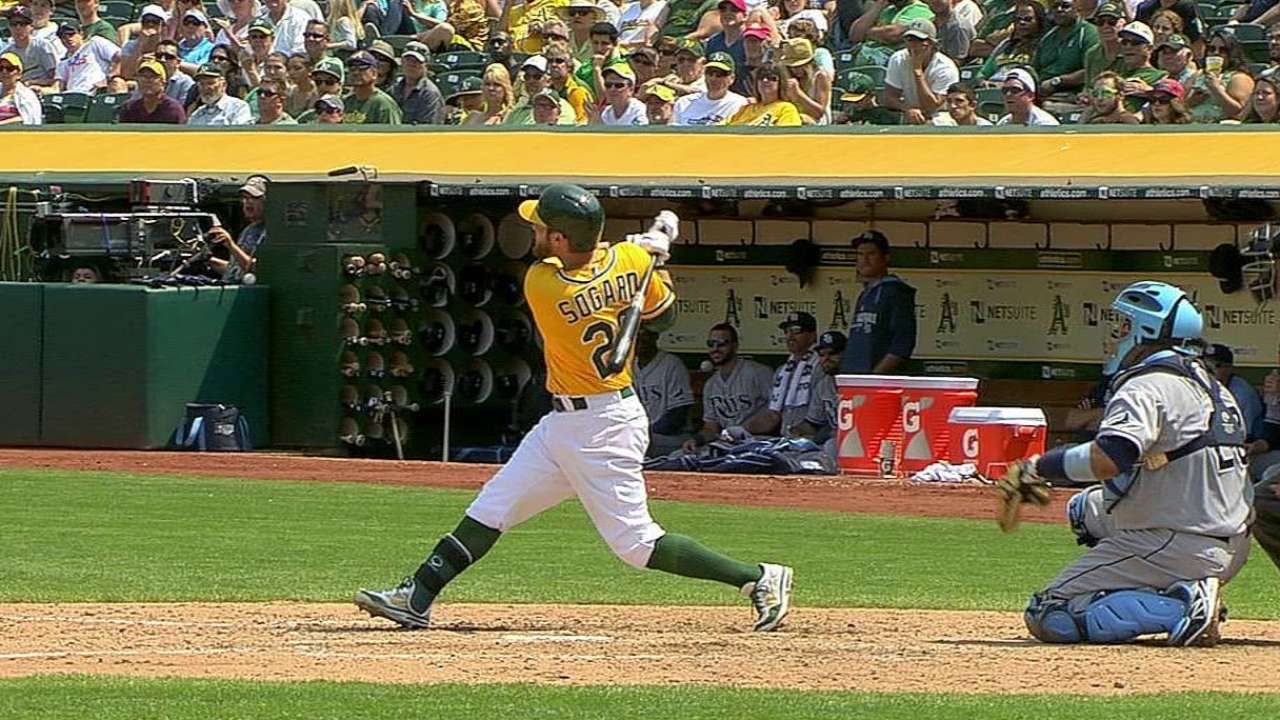 OAKLAND -- Sonny Gray probably deserves a mulligan, except those aren't afforded to the contending types.
The A's right-hander gave up more runs Wednesday afternoon than he did in his previous six starts combined, and Oakland's offense absolutely sputtered in a 7-3 loss to the Rays. The A's maintained their two-game lead over the Angels in the American League West as the Halos lost to the Dodgers at home.
"We control our own destiny," said Josh Reddick, who collected a two-run double in the ninth against Grant Balfour. "We can't rely on those guys to hit a speed bump. We gotta get out of our rut and get back to being the team we know we can be."
Gray's rickety performance isn't so much of a concern, instead more of an outlier in the middle of an otherwise stellar season, particularly after he was named AL Pitcher of the Month for July. But the lack of offense is alarming.
The A's won the series but scored just nine times in three games and went 5-for-25 with runners in scoring position and left 31 on base. Brandon Moss' hitless streak reached 17 at-bats. So did John Jaso's. Stephen Vogt is 0-for his last 23. Josh Donaldson is 4-for-21 through six games of this 10-game homestand, and Yoenis Cespedes, well, he was shipped out to Boston before it even began.
But to place blame on his absence for this funk would be a stretch, since these woes sprouted even before Cespedes' departure. Still, his ex-teammates might be pressing a bit.
"We were struggling when he was here, so a lot of people lean on that as a crutch, but we know we're a good lineup with or without him," said Reddick. "Obviously we're going to miss that, but we gotta step up. Someone has to step up. We just haven't done it. We gotta keep grinding."
"We've seen stretches where we've scored double-digit runs, hence the run differential where we're at right now," said manager Bob Melvin, "but we're not doing that, where we're getting consistent at-bats and scoring multiple runs and putting up crooked numbers."
On Wednesday it was Eric Sogard who provided the lone run off righty Jeremy Hellickson, snapping a 110-game homerless streak with a one-out solo shot to right field in the sixth inning. Hellickson allowed just one other hit -- a leadoff single to Coco Crisp in the fourth -- through seven strong innings.
Gray only made it through 4 1/3 frames, allowing a career-high seven runs (six earned) and 10 hits, along with four walks, tying his career high, and a hit batsman. He allowed four runs total in five July starts for a 1.03 ERA and not more than one earned run in each of his last six.
"Just erratic with his fastball today," said Melvin. "He's able to wiggle out of some jams, which he typically does. Today, just wasn't the case. We just probably haven't seen a game out of him like this."
Gray was out of sorts from the start, escaping a first-inning jam before allowing a run in the next frame and walking the bases loaded in the third. Though the Rays didn't capitalize on it, they would go on to score three in the fourth, highlighted by Kevin Kiermaier's two-run homer, and three more in the fifth.
Gray had a chance to complete the inning, if not for Sogard's rare fielding error on a botched double-play attempt that would've cleared the bases and left him with one out to compile. Instead, he had runners at the corners and no out, ultimately leading to a two-run single off the bat of Desmond Jennings that marked the end of his day.
"When you put your team in a hole like that, it puts a lot more pressure on the offense and it's harder to climb out of," said Gray. "That's just tough to do, especially when the other team is scoring so many runs early in the game."
Righty Jesse Chavez allowed one of his inherited runners to score but none of his own, compiling 3 2/3 shutout innings in the loss, the fifth accumulated by A's starters over the last eight games, in which they've compiled a 5.77 ERA.
"You try to locate your pitches and stay on it and just fight through it," said Gray. "I thought I was close, just didn't have that extra life today."
"Just one of those days. Everyone's going to have their off days," said Reddick. "Tends to happen, but the lineup also still continues to struggle. I think we're getting tired of being perfected through the first four innings.
"The last few games it seems to be about getting guys on base, and even when we do, we can't come up with that one big hit. The other night, we got lucky pulling out a win after stranding 18 guys on base. Fortunately we got that one out of the way or we would've been answering a lot of questions we don't want to answer. We just gotta get on base. We keep doing that, we're going to do what we can do. We're a lineup that can put a lot of damage on the board. We just haven't done it. Hitting that funk for the first time."
Jane Lee is a reporter for MLB.com. Read her blog, Major Lee-ague, and follow her on Twitter @JaneMLB. This story was not subject to the approval of Major League Baseball or its clubs.