Five-run first inning sends Astros to defeat
Peacock allows eight runs over five innings in first start since July 23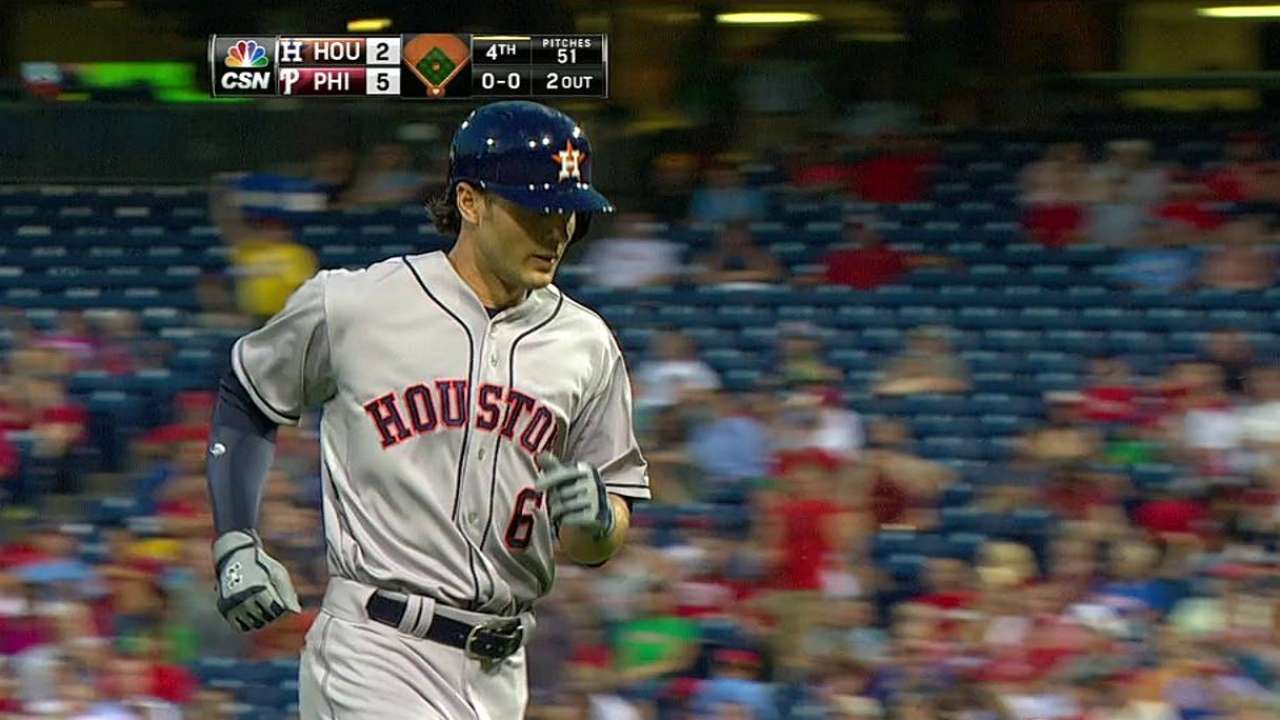 PHILADELPHIA - Last week's trade that sent starting pitcher Jarred Cosart -- a promising 24-year-old who was among the Astros' leaders with nine wins -- to the Marlins opened up a spot in the rotation for Brad Peacock, who's up-and-down performance this year wasn't without promise.
Peacock had spent most of the season in the Astros' rotation, but a pair of sub-par outings prompted the club to ship him to Triple-A to work on his fastball command. His return to the rotation on Wednesday night didn't lead to the results the Astros had in mind.
The Phillies rocked Peacock for eight earned runs, seven hits and four walks in five innings to end the Astros' run of strong starting pitching at eight games, scoring five times in the first inning to cruise to a 10-3 win at Citizens Bank Park.
"I think that is exactly what we talked about before we sent him down to Oklahoma City, is just the ability to command your pitches," Astros manager Bo Porter said. "You look at that first inning, and I think it's one of those things where he just missed a few spots and those guys did a good job of putting good swings on it."
Peacock (3-8) is 0-3 with a 16.00 ERA in his last three Major League starts, which have come around an outing at Triple-A Oklahoma City.
"I got one start down there and felt pretty good and hoping it would carry it up here," Peacock said. "It's my first start back. I'll just go out there next time and get the job done."
Jose Altuve led off the game for the Astros with a single that marked his Major League-leading 157th hit, swiped second base for his American League-leading 45th steal and scored from third on a single by Chris Carter for a quick 1-0 lead.
The Phillies responded by sending nine batters to the plate in the bottom half, getting a two-run double from Ryan Howard to take a 2-1 lead. Howard scored on a Peacock wild pitch, Wil Nieves added a sacrifice fly and starting pitcher David Buchanan had an RBI single for his first Major League hit to push the lead to 5-1.
"When you look at it from a mechanical standpoint, it actually looks better," Porter said. "But the results are not exactly the results we're looking for, from the ability to command the fastball and allow secondary pitches to work once you're able to spot your fastball in different places of the strike zone."
The Astros trailed, 5-2, in the fourth when Chase Utley launched a three-run home run to right field to break the game open. Peacock came back to send down the final four batters he faced, including a 1-2-3 fifth inning, but a six-run deficit was too much to overcome.
"I couldn't get in a groove there, but after that I felt awesome," Peacock said. "I took something away from that and was able to locate my fastball. I just made that one bad pitch to Utley and he did his job. The numbers aren't there right now, but I have to keep working."
With Cosart out of the picture, Peacock will apparently be given every opportunity over the final two months of the season to prove he can be counted upon for next year.
"We believe this guy's a Major League pitcher," Porter said. "The stuff is there and this is part of the growing pains as a Major League pitcher, and he's going to continue to get opportunity and we believe with the opportunity he's going to get over this hurdle.
"He knows exactly what it is he needs to do. [Pitching coach] Brent Strom has sat him down and explained to him how he can get it done, and it's going to be up to him to take all the information and use the skill sets he has to get it done."
No one has to remind Peacock how important his last handful of starts could be for his future.
"It's all about how you finish," he said. "I just want to finish strong and set myself up for a chance next year. That's what I'm going to try to do and keep working hard."
Brian McTaggart is a reporter for MLB.com and writes an MLBlog, Tag's Lines. Follow @brianmctaggart on Twitter. This story was not subject to the approval of Major League Baseball or its clubs.