Taylor's terrific play announces defensive presence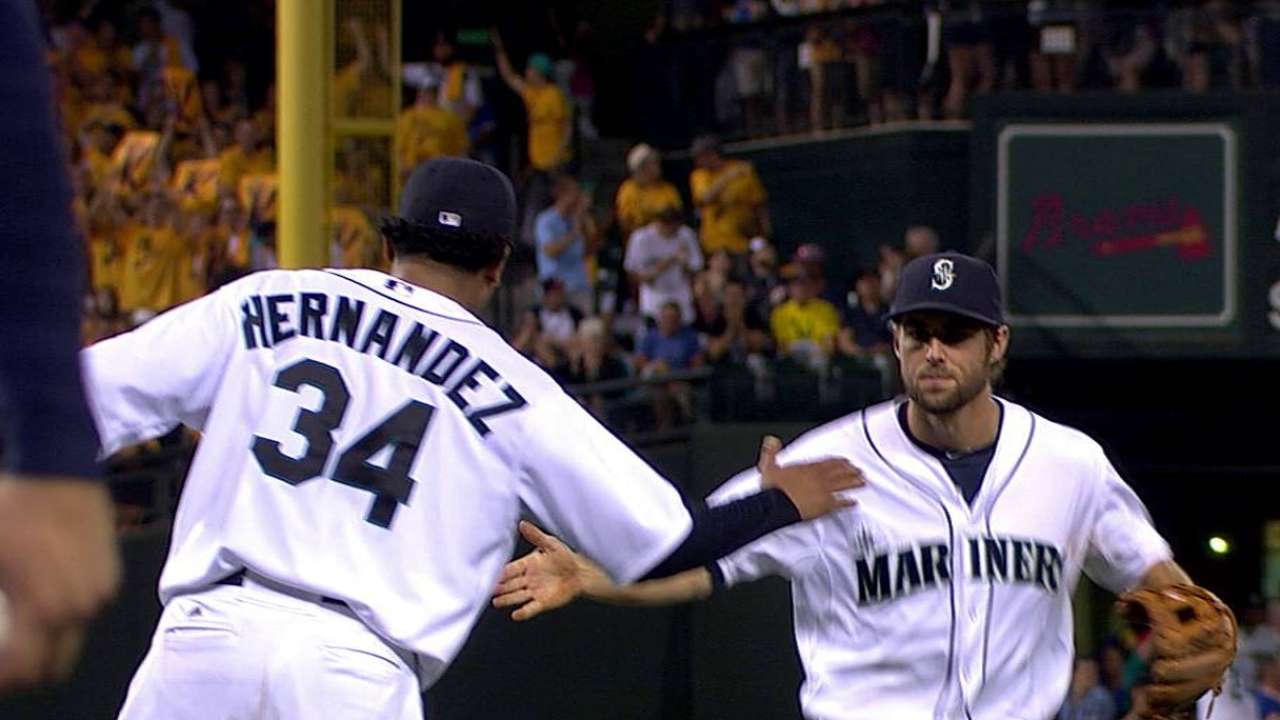 SEATTLE -- Chris Taylor has been playing and hitting well in the two weeks since the Mariners called up the rookie shortstop for his Major League debut.
But Taylor's "now you're a big leaguer" moment may have come in Tuesday's 4-2 victory over the Braves, when he made a great diving stop and threw out speedy leadoff hitter Emilio Bonifacio for the final out in Felix Hernandez's eight-inning gem at Safeco Field.
Hernandez saluted Taylor with a loud shout and animated exchange as they came off the field to let the 23-year-old from Virginia know how much he appreciated the support.
"That felt great," Taylor said. "The way Felix was throwing, having a great game ... he's picked us up so many times, so to be able to pick him up on that play was awesome."
Taylor was regarded as a strong defender coming up in the Minors, and that play certainly backed up his reputation.
"I don't know if people realize how good that play was last night," manager Lloyd McClendon said prior to Wednesday's series finale. "You can put Bonificio up against anybody as far as running. That guy can get down the line. That was a heckuva play."
"It was just a reaction play," said Taylor. "I knew he was quick, so anything you dive on you have to just pop up and throw it because he flies down the line."
The King's reaction was pretty good, too, as he headed to the dugout with a four-hit night over eight innings en route to his 12th win of the season.
"That was unbelievable," Hernandez said. "With Bonifacio running, he's fast. That was a great play."
Taylor posted a .357 average in his first nine games and was back in the lineup for Wednesday's series finale against the Braves, even against right-handed starter Julio Teheran. McClendon said the youngster will continue getting more playing time than Brad Miller, who held the starting job for the first four months, but he is hitting .199.
"[Taylor's] performing well," McClendon said. "He's swinging the bat well and playing solid defense. Brad will get in there from time to time, but right now Taylor is going to play a lot."
Greg Johns is a reporter for MLB.com. Follow him on Twitter @GregJohnsMLB as well as his Mariners Musings blog. This story was not subject to the approval of Major League Baseball or its clubs.