Seesaw finale slips away from Twins
After Escobar is robbed of potential game-winner, Friars win in 10th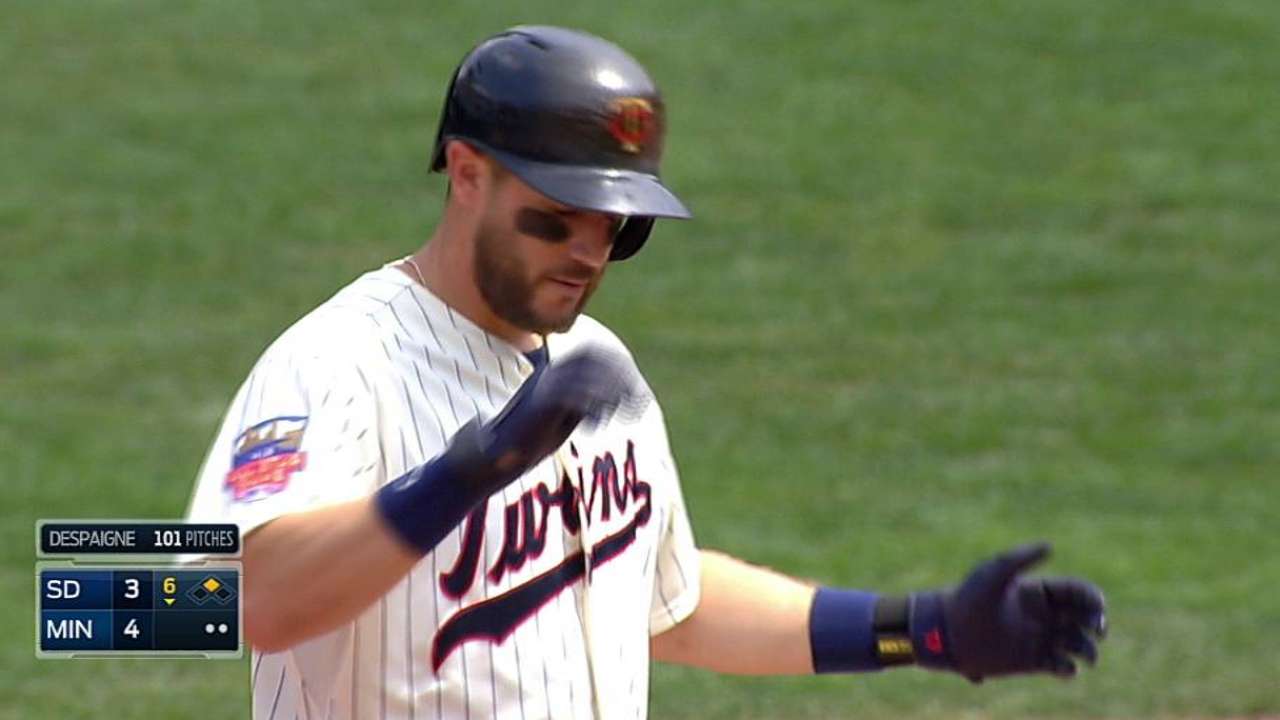 MINNEAPOLIS -- Anthony Swarzak screamed "Yeah!" multiple times from the bullpen. Brian Dozier began climbing over the dugout railing. The crowd at Target Field let out a roar reserved only for game-winning hits.
Everybody thought Wednesday's game was over when Eduardo Escobar smashed a deep fly ball to center field in the bottom of the ninth.
But Padres center fielder Alexi Amarista sprinted back and made a diving play that took the air out of the stadium. His catch kept the winning run from coming home and sent the game to the 10th inning, when Seth Smith smacked a towering home run off Swarzak that powered San Diego to a comeback 5-4 win over the Twins.
Afterwards, the Twins were still stunned about Amarista's ninth-inning snag.
"We all thought in the dugout it was a for-sure game-winner, to be honest," Dozier said.
Wednesday's game featured several key plays throughout, but the real drama began in the top of the ninth, when closer Glen Perkins entered with a 4-3 lead.
Attempting to pick up his 29th save of the season, Perkins allowed a deep double to left-center by Yonder Alonso, before walking Yasmani Grandal. A sacrifice bunt from Amarista moved both runners over.
Everth Cabrera then smashed a line drive to right field, where Oswaldo Arcia made a nice sliding catch, but his throw home was not in time to prevent the Padres from tying the game at 4.
"Guys have been swinging a little earlier on me, and I need to make adjustments on that," Perkins said. "They're probably not wanting to get to two strikes, and having to deal with the slider or guessing what I'm going to throw."
Escobar came up against Kevin Quackenbush with runners on first and second in the bottom of the ninth. With two outs and a two-strike count, the San Diego outfield played Escobar very shallow, and he almost made them pay, launching a high fly ball that initially looked as if it would fall for the game-winning hit.
"It was struck well, and we had him shaded," Padres manager Bud Black said. "But then you saw [Amarista's] route and the flight of the ball, and you start thinking, 'Maybe.' It was a great catch."
Minutes later, Smith bashed a 3-1 fastball high over the right-field porch for a 5-4 lead.
"I tried to come in with a fastball there," Swarzak said. "I threw him four pitches away in a row, and tried to come in on one. He was just pretty quick in there.
"I think if I throw up a zero there, we come back and score. Absolutely."
Minnesota didn't provide an abundance of evidence (2-for-14 with RISP on the day) to support that theory, but its lineup did begin the game with a bang.
Behind the red-hot Trevor Plouffe (11 hits in his past 20 at-bats), the Twins jumped ahead early. Dozier dropped a soft liner into right field for a single, and then stole second base. While replays showed Dozier might've been tagged out, Black did not challenge, and Plouffe promptly lifted a 2-2 curveball from Odrisamer Despaigne into the left-field seats for his eighth home run of the year.
Up 2-0, the home team missed a big opportunity to blow the game open in the second. Manager Ron Gardenhire successfully challenged that Despaigne hit Danny Santana with a pitch, and the overturned call loaded the bases with one out.
But Dozier hit into a forceout at home, and then Plouffe popped out to left field to end the threat.
"I know we lost at it the end, but we [also] lost it early," Gardenhire said. "I don't know how many chances we had early to score runs, and we missed opportunities."
Still in the game, the Padres came alive in the fourth. Tommy Medica -- who had fallen face-first on the basepaths while running out a second-inning fly ball -- redeemed himself with a single past Dozier, and Jedd Gyorko scored Medica with a double to the right-field corner.
After the Twins extended their lead to 3-1 in the fifth with Escobar's RBI single, San Diego stormed back in the sixth to tie the game.
Starter Kevin Correia surrendered a single to Cabrera and walked Yangervis Solarte. Smith then yanked a double to the warning track in right-center to score Cabrera. An RBI groundout by Medica brought home Solarte with the tying run.
But Minnesota quickly nabbed the lead back. Despaigne hit Santana for the second time, and he promptly stole his ninth base of the season. That allowed him to come home on Plouffe's single to left.
That was it for the Twins, who did not cross the plate in the final four innings.
"That game shouldn't have been where it was," Gardenhire said. "But they did a nice job coming back, and it's frustrating for us."
Alex M. Smith is an associate reporter for MLB.com. Follow him on Twitter @asmiff. This story was not subject to the approval of Major League Baseball or its clubs.